Image Gallery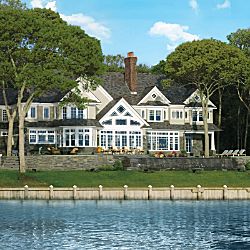 Home Highlights
Owners: Gary and Patricia Lucas
Home Site: One-and-a-half acres in Sag Harbor, NY, overlooking Sag Harbor and the Mashomack Preserve on Shelter Island
Construction: 2006
Living Space: 11,000 light-drenched square feet, including eight bedrooms, eight-and-a-half baths, a window-walled den with soaring stone fireplace and a cathedral planked ceiling, full guest quarters, a fully finished, high-ceilinged basement?and a bright white kitchen with spectacular views of federally-protected wilderness.
Style: A fusion of the Lucas?s favorite architectural influences
Resources
Home Builder: Mirage Property Management
Interior Design: Patricia Lucas
Landscape Design: Mirage Property Management
Our tour is set in The Hamptons, where detailed rustic touches enhance the natural beauty of Sag Harbor.
"For us, it's all about the view."
Living by the water has always been essential for Gary and Patricia Lucas. Gary grew up in Oceanside, Long Island, and the Lucas family has been spending summers in the Hamptons since their children were young. As often as they can, they take well-deserved breaks from their busy careers in building and real-estate development to enjoy the boating lifestyle they love.
Five years ago, they discovered the 1.4-acre grounds of the Sag Harbor property that would become their retirement home. They knew immediately it was exactly what they were looking for. What struck them was not the existing home on the property, but the property itself. "We didn't even step into the house that was here at the time," Gary says. "We walked straight back to the dock to look at the view."
The massive stone fireplace and wall of light-drenched windows set the tone for their grand den. Make your fireplace a little brighter with our radiant Fireplace Accessories.

It was an unparalleled bay vista, overlooking the federally protected Mashomack Preserve on Shelter Island. "That's why we fell in love with this place," says the couple's son Andrew, who works with his parents at their family building firm, Mirage Property Management, and helped supervise the construction of their dream home. "The water has always been important to my family ... and the Preserve across the way can't be built upon, so it's a view that will never be taken away."
A Home Built for Entertaining
The family worked together to design and construct a spectacular house that would augment—and not detract from—the property's natural beauty. "We built around the massive beech trees and ancient oaks," says Andrew. "We planned the house so we could keep them, and laid it out to save as many as possible."
That wasn't the only stipulation that went into planning. The Lucases knew that they had to build a house suitable for such magnificent grounds, one that befitted the long, culturally rich history of Sag Harbor. The all-white kitchen not only boasts spectacular views, it also serves as a gathering place for family and friends. Browse our selection of Bar and Kitchen Furniture to prepare your kitchen for hours of entertaining.

"My parents wanted the house to look like it belonged here," says Andrew. "My mother incorporated classic Hamptons touches into this home," with unique features such as the incredible custom windows Patricia architected. They're multi-paned, with elaborate, varied grills for extra interest.
"Windows became important to the design of the house. Since the whole family will spend summers here, in the Hamptons tradition, it's all about keeping the house light and airy. We used a lot of white trim, balanced with warm woods for a cozy feel," says Andrew. "And you can see how many windows are incorporated."
Because of the Lucas family's attention to detail, the building process for their coastal dream home was a hard-won, intricate process. "Things like a slate roof, all the windows—and making sure each part of construction is just right—that can take time," Andrew says. The Lucases bought this Sag Harbor gem five years ago and didn't actually begin building until three years later. It was another two years until the house was finished.