Image Gallery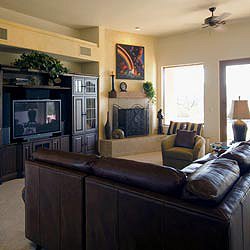 Home Highlights
Owners: Mark and Leanne Ragel
Home Site: Tucson, Arizona in the Tanque Verde Valley
Construction: Begun August 2000, moved in April 2001
Living Space: 4 bedrooms, 3 bathrooms, and 3,180 square feet of living space, not including Mark's eight-car garage and Leanne's six-stall horse barn.
Style: Southwestern Contemporary
Resources
Home Builder: Charles Lathrem, Lathrem Homebuilders, Tucson, Arizona, 520-579-0456
Pool: Patio Pools and Spas, Tucson and Sierra Vista, Arizona, 520-886-1211, www.patiopoolsaz.com
Design : Kelly Hales, Design Solutions, Tucson, Arizona, 520-325-4936
Most people build the home of their dreams to have more space for their family. Mark and Leanne Ragel, on the other hand, constructed their 5-acre estate for their horses—the four-legged as well as the automotive variety.
Comfort, Beauty, and Energy Efficiency
Leanne's three horses now live in a well-equipped six-stall barn behind the Ragel's home, and Mark's Classic Bronco collection has taken up residence in an eight-car, 2,000-square-foot garage.
"I'd been boarding my horses for years, and I really wanted to move them home with me. Having them on the property is a dream come true," says Leanne, an accomplished horsewoman and student of the Parelli Natural Horsemanship method. Mark, part owner of a Tucson pool and spa construction company started by his father, became an aficionado of Ford Broncos in the early '70s when his dad bartered a reduced pool installation cost for a client's 1969 Bronco. "Since that day, I became one of a band of Bronco collectors," Mark admits, and his collection of vintage Broncos are now permanent residents of his spacious garage. Set against the picturesque Tanque Verde Valley, the exterior of the Ragel home is infused with contemporary Southwestern spirit. To add character to your home's entrance, shop our customized Address Plaques & Mailboxes.

The horses and Broncos weren't all the Ragels took into account when they began their search for enough acreage to accommodate a comfortable home and pool, oversized garage, barn, plus a dressage-size arena and trails for riding. They count themselves fortunate to have acquired one of the last sizeable parcels of acreage in northeastern Tucson's Tanque Verde Valley, which is zoned for horses and features views of the Saguaro National Park to the east. Temperatures are usually 10 degrees cooler here, and thanks to a large population of mesquite trees, the native landscape is greener than much of arid Tucson.
"Most of all, we wanted to build a practical, beautiful home for ourselves; one our two kids and friends would enjoy. But knowing that we'd be empty nesters in a few years, we didn't want something too grand, something we couldn't downsize into easily," explains Leanne. And because Mark is in the pool business, the couple never doubted that a fabulous outdoor living area would be essential for living the good life at home.
Assembling the Home Team
From the outset, the Ragels had a clear vision that they wanted a kitchen, living room, and dining room at the center of the home, with all other rooms branching off this main living area. "We terminated our agreement with our first designer after six months because he tried to incorporate so much more into the house than we wanted," says Leanne. Topped with Corian® counters and surrounded by warm maple cabinets, the center island in the kitchen is a hot spot when the couple entertains. Find ways to make your serving area inviting within our Kitchen & Entertaining collection.

In the end, it was for the best. Armed with a basic home layout discovered in a magazine and a desire for the latest in energy-efficient home design, the Ragels began to search for a builder experienced in alternative construction techniques like building with Insulated Concrete Forms, a method that uses rigid Styrofoam to hold concrete in place during curing. The foam remains in place afterward to serve a lightweight, energy-efficient insulator.
The Ragels' research led them to Lathrem Homebuilders in Tucson, which had a great deal of experience in ICF construction. After agreeing to take on the contracting job, owner Charles Latherm introduced the Ragels to Kelly Hales of Design Solutions; Lathrem had worked with Hales before in designing several ICF homes. "Our homebuilding crew was like a good marriage. Kelly Hales listened to what we wanted and worked with the plans we'd roughed out. He came up with the final footprint, which we loved," says Mark. "He and Lathrem Homebuilders formed a great team right from the beginning, and it made all the difference in the world."
With everyone working in harmony, the Ragels were able to keep the design of the home within their budget; cost-saving ideas were readily offered, and they never felt trapped into overspending on extras they didn't want or need. Adds Leanne, "It's really fun to build your own home if you've got the right team. I'd take our dogs over to the house every day during construction, and got to watch the house being crafted with such love. We had great tradesmen working on the house, and it was a joy to watch it all come together."