Brilliant
Solar Lighting
olar lighting is a sophisticated way to embrace the "green revolution" without sacrificing style. Proper and dignified lighting enhances the outward appearance of your home and increases your security. Plus guests will appreciate a bright pathway to your front door as well.

Our solar lights are far superior in both performance and construction. We use only select top-quality materials in fine finishes, and lenses that provide clear, brilliant light. Each solar light provides hours of pleasing illumination and backup batteries ensure a warm glow even on Overcast or rainy days.

Outdoor lamps or lights are especially inviting and attractive around backyard entertaining space, gardens and pool areas. Solar lights project an adequate amount of light but are not so bright as to take away from your overall ambiance during evening gatherings.

***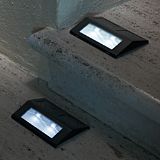 Solar lights are energy-efficient and require little maintenance. Special sensors engage the LED lights at sunset, removing the burden of remembering to turn them off and on daily.
Above left: Set of Six Arlington Solar Path Lights above Solar Wedge Outdoor Light