Trade Sales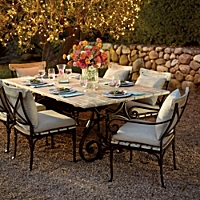 Frontgate offers a broad assortment of products and services tailored to fit your business needs. The Trade Sales program is ideal for designers, architects, developers, realtors, and other business professionals who work directly with clients expecting the finest craftsmanship and enduring quality.
Unique Benefits for Trade Professionals
Trade volume discounts that vary to match your clients' needs
Dedicated Sales Representatives to manage your project from conception to completion
Dedicated Trade Specialists with in-depth product knowledge and experience with the needs of Trade professionals
Trade Accounts
Ideal for professionals who outfit the homes of their clients. Please complete and fax our PDF Application.
For further assistance, call our Trade Specialists at 800.692.8073 or email us at tradesales@frontgate.com.
Gift Certificates
Frontgate Gift Certificates can be personalized with your company name and individualized messages. Recipients can redeem their certificates either here at frontgate.com, through our toll-free number, or on a catalog order form.