Outdoor Furniture
< Previous Story
Next Story >
How To Care For Teak Furniture
Teak is regarded as one of the most beautiful, high-quality woods manufactured today. It's a very dense, straight-grained hardwood with a coarse texture, high natural oil content, and a distinctively aromatic scent (often compared to leather).
Widely renowned for its durability and resistance to rotting, teak is almost impervious to the effects of sun, rain, frost, and snow. Its high level of resinous oil acts as a natural insect repellent, giving it a very high resistance to termites.
The Weathering of Teak
Over time, teak furniture will attain a handsome silvery-gray patina as it weathers. This process takes approximately nine months, depending on the amount of sunlight and rain exposure. During weathering, a slight lifting of the grain may occur on the tops of the arms and legs, and you may even see a few cracks. This is not considered a defect, but a natural expanding and contracting of the wood. The grain will return to its original smooth finish after the weathering process is complete.
Cleaning Your Teak Outdoor Furniture
If you prefer to keep your teak patio furniture at its original golden color instead of letting it weather to a silvery-gray patina, simply perform some light sanding and then apply a teak cleaner and protectant. The oils will penetrate, nourish and help restore the original look of your teak.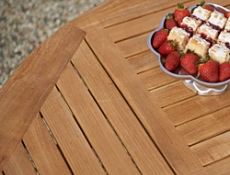 Teak can be cleaned with a hose. To remove stains, lightly sand away areas that are stained with fine-grit sandpaper. High-quality outdoor furniture covers are recommended if you plan to leave your teak furniture outdoors all year. If you choose to store your furniture indoors, we recommend that you do so in a watertight garden shed or garage. We advise that you do not move teak furniture from the garden straight into a heated indoor room for storage, as the sharp differences in temperature and humidity may cause the wood to split.
Shop Teak Outdoor Furniture Collections
Next Story >
Category:64691-How To Care For Teak Furniture
Category:64691-How To Care For Teak Furniture