Recall Alert
U.S. Consumer Product Safety Commission
Office of Information and Public Affairs
Washington, D.C. 20207
January 20, 2011
Frontgate Recalls Step Ladders Due to Fall Hazard
The following product safety recall was voluntarily conducted by the firm in cooperation with the CPSC. Consumers should stop using the product immediately unless otherwise instructed. It is illegal to resell or attempt to resell a recalled consumer product.
Name of Product: Frontgate Closet Ladders
Units: About 38,000
Distributor: Dillon Davis, of South San Francisco, Calif.
Retailer: Cinmar LLC d/b/a Frontgate of West Chester, Ohio
Hazard: The ladders can unexpectedly break, posing a fall hazard to consumers.
Incidents/Injuries: Cinmar has received about 860 reports of the ladders breaking, including 28 reports of injuries such as bruises and lacerations to the knees, shins, ankles and feet.
Description: This recall involves Frontgate foldaway closet two- and three-step ladders. The ladders are made of mahogany wood and designed for use in walk-in closets. Catalog item numbers included in the recall are 11998 for the two-step and 11675, 11975, 30269, 37935 and 40645 for the three-step ladder.
Sold at: Frontgate stores in Georgia, North Carolina, and Ohio, in Frontgate and SkyMall catalogs and websites December 2005 through July 2010 for about between $90 and $150.
Manufactured in: Indonesia
Remedy: Consumers should immediately stop using the recalled ladders and contact Frontgate for instructions on how to receive a merchandise credit for the amount of the ladder. Frontgate is directly contacting all known consumers.
Consumer Contact: For more information, contact Frontgate at (888) 298-4651 between 7 a.m. and 6 p.m CT Monday through Friday, or visit the firm's recall website at www.regcen.com/frontgateladder.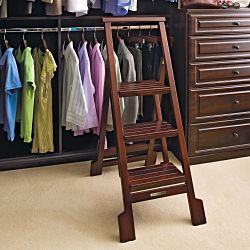 CPSC is still interested in receiving incident or injury reports that are either directly related to this product recall or involve a different hazard with the same product. Please tell us about it by visiting https://www.cpsc.gov/cgibin/incident.aspx
The U.S. Consumer Product Safety Commission is charged with protecting the public from unreasonable risks of injury or death associated with the use of the thousands of consumer products under the agency's jurisdiction. Deaths, injuries and property damage from consumer product incidents cost the nation more than $800 billion annually. The CPSC is committed to protecting consumers and families from products that pose a fire, electrical, chemical, or mechanical hazard. CPSC's work to ensure the safety of consumer products - such as toys, cribs, power tools, cigarette lighters, and household chemicals - contributed to a significant decline in the rate of deaths and injuries associated with consumer products over the past 30 years.
Under federal law, it is illegal to attempt to sell or re-sell this or any other recalled product.
To report a dangerous product or a product-related injury, call CPSC's Hotline at (800) 638-2772, teletypewriter at (800) 638-8270, or visit www.cpsc.gov/talk.html. Consumers can obtain this press release and recall information at www.cpsc.gov. To join a free e-mail subscription list, please go to www.cpsc.gov/cpsclist.aspx.