Image Gallery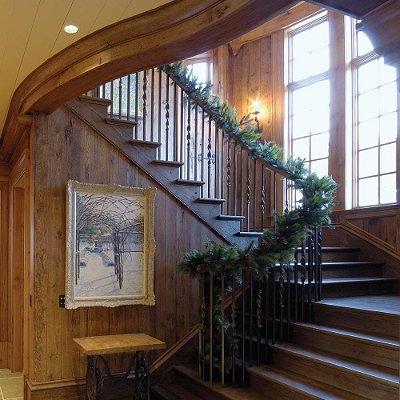 Home Highlights
Owners: Pam and Jerry Hassebroek
Home Site: 2.2 acres in Crested Butte, CO
Style: English Manor
Living Space: 7,864 sq. ft. including three gathering rooms (living room, pub, parlour), dining room, library, five bedrooms, eight bathrooms, home theatre, wine cellar, exercise room, heated decks, five fireplaces
Unique Features: A three-floor luggage lift; reclaimed-oak beamed ceiling; authentic English pub bar
His Favorite Room: "…the kitchen, where I've become the Chief Domestic Officer."
Her Favorite Room: "…the rooms with incredible views: the living room, my office, the Texas Theatre."
Resources
Architects: Spitzmiller & Norris— Atlanta, GA
Kitchen: McFarlane Design— Atlanta, GA
Contractor: O'Rourke Construction—Crested Butte, CO
Carpentry: Thompson Construction—Crested Butte, CO
Draperies: Amanda Breazeale Interiors— Knoxville, TN
Picture a grand home in the mountains and what comes to mind? Oversized A-frames. Brooding chalets. Immense, multi-story "log cabins." Pam and Jerry Hassebroek set out to break that mold when they conceived "Hassford Gulch," their gracious English manor house set on 2.2 acres in the Upper Gunnison Valley area near Crested Butte, Colorado.
"We wanted to build a house that suited our tastes, not just another mountain house. People tell us that Hassford Gulch gives the appearance of having been here for a hundred years." The home's imposing design with its soaring windows and limestone walls certainly confirms that impression.
A Mountain Setting, An English Inspiration
The Hassebroeks and their two children had skied in Crested Butte and owned a condo there since 1982. But when Jerry retired from corporate life in August 2000, he says he was ready to think about the next big phase in his life. While Pam stayed in their hometown of Atlanta taking classes toward her Ph.D., Jerry drove to Crested Butte, "completely unsupervised," he jokes. "I've always been a frustrated architect. I even own a drawing table." Not surprisingly then, his "next phase" began around Thanksgiving with their purchase of a prime property, situated with breathtaking views, bordered by National Forest land, a glacial moraine berm, the Club at Crested Butte Golf Course, and generous amount of natural wild vegetation between their land and the adjacent lot.
Inspired by the 19th century manor house of the 2001 Academy Award-winning movie
Gosford Park
, the couple set about recreating its elegance in a mountain setting. "We've traveled to England a half-dozen times and love all things English," says Jerry.
Gosford Park
became their reference point. "It lent itself to the architectural concepts that interested us most," Jerry says. Actually, the story of Hassford Gulch is as much about the many antique furnishings, acquired carefully and serendipitously, that went hand-in-hand with the construction of the house.
Antiques Set the Style
The main floor of the home, where Pam and Jerry spend most of their time, houses their favorite antiques. A beautiful antique carved oak mantel with a mansard top—a spontaneous purchase—became the focal point of the living room. "As the home was being designed, we were in the market for a living room mantel, but had no idea what we were looking for," says Pam. "In the process of a live auction, I walked over to look at an interesting mantel, gave Jerry an 'it might work' look, and two minutes later, Jerry had entered the winning bid. It became the anchor piece that defined the wood species, stain color, and trim profile for the interior rooms of the house. Sometimes you just get lucky."
Although this particular mantel was bought on a whim, the Hassebroeks usually had arrived at auctions completely prepared. After all, Pam is an engineer, and Jerry, a systems analyst. Armed with spread sheets of preferred items previewed beforehand, all with target prices, they'd bid within their budget—except for the gorgeous carved walnut, glass-front buffet cabinet in the living room. They had been outbid on it, but a week later the winning bidders defaulted, and the auction house offered it to Pam and Jerry at the higher price. They jumped at the chance. Using its large measurements as a guide for calculating the ceiling height during the design of the second level, the buffet piece's top medallion now nestles precisely under the ceiling beam. It also provides a lovely balance to the mansard fireplace mantel (one of five in the house) across from it.
"For us, purchasing antiques came as an evolution," says Pam. "I had inherited pieces from my mother's collections, which had been incorporated into our homes in the past." Find unique décor crafted to an estate size in our Indoor Furnishings collection.
"As we shopped for furnishings, to make sure what we were purchasing would work at Hassford Gulch, we carried a 3-ring binder with us filled with photographs of the various rooms. Along with photos, we recorded dimensions of spaces, and a list of items to be on the watch for."
Their pre-planning and organization has paid off beautifully. For example, prized auction finds fill the library and Jerry's office. The Library has an expansive oak and leather-topped English library table with six drawers (circa 1840); a dark oak bookcase with wild game carvings, probably German, and an oak server with barley-twist legs that echoes the twisting frame of the bookcase; an oak gothic-style fireplace mantel with simulated coals that glow red hot; and two walnut chairs from Italy with carved lion's-head arms and mauve fabric upholstery. In Jerry's office, an antique walnut glass-front bookcase acquired during construction required the architects to redesign and expand the ceiling height into attic space above to accommodate it. Antique carved ram's heads adorn the arms of leather side chairs; a French leather-topped cherry desk and walnut swivel chair once used by Pam's father fill the office with warmth and character.
A personal expression of Pam and Jerry's tastes, their antiques exhibit eclecticism. Three antique Indian cooking pots were configured into a wash basin and bar sinks. A Chinese elm table was converted to a wash stand in the main powder room. In the Master Suite, a new chandelier from North Carolina was glazed to match wall sconces discovered in a Vermont antique store. Leading into the Master Sitting Room, teak doors with iron spikes and original painting from a Portuguese building constructed during the colonial occupation of India are most impressive. Also in the Master Suite are a small antique writing desk purchased early in their marriage, and a reconfigured rosewood bathroom vanity originally acquired to furnish their home while living in Taiwan. Throughout their Crested Butte home hang several oil paintings by their favorite contemporary English artist, Charles Neal. His pastoral landscapes remind Pam of the dairy farm where she grew up, and of their many trips to England—"especially the Cotswolds," she says.
A Kitchen Fit for a CDO
Upon retirement, Jerry adopted a new title for himself: CDO, or Chief Domestic Officer. "I've always been interested in cooking, so while Pam was hard at work on her Ph.D., I took over kitchen duties," he says. They equipped the kitchen with the best appliance and configuration to turn out delicious meals, whether for the two of them or for the fundraiser dinners they enjoy hosting for Crested Butte charities. A Wolf six-burner gas range-top with infrared grill, two Thermador conventional/convection ovens, Sub-Zero side-by-side refrigerator/freezer, a Kohler pasta/steam cook center, two food warming drawers and two ASKO dishwashers (a must for cleaning after large dinner parties) equip the kitchen for a gourmet chef. Their grill on the deck off the kitchen makes summer grill-outs a treat.