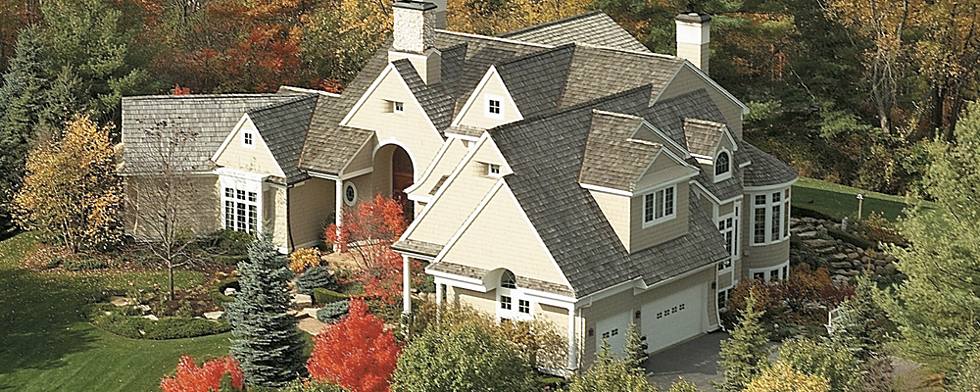 Rochester, MICHIGAN
Mike and Pat Stechschulte have a thing about houses. This is the fourth one they've built, and they've always enjoyed driving through various neighborhoods seeing the places people live.
But when they picked up the momentum eleven or twelve years ago, the kids said, "Oh no! They're looking at houses again!" After five years in a house at a heavily trafficked corner location, Pat was ready to move on.
"We wanted more privacy and more view than where we were," she explains. "Buying wasn't out of the question. We'd drive down to Detroit and look around, but we weren't going to do anything if it wasn't right." The few houses Pat and Mike actually did go through weren't really what they wanted. "We thought we'd probably build again — with new, you get what you want."
With that in mind, they started looking at model homes, making notes of what they did and didn't like, and Pat began pulling pages out of House Beautiful and Architectural Digest to help formulate ideas.
"We started looking locally and fell in love with this lot just up the street. It was on a hilly, winding road, way up high. We liked the sunshine and the openness and overlooking all the trees to the north. It's private on all sides — the way the house sits, we can't see our neighbors, but we still have the perks of living in a neighborhood. It's the best of both worlds."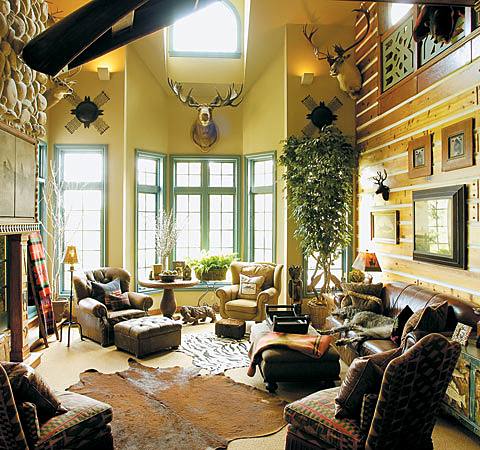 "We didn't want your typical brick subdivision... something different, more unique."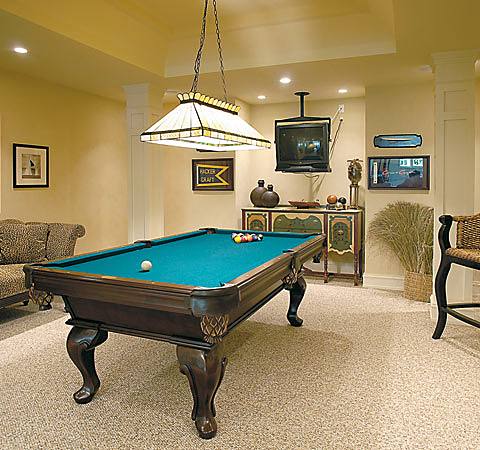 NAILING DOWN THE PARTICULARS
Mike and Pat walked the lot many, many times, envisioning the house they planned to build here. "We didn't want your typical brick subdivision two-story," says Pat. "We wanted something different, more unique. We love East Coast architecture, the stained shingles and white trim — it's different than what you normally see in Rochester." For Pat, those elements had a homey feeling, warm and cozy, like the cottages in northern Michigan where she'd vacationed since childhood.
Acting on friends' recommendations, she and Mike interviewed architect Alexander Bogaerts. "As soon as we met him, we got the feeling that we meshed. We knew what we wanted but didn't know how to describe it. We'd bring pictures of cedar-shake houses with a pitched roof, and he'd say, 'Here's how we'll do it.' Then he just tweaked it and tweaked it until we were happy with the end result. He made everything easy. He was wonderful to work with — right now, he's doing our cottage up north."
Mike and Pat say building wasn't at all a chore for them. "We enjoy the process — we like putting things together. Some people hate it, but we like it. There's nothing better than having coffee in the morning, pulling out the plans, and wondering, 'Should we make this bigger or smaller?'
"Friends of ours say that if they worked together, they'd never get anything done — their taste is too different. But Mike and I agree on most things. And we were blessed with a good builder," she adds. "He was so down to earth. We knew when we met him that we were alike in the way we looked at things."
ICING ON THE CAKE
They were also blessed with a multi-talented jack-of-all-trades who made the house more special than anything they'd planned or imagined. "Paolo came with the house," Pat laughs. "He was like Eldon on Murphy Brown — he could do anything! We brought him in when we were having trouble with the staircase, and he was with us for five years."
Whenever she and Mike wanted to do something out of the ordinary, the refrain was always, "Let's call Paolo!" Mouldings, woodworking, fireplaces, cedar planking on the walls, bookcases, plaster with straw in it: whatever they wanted, Paolo could make it happen. "When we first moved in, we'd go room to room with him and say, 'We want to get this done. What do you think?' We weren't in any hurry. We just took our time. There wasn't anything in the library for a couple of years because he was working in there."
Mike and Pat's bedroom was just "a plain, dry-walled room" until Paolo got hold of it. A master carpenter, he installed ceiling beams and designed and built the bed frame, anchoring it into the wall and floor. "Just this morning, I was admiring how he shaded the stain to make the recesses look deeper," says Pat. "We put our mattress in the foyer for six months while he was working on it."
And when she brought home an old barn window she'd bought for fifty dollars and asked Paolo to make it into a full-length mirror, he put on his engineering cap and said, "This is how we'll accomplish it." He also engineered and built the ingenious recessed TV cabinet over the family-room fireplace, designing the doors to disappear inside when open, disguising them when closed with a painting of a North Woods scene.
"He's an artist, too," says Pat. "He not only painted the canvas on the TV cabinet, he even did the painting over the living-room fireplace. My sister had shown me a book of Asaro, a French painter who did children and beach scenes, and Paolo patterned the painting after his style. We hired Paolo to make things better, to make them different. He made our home so much more custom than it would have been otherwise."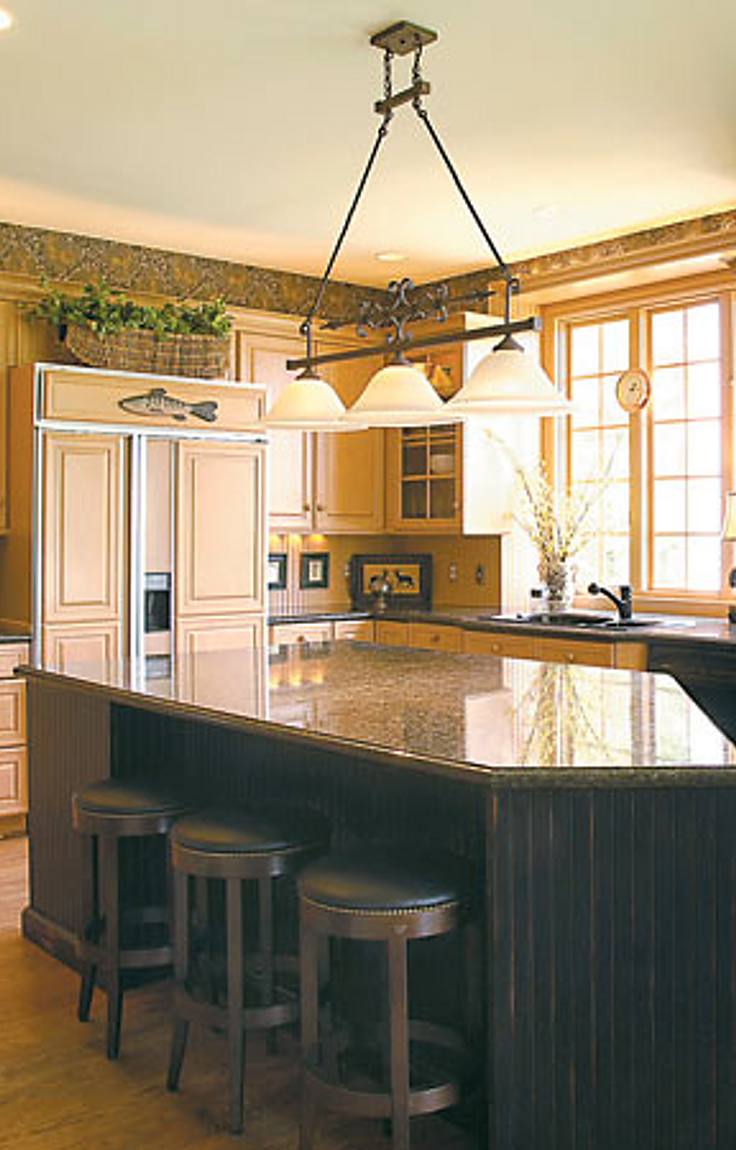 HOME HIGHLIGHTS
The kitchen is the heart of the home. "It's where the most activity is. We positioned the kitchen to take best advantage of the view because that's where everybody gathers, and then we placed all the other rooms in relation to it."
Pat knew she wanted the warmth of maple cabinets the moment she saw them in the kitchen showroom. And then, having selected the maplewood, she chose granite countertops and backsplash in a deeper, darker color. "Once you make one decision, it leads to the next decision, and the next. You don't have to have it all figured out at once. That first decision eliminates some things and makes other things possible."
Pat had no interest at all in fancy appliances. "I knew my limitations. I didn't need a gourmet kitchen with a wood-burning pizza oven. I'm not a big cook — they call me the Carry-Out Queen. I'm always busy with the kids' athletics and things, so we do most eating around the island, buffet style. 'The Chinese is here!' It works for us. I cook maybe three times a week — the only think hot in our kitchen is the pilot light!"
Walk into the family room, and you feel as though you've been transported to a lodge in northern Michigan. "We found this old mahogany canoe at an antique fair, and Paolo figured out how to hang it from the ceiling. He also did the planking and chinking on the wall." The game heads were also antique-shop finds, except the deer bagged by Pat's dad. As for the totems carved on the pillars and elsewhere: Paolo's handiwork.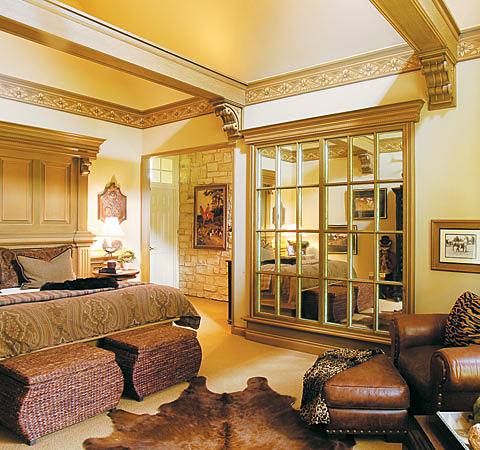 The Jacuzzi in the master bath is Pat's favorite getaway — once she gets her turn. "Everybody in this family uses that tub! It's because the kids do athletics or dance. 'Did you clean out the tub?' I say to them. "I want to get in!' Some people have a Jacuzzi and never use it, but not us."
She's also partial to the rounded shower with glass-block walls. "There's no door to clean and maintain, and none of the spray ever comes into the room." But even here, there is no escape. Finnegan, the family's Irish wolfhound, follows her right inside, sitting himself down just beyond the reach of the water.
The library turned out to be another favorite family gathering spot. "We thought it would be nice to have a quiet area," says Pat. "Actually, it's where we spend most of our time. We watch TV in there, and everybody fights over the same couch. It's a big house, but we wind up in the same 15′ x 15" room every night!"
As for the living room and dining room, "We don't spend much time there, but we love the space. The two rooms are combined. When you first walk in, you see windows all across the back looking onto the trees, and there's light streaming in. It's like one big hallway we pass through on the way to somewhere else."
"We just kind of winged it. We don't follow any rules. We're eclectic — we like to mix and match and make a place our own."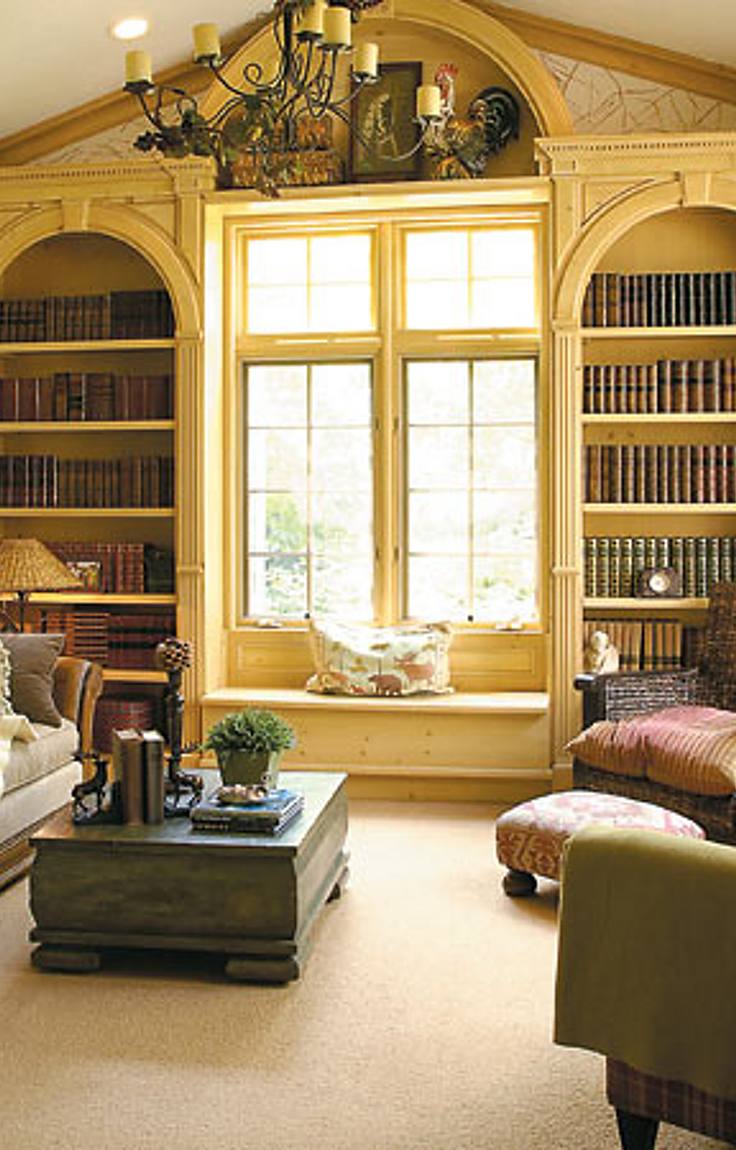 GO WITH WHAT YOU LOVE
Pat and Mike worked in tandem decorating the house as well as designing it. "It was a collaborative effort," says Pat. "We like the same things. He has a real good eye, and I usually defer to him." They agreed there was to be lots of millwork, lots of texture, and lots of earthy colors throughout the house. "We just kind of winged it. We don't follow any rules. We're eclectic — we like to mix and match and make a place our own."
Though they brought all their "old stuff" with them when they built the house, nearly all of it has been replaced during the ten years they've been here. "We don't have much of the furniture that made the move. We let it go at garage sales. After we'd sold the old family-room sofas recently — the kids had used them to build forts when they were little — Mike said, 'Frontgate is coming to photograph, and you don't have any furniture!' So we bought a sofa and brought the rest in from other rooms. We thought it looked pretty nice! The empty spots always get filled in over time. There's nothing pressured here."
When Pat and Mike do a house, they say it's never really done — it's always a work in progress. "When one thing gets taken care of, we think, 'What else needs re-doing?'"
"We refinished the basement just three years ago. We're always looking at magazines and catalogs for new ideas. And if we see something we like on our travels, we just go ahead and get it. We may not have a place for it, but we know we'll find one.
"We never go out and buy real expensive furniture because I like to change things. Mike wanted to look at some sofas they were selling off a truck from North Carolina. I said, 'Not me! I'm not buying anything off a truck!' But he dragged me out, and it worked!'"
Every once in a while, though, it's Pat who prevails. She wanted more seating in the kitchen to handle all the activity. "We build a fire every day, so I tried a couple of chairs next to the fireplace, but they didn't work. I was out looking for something else, maybe some leather chairs, when I came across this daybed. It's a great place to put your feet up, have a cup of coffee, and look at a magazine. When the girls come home from school with friends, there'll be two, three, four of them stretched out on it. My husband didn't like the daybed at first, but I can't get him out of it now!
"Our model is: do what works for your family. I'm not afraid of making any mistakes. You can't make any mistakes! Just go with what you like, what makes you smile. If someone else doesn't like it, who cares?"
HOME HIGHLIGHTS
HOMEOWNERS: Mike and Pat Stechschulte
COMPLETED: 1995
ARCHITECTURE: The mood of classic '20s-'30s Spanish-mission style
PROPERTY: "We're way up high overlooking the trees — we love the sunshine and openness — and the way the house sits, we have privacy on all sides."
STYLE: "We love East-coast architecture, cedar shingles and white trim — a homey feeling."
AT-HOME PASTIMES: "After all the hustle and bustle during the week, we love getting up on weekends and sitting by the fire looking at catalogs and magazines, then enjoying a lazy breakfast when the kids get up — that's our favorite time."
FAVORITE ROOM: "The library is our favorite for TV watching — it's a big house, but we wind up in the same 15′ x 15′ space every night — but the kitchen is where we have the most activity."
LIVING SPACE: Kitchen and family room, living room, dining room, library, first-floor master suite, three upstairs bedrooms, five-and-a-half baths, and lower-level with billiard room, kitchen, workout room, and wine cellar
HOUSEBUILDING TIP: "Choosing the right architect and builder can make the experience so much more enjoyable — make sure you mesh with them, that they understand what you want. Ask your friends about their experiences, and you'll learn who people like."