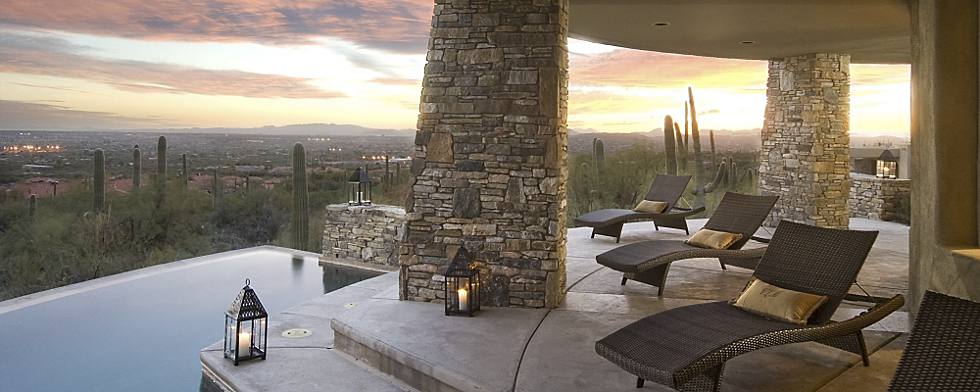 Tucson, Arizona
An avid jogger and golfer, Pat Secord had been running on the desert road near the Arizona National Golf Course for years, and recognized the land as the property of his dreams. But the areas wasn't under development, even though a road had been built up the Catalina Mountain in 2000. He'd even sketched drawings for his dream home in the desert while residing in the city of Tucson. "Then one day as I was out for my run on the road above the golf course, I met two people walking around the area. It turned out they were developers getting ready to build houses there. So I showed them the lot I'd had my eye on, and mentioned to them that I had my house already drawn," says Secord.
Making the most of a Natural Setting
With an elevation of 2,940 feet, the property overlooks the whole city and sits just above a fairway of the Arizona National Golf Course. Within months, the property he coveted was his, and he began working side-by-side with architect Kevin Howard of KBH Design. His home took shape—not exactly the shape he'd sketched, but many of Secord's original ideas remained.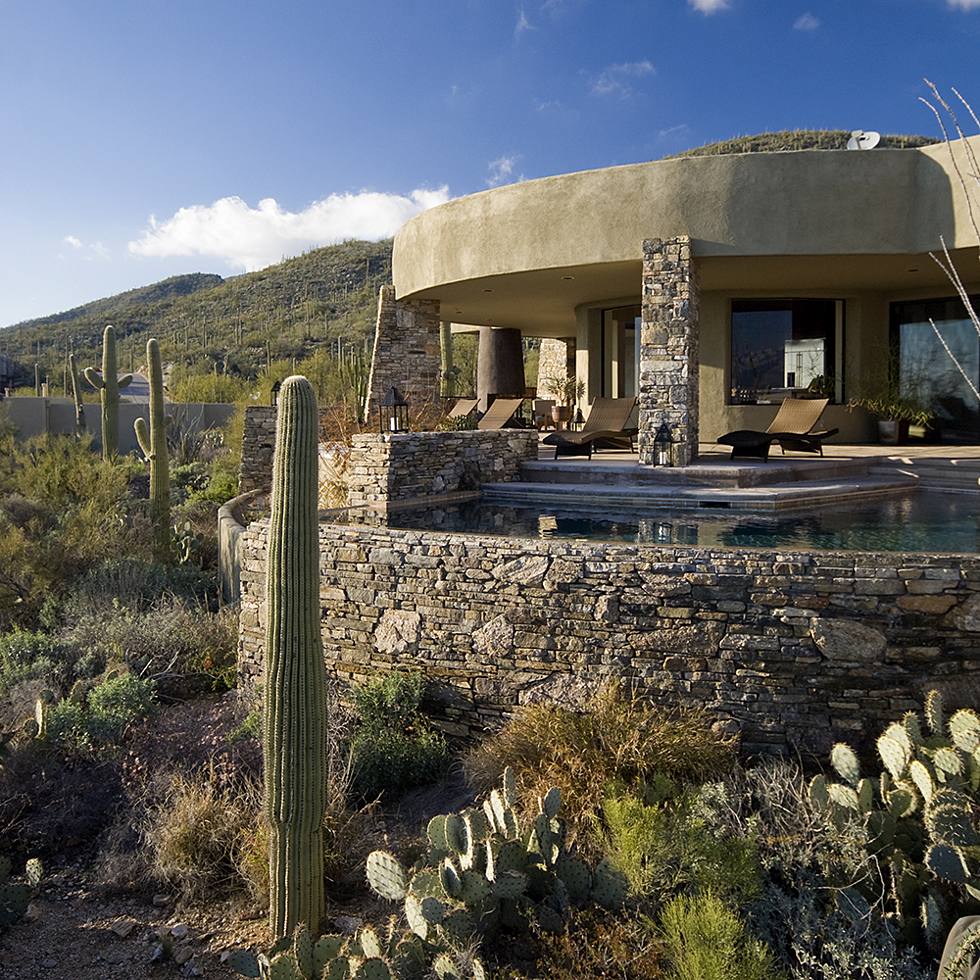 "What evolved was more or less a custom home. What I'd sketched was the kind of home I wanted to live in, with an open living area. Kevin oriented the home so that every room has an amazing view," Secord says. "The house I'd drawn was basically a lot of squares. Kevin added the curving, covered outdoor area and its dramatic pillars." The graceful curves in the back of the home serve to soften the lines, offering a contrast to the right angles of the rest of the home.
But for Secord, what most distinguishes his home is the stonework found throughout: in the walkway, in the entryway pillar that extends into the foyer, in the great room's majestic stone fireplace, and in the massive pillars and curving wall along the back. These aren't just random stones, shipped in from somewhere unknown. These native stones were unearthed while digging the home's foundation; all are part of the bedrock from the foothills of the Catalina Mountains that surround the Sabino Springs community.
"There was so much stone from digging up my lot that we decided to incorporate it into the home. It makes the entire structure look much more a part of the desert, Secord says." The workmanship took almost a year, and Secord says the dramatic effect is worth every minute. Secord's decision to integrate native stone into the home's design was also part of the larger environmental attitude of the community.
An Unspoiled Desert Oasis
The entire Sabino Springs development was designed with an emphasis on natural desert preservation and animal protection. The surrounding area is famous for its immense population of towering saguaro cactus, which can live up to 200 years and grow to be 40′ tall. Prickly pear cacti, spiny ocotillo, and many other species span as far as the eye can see. As a result, almost half of Sabino Springs' 430 acres is designated to remain undeveloped, making this community a unique blend of civilized comfort and untouched wilderness. In fact, homeowners are only allowed to build on one-acre to four-acre lots, and each home's footprint is limited to a maximum of 9,200 square feet. "The rest of the land must remain undisturbed," explains Secord, "so that the homes blend into the environment." Most of the landscaping around Secord's home is untouched desert, all extremely low maintenance. "About the only thing I need to take care of are two or three flower beds, which I maintain rather poorly, " he laughs. As Secord puts it, "Outside and in, there's nothing gaudy here."
That's an understatement. Muted and masculine is the description that best describes the home's interior. At 3,000 square feet, everything flows together, and each room is well suited to a bachelor's lifestyle. A well-appointed 40′ x 26′ Grand Room features 20-foot windows with sliding doors that Secord says erase all boundaries between indoors and out. "The feeling is complete indoor/outdoor living," he says. The ever-changing desert, Tucson city skyline and mountains beyond afford magnificent views day and night. The Grand Room opens to Secord's office, his master suite, and a guest suite. Helping blur the lines between inside and out, large windows and doorways in the high-end kitchen, curving dining room, guest room, and Grand Room all open to the great outdoors.
Inside, Teamwork Shines Through
Secord speaks of a true collaboration that resulted in his home's finish and furnishings. "I worked closely with both my architect and my interior designer. Everyone got into the project," says Secord. The result is an open and flowing sequence of interior rooms, bordered in back by airy outdoor living space, accompanied by spare but stunning furnishings.
Among the mix of ideas architect Kevin Howard brought to the design was the introduction of varied ceiling heights that add subtle asymmetry to the house. The Grand Room's ceiling soars to 14-feet high, while ceilings in the office, kitchen and master bedroom suite run 12′ high. Below the ceilings, floors are tiled in travertine stone. The liberal use of warm woods also pervades the rooms—for example, doors are made of solid knotty alder wood. In the kitchen, custom-made cherry wood cabinets extend ceiling high, and a spacious, granite-topped center island is also cherry wood. Continuing the emphasis on clean, contemporary lines, Secord boasts, "No electric outlets break up the kitchen walls—they're all hidden away." Mere steps from the kitchen area, a semi-circular informal dining space is surrounded by windows that overlook the pool and the Tucson skyline in the distance.
"It feels like I'm coming back to my own private retreat."
In Secord's home office, cherry wood built-ins abound: a sweeping, semi-circular desk, cabinets, combination bookshelves/TV unit, and a luxury Mulholland Brothers® leather chair creates a perfect spot for leisurely reading. The master bath's custom drawers and cabinets are crafted of cherry wood cut at an angle to achieve an exotic look. Light in the master bath flows in through large windows and from a unique five-arm contemporary chandelier hanging from a recessed ceiling niche that highlights it to perfection.
Guided by interior designer Donna Rice, Secord's furnishings pay homage to comfortable Southwest living. Furnishings were carefully selected by Rice with input from her client, and then judiciously positioned. Roomy leather chairs and ottomans placed in the Grand Room and office exude comfort and luxurious style. "In the foyer and master bath, interesting Burma bull area rugs bring out the natural texture of the travertine floors," says Secord.
He personally selected several bronze—a bucking bronco, cowboys on horseback (a reproduction of the famous Coming thru the Rye sculpture by Remington), and more. Tasteful Western-themed works of art as well as authentic Navajo woven rugs hang on the walls, with minimalist effect. "Nothing is clustered or cluttered. Everything flows from one room to the other, from inside to outside," Secord says.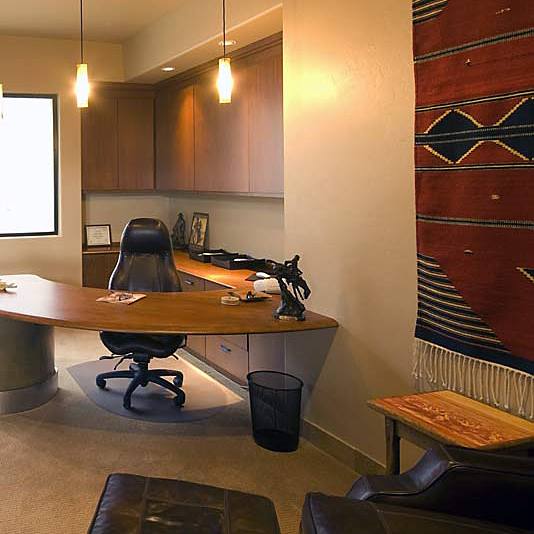 Panoramic 360-Degree Vistas
This being sunny Tucson, where it rains just 12″ annually and the temperature most months hovers between 65 and 90 degrees, outdoor living space is never an afterthought. Secord's home is not only serene and spacious, but also highly functional. Step outside, and a linear deck made of salt-finished concrete winds along the home's southern exposure. Massive native stone pillars that support the rooftop overhead add a wow factor. The meandering deck space encompasses a covered lounging area that opens up to a contemporary style, understated spa, and infinity-edge pool that glistens in the sun. Designed by Tucson's Patio Pools & Spa, the pool area is shaped with interesting angles and one simple water feature: a waterfall that gently splashes from the upper spa level into the pool.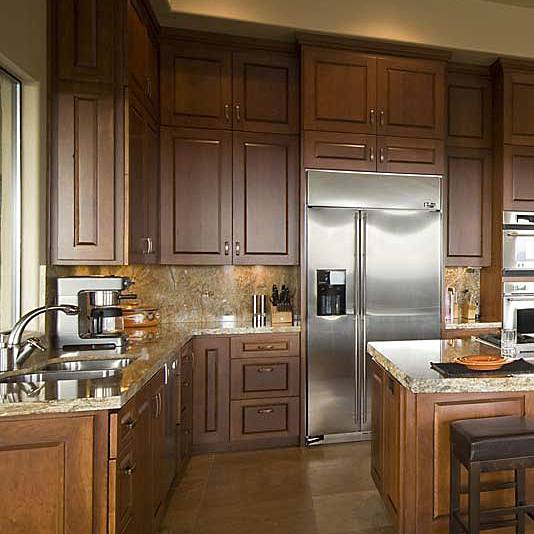 Outdoor dining is a must for Secord. "I'm a grill master," he says, and he enjoys entertaining friends while steaks sizzle on his Viking grill. The grill/dining area is shaded from the intense Arizona sun and is just steps from the kitchen indoors. Visitors can watch outdoor TV while relaxing in the sitting area on teak chairs with ottomans for supreme comfort. During football season, a cozy built-in outdoor fireplace warms up the area as he and his friends take in Minnesota Vikings action on TV.
A native of Minnesota, Secord moved to Tucson to follow his passion for golf and to live close to the renowned Arizona National Golf Course, his favorite course of hundreds in the state. He chose to build in Sabino Springs for the proximity to the course, for the desert beauty, and the commanding views that are guaranteed to be there in the coming years. "My southern view overlooks a golf course fairway, and the northern view from the front faces the mountains, areas that will never be encroached upon," he says. Neighbors to the east and west are near enough to be neighborly, far enough away for Secord to maintain privacy.
As a jogger and golfer, Secord revels in his natural surroundings. To enjoy it even more, he recently purchased an APO Refractor Telescope from Frontgate, and now uses the high-performance spotting scope during his spare time. "I watch the fascinating wildlife that roams everywhere up and down the mountains," he says.
During travel time on airplanes, he often browses through the Skymall catalog to find practical Frontgate items for around his house. A favorite is Frontgate's leather-strapped mahogany luggage rack he purchased years ago. "I keep it handy in my bedroom for easy packing because I travel all the time," he says. He also counts on his sturdy Frontgate step ladder for chores all around the home and pool. At night, Secord's deck glows with candlelight from the new Frontgate wrought iron candle lanterns. "They are just the right size and style to complement all the natural stonework on my deck," he says.
Although he's on the road quite a bit for business, Secord considers his Tucson haven to be a comfortable lifestyle to return to after business trips. "It feels like I'm coming back to my own private retreat," he says. Thanks to developers and homeowners like Secord who strive to preserve the natural beauty around them, this beautiful home doesn't spoil the serenity of the Tucson desert—it's an inviting oasis that welcomes friends and family to this arid and picturesque land.
HOME HIGHLIGHTS
HOME SITE: Tucson, Arizona
BUILT: 18 months of construction completed in Fall 2005
SETTING: Sabino Estates at Sabino Springs, a master-planned community nestled on 430 acres of natural desert at the base of the Catalina Mountain foothills. The Arizona National Golf Course is located within the community.
STYLE: Southwestern Contemporary
LIVING SPACE: 3,000 square feet indoors and 1,500 square feet of entertaining space under roof outdoors
ARCHITECT: Kevin Howard of KBH Design, Tucson, AZ
INTERIOR DESIGNER: Donna Rice, Alta Forma, AZ
POOL: Patio Pool & Spa, Tucson, AZ