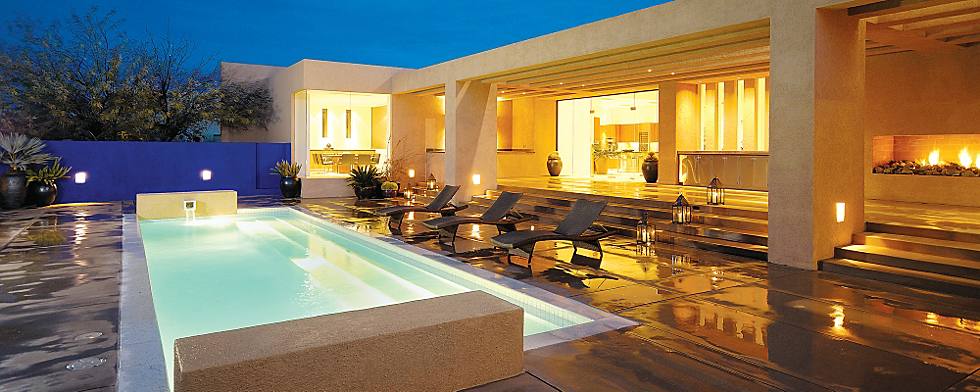 Scottsdale, Arizona
After viewing the first custom home built by Peter Magee, Russell Thornton was a believer. "The home is pretty spectacular," says Russell, "and extremely high in quality with unique styling." To be precise, a bold contemporary Mexican style is what's drawing attention to Magee Custom Homes in the Scottsdale area today.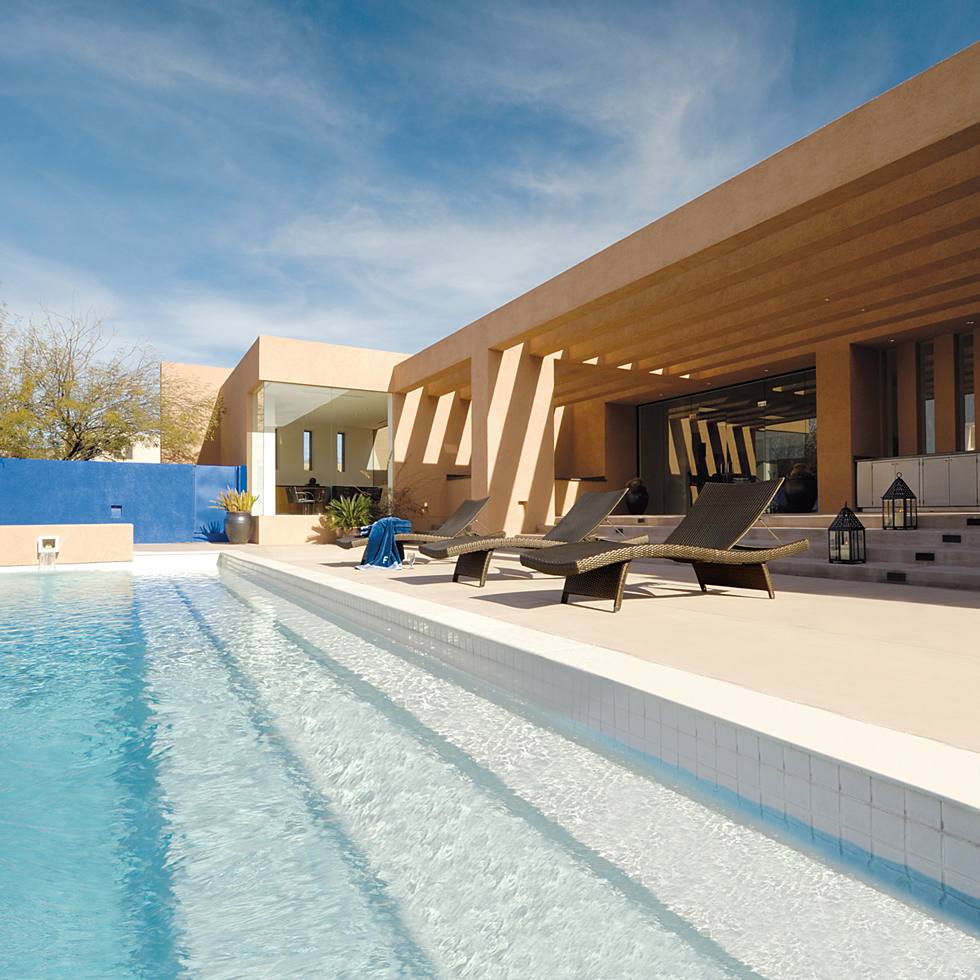 A former corporate consultant who traveled the world, Magee was struck by the modern Mexican design evident in such extraordinary buildings as the Hotel Camino Real in Mexico City, a masterpiece of architecture by Ricardo Legorreta. As far back as the 1920s, architect Jose Villagran Garcia pioneered this modernist movement. Today Peter Magee, a new pioneer passionately influenced by these Mexican masters, is introducing the contemporary hacienda style to Scottsdale.
Thornton's home, designed by Magee after the two met and agreed on a unified vision, carves out a bold contemporary statement within an 8,000-acre community in northern Scottsdale, backing up against the Tonto National Forest and the Continental Mountains. About half of the master plan's 2,700 homes are built amid six Jack Nicklaus-designed golf courses, and only a few offer the pristine simplicity of this month's Frontgate Featured Home.
"Once inside, it's like you're in a private world of your own."
PLANNED FOR PRIVACY
Even from the outside entryway, the quiet interplay of lines and symmetry is apparent. Here the poetry of light and shadow play out on the 200-year old Mexican pavers leading to the frame-less glass entrance doors. At once, you know you're stepping into a unique home.
Russell built the home with one overriding concept in mind: gorgeous privacy. He was attuned to the land around his home that was either already developed or soon would be. "I'm amazed at how many buyers, even experienced buyers, make the mistake of building a home to utilize the views or the privacy that will inevitably be taken away by future development, and then become disgruntled with the intrusion when it actually happens." Creating and preserving his home's privacy took planning and careful attention to detail.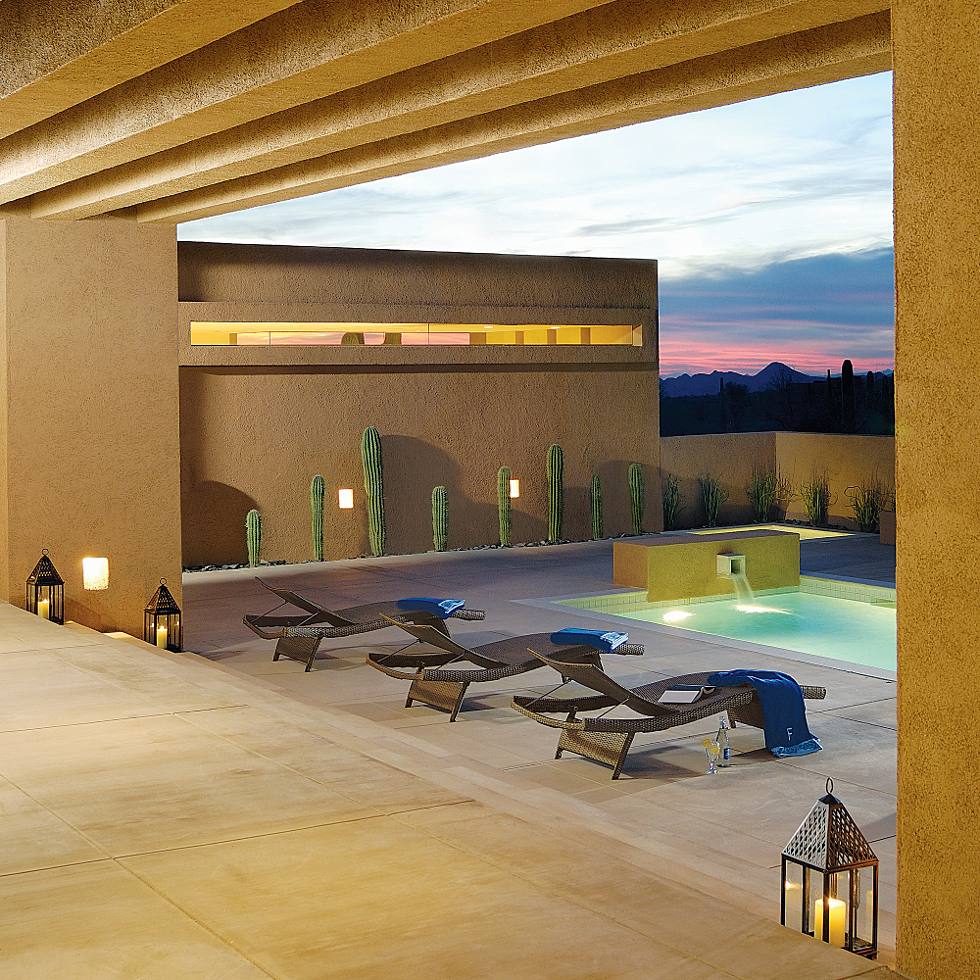 "Everything is light and airy, and the large walls feel like your own private modern art gallery space."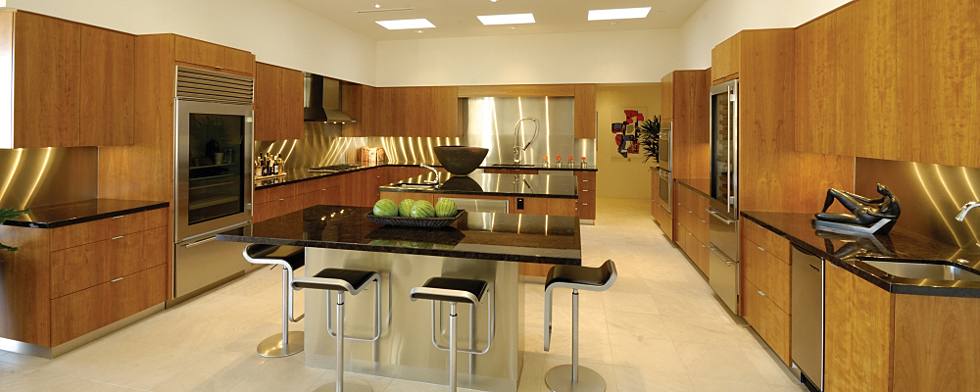 A COURTYARD HOME
"My home is based on the Mexican courtyard concept," Russell explains. Three sides of the main home surround the courtyard patio with a sparkling 12′ x 40′ pool and spa area, while a detached building housing two guest bedrooms and a private patio creates the fourth side.
True to traditional Mexican architecture, open rooms and wide, long hallways abound with seemingly miles of wall space. "Everything is light and airy, and the large walls feel like your own private modern art gallery space," says Russell. In fact, well-known abstract artists' works are displayed on many of the vast, linear walls. Low-voltage lighting wired to a programmable system was installed throughout the house specifically with art in mind. To decorate the house in compatible style, Russell also acquired "most of the custom-made contemporary furniture – some designed by Peter himself – in oversized proportions to fit the large spaces."
The ample wall space also plays a second role. To Peter Magee, "The wall is almost a sacred element of Mexican architecture." To highlight plays of light and shadow, accent angles or maybe to frame a spectacular view, he slices walls with vertical slits or squares. For example, in the master bath a punched-out grid of squares breaks up the view while conserving privacy. Distinctive alcoves add interest, too, as in the spectacular dining room where an illuminated, glass-framed recessed planter is filled with Mexican fencepost cactus against a dramatic red background.
Yet another dining room wall includes an art niche with back lighting. A third wall houses a built-in, cherry cabinetry sideboard unit with a granite countertop. And most dramatic of all, the 11′ x 15′ dining room features one floor-to-ceiling glass wall that overlooks the pool and patio area plus the panoramic mountain vista beyond, with spectacular sunsets on full display every evening.
ENTERTAINING INDOORS AND OUTDOORS
With or without a pool table, entertaining in spacious surroundings is definitely at the heart of the entire home's design. The dining room opens to the 35′ x 21′ kitchen, a study in minimalist styling filled with modern amenities: a Wolf 5-burner cooktop and double gas ovens, two Akso dishwashers, as well as a refrigerator/freezer, wine cabinet and two refrigerated drawers by Sub-Zero. A wet bar, 7′ x 6′ prep island and a separate dining island lend themselves to the easy flow of guests around the clean-lined kitchen, which in turn overlooks and opens to the multi-level patio and pool area. Accommodating dozens of guests for a casual mix of indoor-outdoor entertaining comes easily in these uncluttered, adjoining spaces. And when Arizona nights get cool, an adjacent 21′ x 30′ family room area beckons guests to enjoy the glass-detailed gas fireplace. Another gas fireplace on the courtyard patio takes away the chill outdoors.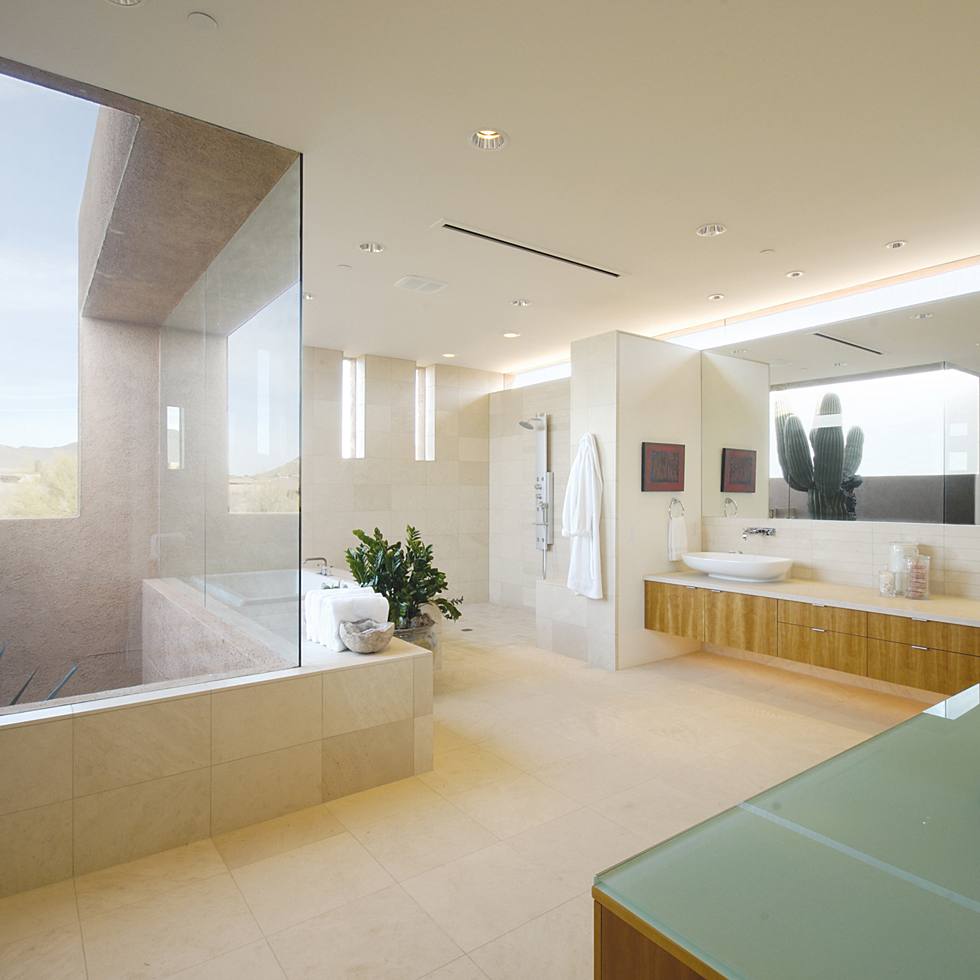 After the party, a serene 24′ x 49′ master bedroom lined with built-in custom cherry storage awaits, along with a Toto hydrotherapy tub and his and hers vanity space in the master bath. With the addition of another 15′ x 25′ bedroom/office, the home offers Russell all the comfort he requires. And when out of town friends arrive, detached guest suites welcome them. A native of Scotland with family living in Glasgow, Russell's guest quarters give his mother, father and visiting friends room to get away in private suites with a shared patio, yet it's just a few steps down a breezeway to the main house.
Outdoors, the bright Arizona sunshine is broken up by porticos of glue laminate beams above the patio space; a built-in grill and wet bar are part of a long length of prep and stainless steel storage space that creates the sleek outdoor kitchen. With a nod to Mexican architect Luis Barragan's graphic style, a deeply-hued blue wall rises up at the short end of the 40-foot rectangular pool. The outdoors layout is as striking and serene as indoors, tailor-made for entertaining, relaxing and privacy.
Russell calls his home "my limestone palace," as most of the flooring is Portuguese limestone tile. But this "palace," which looks as if it's created from adobe, is actually a combination of concrete block and a stucco-sheathed wood frame. Within the house and garage, there are six temperature zones with humidifiers and electronic air cleaners — welcome relief in the desert climate. A centralized reverse-osmosis water purification system recycles water constantly, so even when Russell goes back to Scotland for weeks, he comes home to fresh water from the tap.
"Know the functionality of the house you want. Don't get dragged along by bigger and bigger ideas."
"BUILD THE HOUSE YOU NEED"
The home's masterfully spacious yet practical amount of square footage for indoor and outdoor living stems from another homebuilding precept Russell espouses. "Know the functionality of the house you want. Don't get dragged along by bigger and bigger ideas. Don't go for the fanciest you can get your hands on. Build the house you need." And that's just what he did. The result? A courtyard-style home overwhelming in its minimalist simplicity, perfect proportions, airiness and above all, even in a well-populated golf community, that precious commodity called privacy.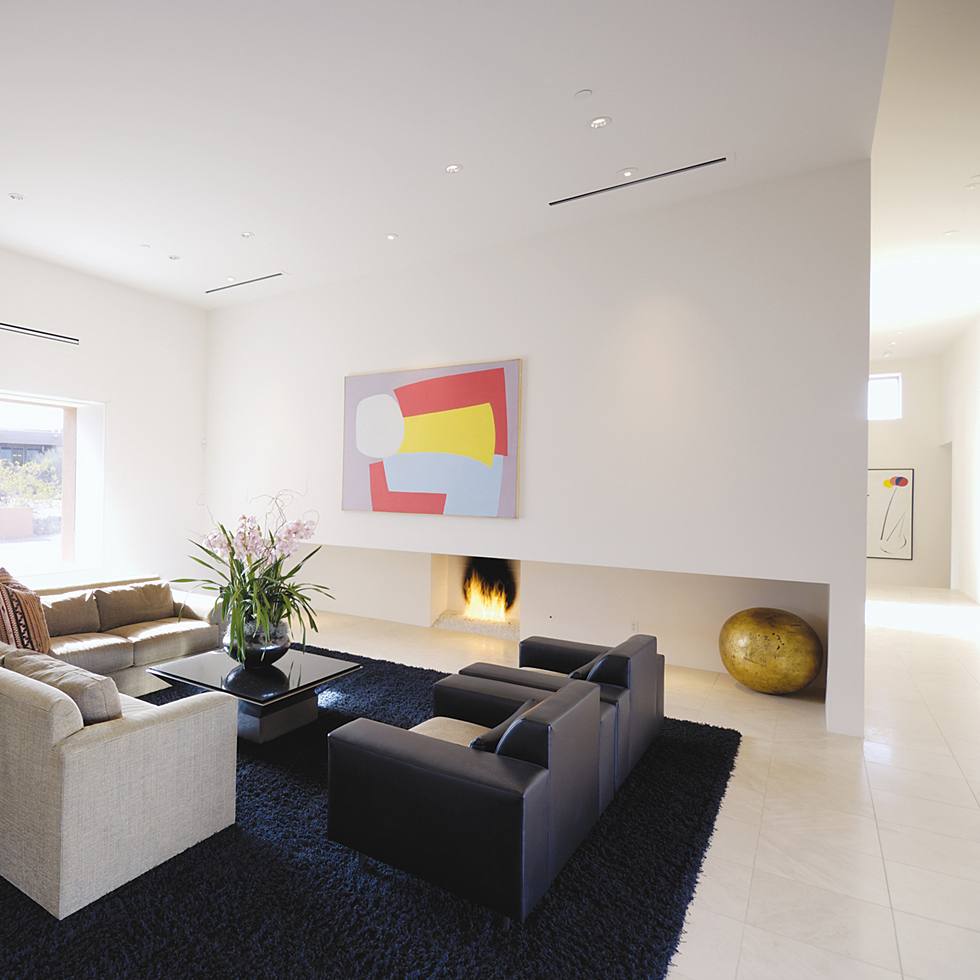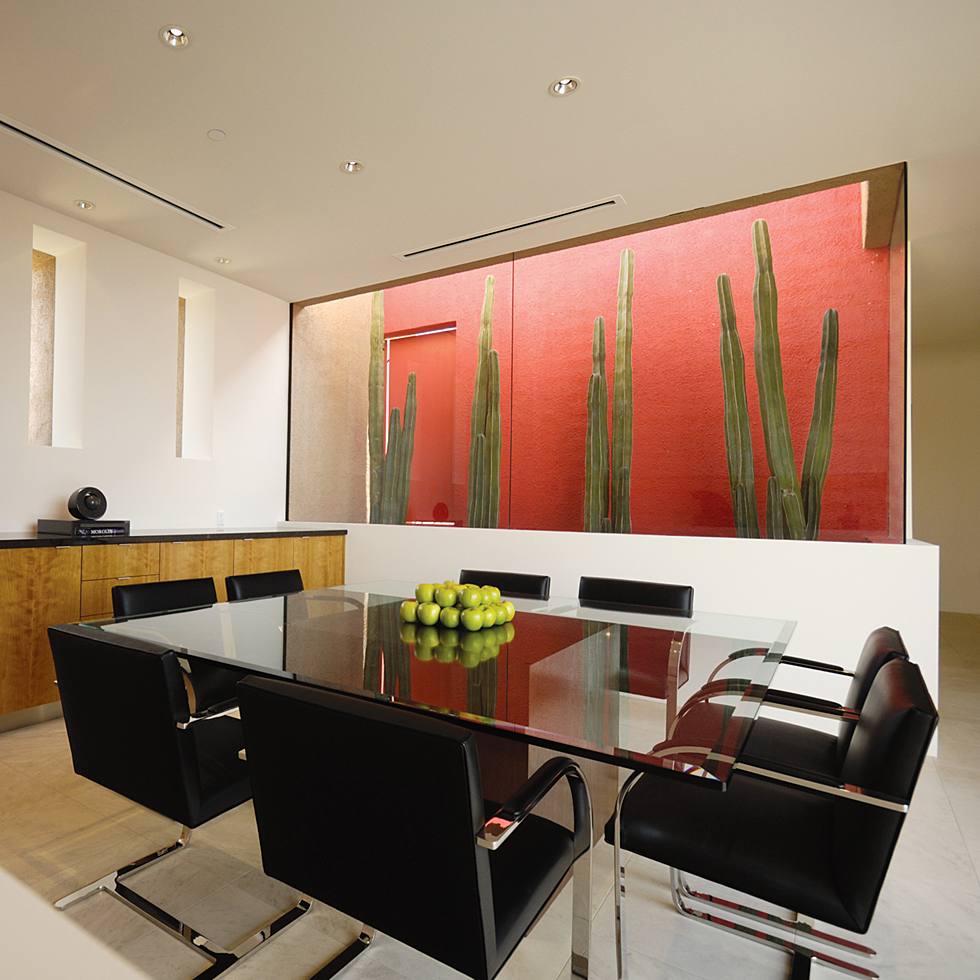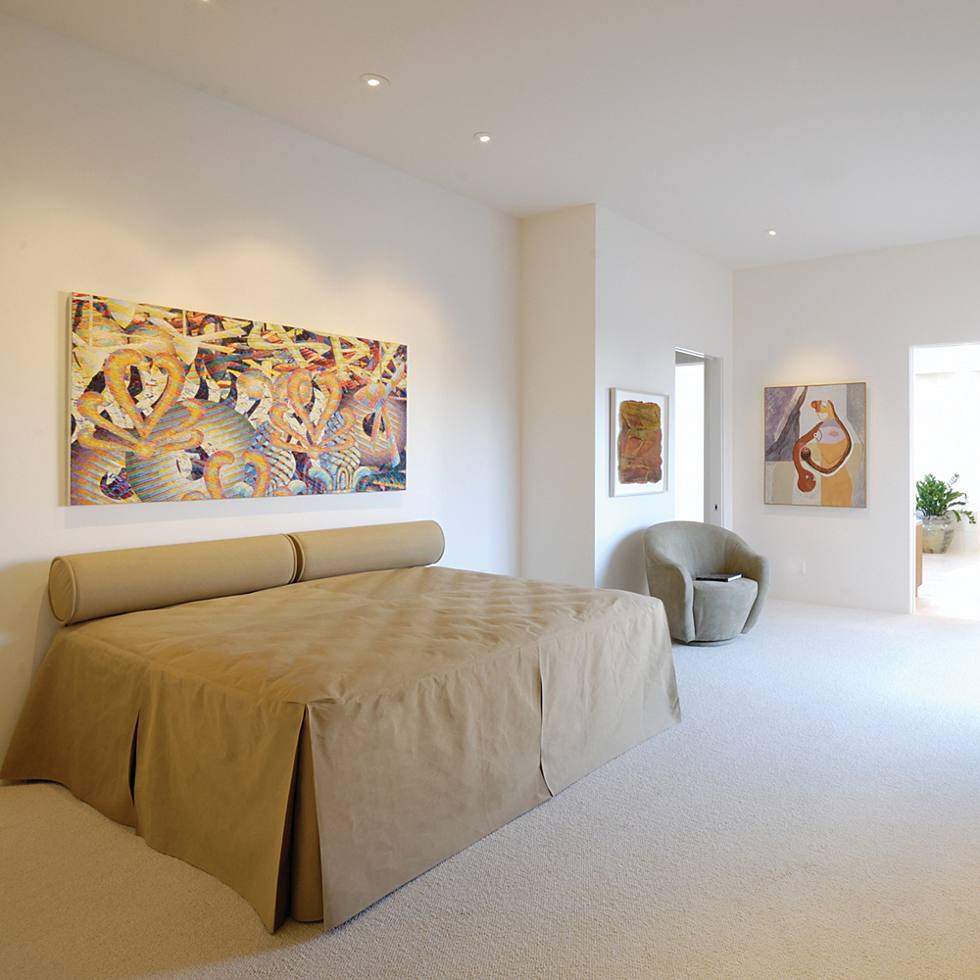 HOME HIGHLIGHTS
COMPLETED: September, 2005, after a year of construction
HOME SITE: an 8,000-acre luxury community bordered by the Tonto National Forest and Continental Mountains, near six Jack Nicklaus-designed golf courses
LIVING SPACE: 5,145 square feet indoors and 4,000+ square feet of outdoor entertaining patio space, set on about an acre of land; four bedrooms total, with two connected by a breezeway to the main house; three-car air-conditioned garage
STYLE: Contemporary Mexican, the signature style of Magee Custom Homes
UNIQUE FEATURES: Floor-to-ceiling glass wall in dining room overlooks pool and scenic mountains, custom cherry storage in master suite, sleek outdoor kitchen with built-in grill and wet bar
FAVORITE ROOM: "The dining room feels like a glass box–light, airy, yet very private. It's a beautifully thought-out space. It's my favorite room, but personally, I'd love to put a pool table in here!"
HOUSEBUILDING TIP: "Look to the future and take care. Take into full consideration what's going to be built around you when you develop your own home."