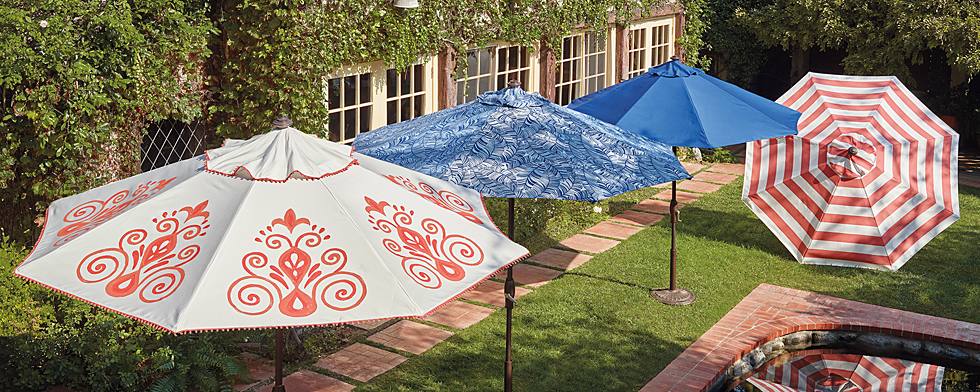 Choosing an umbrella can feel overwhelming when faced with what seems like every option under the sun. But one thing is certain: you need an umbrella that not only looks great, but is also functional. Not sure where to start? We're here to make shade seeking a breeze.
MARKET UMBRELLA
WHO: The everyday shade seeker
WHAT: Market umbrellas are what you picture when you think of a patio umbrella. They come in different sizes, shapes, pole finishes and canopy colors, so there's bound to be one that suits your style.
WHERE: By the lounge chair, the outdoor dining table – they can go pretty much anywhere shade is required (except the beach).
WHY: With color options galore, this classic backyard staple allows you to bring extra personality to your space. Choose solids, stripes or patterns.
CANTILEVER UMBRELLA
WHO: The entertainer
WHAT: Cantilever umbrellas provide large range shade coverage without interrupting sight lines. Due to their large scale, cantilever umbrellas have limited size and color options. Neutral selections will go in just about any space.
WHERE: Great option for large scale dining and seating areas that get lots of use, thanks to 360° swivels and tiltable canopies.
WHY: When you need maximum comfort and shade for maximum fun in the sun, this umbrella is always up to the task.
HALF UMBRELLA
WHO: The space saver
WHAT: Half umbrellas are placed against a wall or wall-like structure to provide shade without taking up the space of a 360° umbrella.
WHERE: Perfect for small spaces, balconies and courtyards.
WHY: Because shade is in high demand – even when square footage is in short supply!
No matter which umbrella you choose, we guarantee it is crafted using the highest quality materials. Most of our umbrellas feature Sunbrella® solution-dyed fabric that is resistant to fading, mold and mildew. Vented canopies allow hot air to circulate and add stability in case of sudden gusts of wind.  All that's left to do is relax and enjoy the outdoors!
---
Show us which umbrella you chose by following @frontgate on Instagram and using #Frontgate to share your photos.