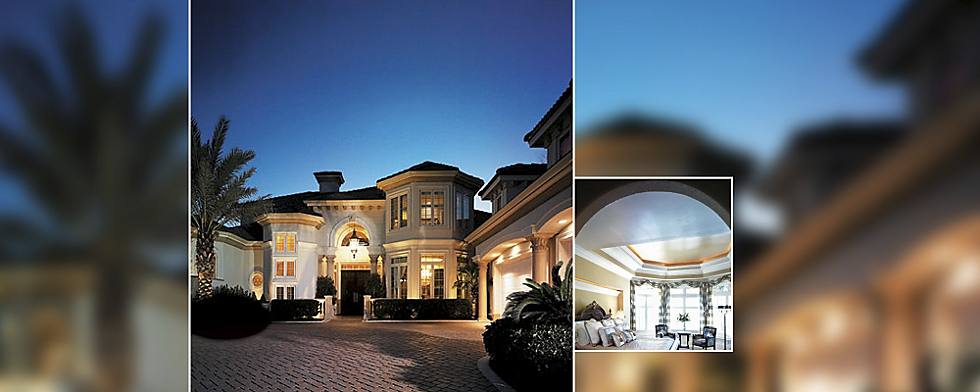 Myrtle Beach, South Carolina
Stepping in to serve as general contractor wasn't at all what Greg Boykin had in mind when he and Margaret decided to build a house here in the gated golf course community of Grand Dunes.
One weekend just a few months earlier, the two of them had been driving from Litchfield Beach to their home in Wilmington, North Carolina when they caught sight of the magnificent Grand Dunes bridge spanning the Intercoastal Waterway. The sales office was closed, but they drove back down on Monday, found a lot that backed up to the bridge, and purchased it that day. "We had been in the same house for 12 years," Greg explains. "It was time for a change."
After that, things moved right along. Since the covenant they'd entered into with Grand Dunes required them to adhere to a Mediterranean architectural style, the Boykins bought a catalog of appropriate house plans in Palm Beach, selected several they liked, and hired an architect to consolidate them into a workable design.
"He did exactly what we asked," says Greg. Eighteen months later, he and Margaret moved into their brand-new home.
But something unexpected happened along the way: they found it necessary to fire the builder. "We'd started having problems with him," Greg explains. "I'd come down periodically to check on things and never could find him. The subs were here, but I couldn't find the builder. The roof was supposed to be finished, and it hadn't even been started. That's when I decided to relieve the builder of his duties and build the house myself."
Every day at 5:00 a.m., Greg headed from their home in Wilmington to the job site in Grand Dunes, often accompanied by Margaret. "You can't believe the junk that goes on when you're not here every day. I'm glad we finished the house because we got it just the way we wanted it. I'm a perfectionist, and my wife is a perfectionist. She had a lot of input. We did it right.
"It's good to build your own home," he continues, "because then you know how it's built. I know everything about it. If you don't know what's in a house, things could be going wrong and you wouldn't know it."
"We had been in the same house for 12 years, it was time for a change"
AN OUNCE OF PREVENTION
Greg and Margaret took precautions, however, to make sure that nothing would go wrong. "It's such that we don't have to worry about fix-ups. The roof joists and interior framing are made out of steel that won't shrink, crack, or expand like wood does. There are no bows in the walls — every room is true and straight." Steel reduces the fire hazard, too, and eliminates any possibility of rot.
While windows are wood inside, they're corrosion-resistant aluminum-clad steel outside — an important consideration given that the house is just a half-mile from the ocean. Porch and garage floors, patio, and pool surround are wipe-clean porcelain that won't crack because it's impervious (water can't penetrate and freeze), and the paver-stone driveway has been sealed so tire marks won't show. Interior floors are easy-care travertine, shutters in the master-bath shower are warp-proof PVC, the clay-tile roof "will be there forever," and a fiberglass membrane sealing the gap between foundation and walls keeps out bugs and water.
Margaret's innate decorating sense led them to take one further precaution. "My wife came up with a heck of an idea," says Greg. "If you have steel studs, you'd better make sure where your pictures or mirrors are going because you can't nail into steel studs." Together, they decided in advance where to hang every picture and mirror, and then, at the appropriate height, placed a 1″ x 12″ piece of wood horizontally between the steel studs. "We knew we'd have 12 inches of wood to work with," says Greg. "We have tall ceilings in the living room and dining room, maybe 20 feet, so we had to measure and do it right." Working from the plans, Margaret also figured out in advance the placement of every table, chair, and sofa. "That way we knew exactly where to put the receptacles. She had it down to a science! It was a lot easier for the movers, too."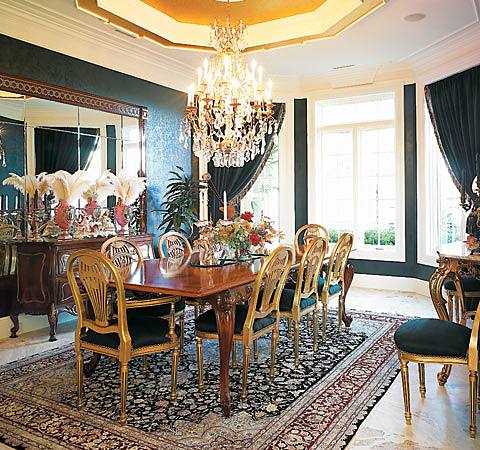 GIVING CREDIT WHERE CREDIT IS DUE
Greg readily acknowledges that a builder is only as good as his subs. "I met with them and told them, 'I'm going to be dealing with you directly from now on.' Luckily, our builder had some great subs, even though he himself wasn't worth a darn."
"You can't believe the trim work in this house. The trim carpenter started in Europe. He carried me to a couple of jobs and I said, 'That's beautiful! Now I want you to do something a little bit better.' I gave him free rein. I said, 'Listen, you're the artist. You do what you think looks good.' He and the electrician were real professionals. The electrician gave me good ideas about lighting, like receptacles for Christmas lights out by the front gate.
"The travertine came from Greece, from the same quarry used in ancient buildings. We looked at materials from Rome and Germany, but liked the flooring from Greece better.
"We'd come up with different designs for the floor, something we'd found in magazines, and say, 'Can you do this?' We might outline with gold-colored travertine, then use a creamy color in the center — like the medallion under the kitchen table. The person who did our travertine floors had to work with it to get it smooth, mashing the 16″ x 16″ marble squares down in the mud and placing them just right, then buffing and shining it up with a machine. It took 16 months." Cast-stone columns indoors and out, as well as a cast-stone fireplace and mantel, were made by an outfit in Greenville, South Carolina.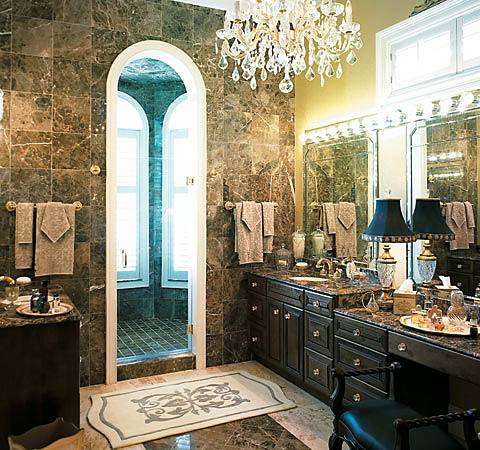 HAPPY HOME
Greg and Margaret nicknamed their home Casa Feliz: happy home. The exuberant décor reflects the couple's warmth and hospitality — a real tribute to Margaret's flair for interior decorating. "She's got a talent now," says Greg. "She really does. She knew exactly what she wanted. One day I'm standing in the dining room, and she says, 'Guess what? We're going to have a black dining room.' I said, 'Black?' She said, 'Trust me. You're going to love it.' I wouldn't have believed it, but it came out great!
"We'd used red once before in our den and kitchen. We enjoy the red — it wakes you up in the morning." Kitchen cabinets were made to order and sprayed with an automotive finish, then antiqued with a coffee stain. The trim in the kitchen and den were then painted to match the cabinets.
"My wife came up with this unique way of painting the family room and master bedroom. She used gold paint, then had the painter sponge in pure polyurethane. When the light hits the wall, it shimmers. In the family room, she had the painter put in darker red with a sponge, then did the same thing in black. It makes the wall look three-dimensional."
Greg also has high accolades for his sister, a recently retired decorator who lives in Atlanta, where she procured some of the home's most intriguing appointments, from the kitchen chairs carved with palm trees to the chandelier adorned with five nattily attired monkeys. "She helped us out tremendously," says Greg. "It's good to have an older sister."
Greg himself saw to it that the bar adjoining the family room and kitchen was patterned after the bar in Frank Sinatra's home in Palm Springs. "I like the way it was designed with plenty of seats, a big mirror over the bar, and cabinets with glasses." There was one more thing he wanted: a room of his own. "My wife is a gourmet cook, and she's got a pantry as big as the bedroom. I told her all I wanted was a room over the garage. I call it a bonus room. I fixed it just the way I want it. It's a man's room where I can hang my ducks and pheasants and things that have been stuffed."
Greg is also partial to the window-walled shower in the master bath. "It has his-and-her heads, and my brother-in-law swears you could put in a car and wash it. We've got a Rinnai system that takes the place of a water heater. It's heated by gas and provides continuous hot water. Once you cut on the hot water, it stays hot until you turn it off."
Master-suite closets were built to a grand scale as well. Margaret and Greg each have their own dry-cleaning machine in their respective closets. "Our clothes are ready in 30 minutes, pressed and the whole nine yards," says Greg. "My wife's closet is bigger than mine. She has her own shoe closet. I put all my shoes on the top two shelves — she has the other 38."
"The electrician gave me good ideas about lighting, like receptacles for Christmas lights out by the front gate."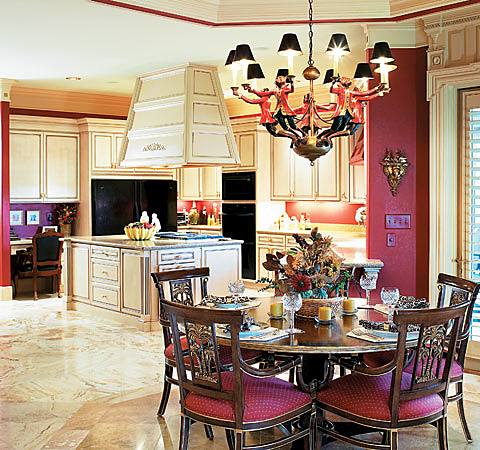 NO PLACE LIKE HOME
"We really enjoy this home," says Greg. Low upkeep translates into more leisure time — time to sit on the screened porch every morning sipping coffee and watching traffic cross the bridge, time to try new recipes or catch up on college sports, time to romp with the dogs or visit with friends and grandchildren. "We've got seven kids between us and two dogs. The kids are grown and gone — the dogs are still here."
Greg and Margaret's penchant for carefree living extends to their guests as well: "We want everybody who comes here to feel at home." They entertain frequently and designed the kitchen accordingly, installing large-capacity appliances, warming drawers, and four dishwashers.
"My wife really gets into the cooking," says Greg. "She's the sweetest girl on this earth. I have to work out on the treadmill to keep my figure down."
The wall with wrought-iron fencing that encloses the property is intended to rein in dogs and grandchildren and to create a boundary with the adjoining Par 3. Greg says he nonetheless finds a bucket of golf balls in their yard on a daily basis.
BRINGING THE TROPICS TO SOUTH CAROLINA
Greg adds that he really enjoys the yard. Small wonder: he designed it himself.
He and Margaret decided to create a tropical outdoor atmosphere to complement the home's Mediterranean style. A retired industrial-landscape designer, Greg set about unearthing plants that could survive — even thrive — in Grand Dunes' seaside climate, where the temperature can plummet to 15 degrees.
"I introduced the palm tree to South Carolina," he explains, "and it has done extremely well. It was at the Beverly Hills Hotel, the old pink palace, where I saw this particular kind of palm. I called the Extension Service to find out about it. I saw it again at the Breakers Hotel and asked the manager where I could find it, and he steered me to Boynton Beach. I went to see the trees in person, and the nurserymen told me they'd planted them in Houston, Los Angeles, and New Orleans.
"It's a date palm, that's what it is: Phoenix dactylifera. It originated in Egypt. I was a little suspect how it would do here, but I talked to Clemson University, and they said, 'It will probably do well. Go ahead and try it.' I'm glad I did! I have five of them out there, and they're the focal point of our yard."
Greg planted a total of 16 palm trees, ranging from pindo, Washingtonia, and Silvestri palms to European fan palms. "Other people were watching to see how mine would do, and now they're incorporating them into their own landscaping. One guy came up from Litchfield, saw my Phoenix, and planted 10 or 12 in his yard. This was my life — I landscaped 2,000 acres a week."
To achieve the formal look he was after, Greg planted ginger lilies, ferns, shrub roses, azaleas, crepe myrtle, Italian cypress, pittosporum, Indian hawthorn, and boxwood. "Plus we've got all Margaret's pots around here. They contain a flush of bulbs."
He says he's got the yard work down to about an hour per week except for his wife's bulbs and roses, and she takes care of them. "We put in zoysia turf, so there's not a lot of mowing. I don't want to spend a lot of time on yard chores. I get someone else to do the dirty work — then I can just sort of piddle."
HOME HIGHLIGHTS
HOMEOWNERS: Greg and Margaret Boykin
COMPLETED:October 2003
HIS FAVORITE PASTIME: Yardwork and watching college sports
HER FAVORITE PASTIME:Computer work and cooking
HOME SITE:3/4 acres on the Intercoastal Waterway in a gated golf-course community
HOUSEBUILDING TIP:"Be very careful when you pick your builder. Either watch him very carefully or hire a project manager you can trust."