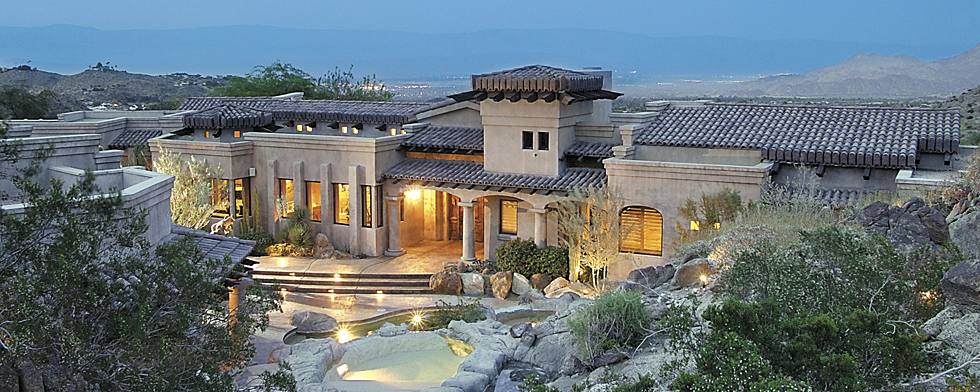 PALM DESERT, CALIFORNIA
"It was just a piece of dirt when we started," say Dennis and Jeanette Frandsen. Today, however, that barren lot is a desert oasis, a retreat from the harsh Minnesota winters, a place where family and friends gather to enjoy the Frandsens' hospitality.
This is the second home they've owned here at Big Horn Golf Club — the first was a furnished house Dennis purchased as a surprise for Jeanette in celebration of their 40th wedding anniversary on December 26th, 1996.
"Jeanette and I have four children," he explains, "two sons in Minnesota and two daughters in Orange County, plus ten grandchildren. Back in 1996 I said to my daughters and sons-in-law, 'It's time we buy a place away from Minnesota.'" Most of their friends were purchasing vacation homes in Naples, Florida, but with family out in California, Dennis and Jeanette had made up their minds that if they ever made a move to a warmer climate, it would be Palm Springs.
"I said to my daughters and sons-in-law, 'It's time we buy a place away from Minnesota."
"Unbeknownst to my wife and two sons," Dennis continues, "I told my daughters, 'Here's my budget. Go over to Palm Springs and see if you can find a house that's already furnished. If so, I'll buy it and surprise your mother for our 40th wedding anniversary.' I figured if I could get them to approve of something, chances are their mother would go along with it, too."
On the pretext of joining his sons-in-law for a golf outing, Dennis then flew to Palm Springs to look at six or seven houses his daughters found promising. "We'd walk in, and I'd say, 'This isn't it.' The layout wasn't right or the décor was outdated — Jeanette and I had lived together so long that I knew none of those houses would do.
"Then somebody said, 'Go to Big Horn Golf Club,' so I called the Sales Department and learned that they had a new spec home for sale that was totally furnished. It was a little over budget, but the minute I walked in, I said, 'Man, this is it right here!'
"As I drove around Big Horn's private gated community looking at the golf course, clubhouse, and spectacular vistas, I thought, 'This is almost perfect! I'm going to buy that house!'"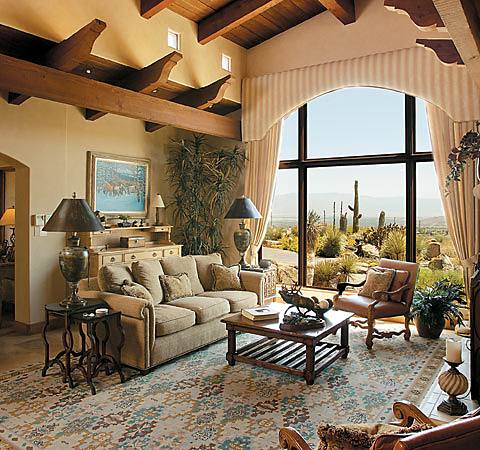 SURPRISE!
Dennis handled the entire transaction by mail without his wife or sons ever suspecting a thing. Meanwhile, he says his daughters had a great time readying the house for Jeanette's arrival, stocking it with everything from salt and pepper to paper towels.
To pull off the surprise, Dennis began by suggesting the entire family celebrate the holidays together in Palm Springs. And so, on Christmas Day, the Minnesota branch of the family flew to Orange County, and everyone then rode caravan-style to Palm Springs, where Dennis had rented a couple of townhouses for the week. His daughters arranged for their parents to make the trip in chauffeured luxury, watching a videotape their son had made of friends offering congratulations.
But instead of driving straightaway to the restaurant as Jeanette and their sons expected, the entourage pulled up to the newly purchased house in Big Horn, where a waiter greeted them with a tray of champagne. Dennis delights in telling what happened next.
"My wife says, 'This is a home, not a restaurant!'
"I replied, 'Jeanette, I bought this house for our 40th wedding anniversary.' "And that was our entry to Big Horn Golf Club," he says.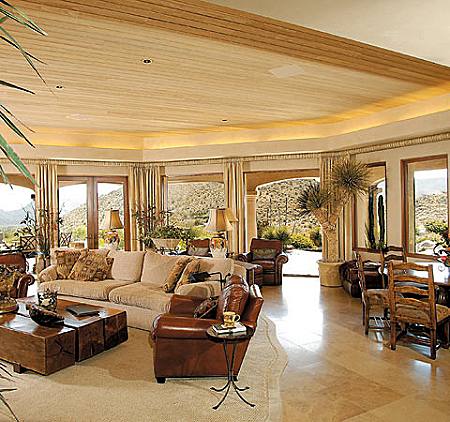 MOVING ON!
Being a businessman, Dennis told his wife, "I've done things before that didn't work out. If you don't like this, we'll put it back on the market. We're not committed forever."
But she did like it, and the two spent many satisfying winters here, opening their home to friends and family. Meanwhile, Big Horn continued to grow, aided by the development of another 18 holes — a canyon course designed by Tom Fazio — and numerous homesites.
In the year 2000, about the same time they began to realize they simply "didn't have enough house" to accommodate their ever-expanding family, Dennis and Jeanette took notice of an especially desirable piece of property on the new 16th fairway, on the new Mountain Course. "It was a large, flat mountainside lot with spectacular down-valley views," says Dennis. "We decided to buy it and build."
Top priority was given to providing separate accommodations for guests. "Our house was only marginally big enough to accommodate our growing number of grandchildren," Dennis says. "And we had lots of friends coming to visit." Equally essential was a home office where he could tend to his businesses back in Minnesota.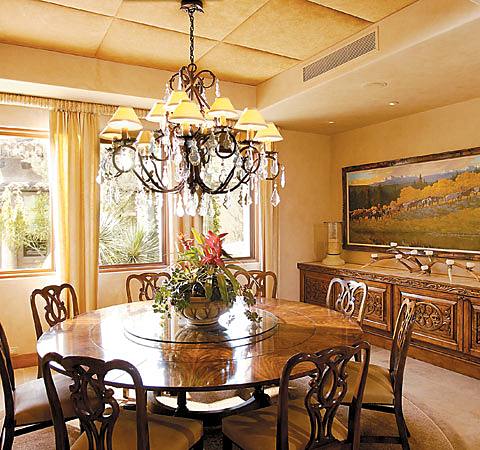 ASSEMBLING A TEAM
Moreover, the two of them wanted their second home here in Big Horn to be "a little different" than other homes in the community, something more along the lines of a Tuscan villa. On the strength of developer/designer Mike Fedderly's recommendation, they brought in James Hann from Phoenix, an architect noted for his originality.
(Although one of their sons-in-law is an Italian-born architect who builds Tuscan homes, Dennis and Jeanette decided against doing business with him. "It's easier to tell a non-family member you want to change something. Besides, his heavy workload would have made it difficult for him to participate.")
Dennis maintains that the key to success is a good architect, and he was impressed with Hann's competence. In researching their own wants and needs, Dennis and Jeanette toured several of the architect's homes. "We'd tell him, 'We like this, but we don't like that.'" Hann designed the house to suit the site and the Frandsens' preferences, then built a model of the house so they could see how it would look situated on the lot. "It came very close to what we wanted," says Dennis.
Ministrelli Homes was contracted to handle the building, while Fedderly served as both developer and designer for the project. "We settled on a desert palette," says Fedderly.
"The colors are very livable. And with the grandchildren so active, we chose tile, granite, and other materials that could stand up to everyday use."
But it was Dennis who bought most of the artwork — "with Jeanette's approval, of course." Exposed-beam ceilings, leather accents, and neutral backgrounds give precedence to the colorful Western-themed paintings and sculptures.
Dennis credits the builder, architect, and designer (and the good communication between them) with most of the creative ideas incorporated into the final plans. To this day, he emphasizes the importance of getting "the builder, architect, and designer right up front."
Along with his son Lance, Fedderly also took on the task of landscaping the property. Both father and son were well-accustomed to working with the native plants required by Big Horn's architectural review committee. "All the plants had to be brought in," says Dennis. "A grounds crew looks after them year round."
All in all, building was a good experience, and the Frandsens were immensely satisfied with the outcome. "Our home is beautiful," they say.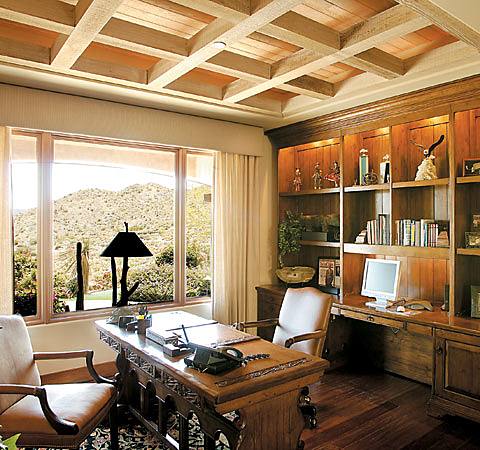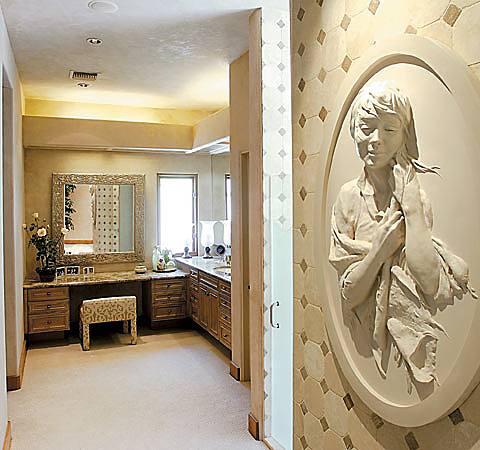 TAKING UP RESIDENCE
Dennis and Jeanette enjoy an active life here. He retreats to his office to focus on business from 6:00 AM to 10:00 AM ("By taking advantage of the latest technology, I can participate in board meetings back in Minnesota via computer"), while she goes hiking with friends, followed by lattes and conversation.
The rest of the day they spend golfing, relaxing, working out, and dining with friends. "We entertain a lot, and we have a lot of guests who stay with us. We know nearly all our neighbors, and there are dinner and cocktail parties going on all the time." Per Jeanette's wishes, the kitchen has plenty of room to accommodate friends who want to pitch in and help. "We use the kitchen a lot," says Dennis. "Sometimes we have Big Horn Food Services cater a party, and sometimes we eat out with friends — there are a lot of good restaurants around here. But I prefer Jeanette's cooking no matter where we go. She's too good a cook!"
"The colors are very livable. And with the grandchildren so active, we chose tile, granite, and other materials that could stand up to everyday use."
When family arrives, daytime fun centers around the swimming pool and water-slide integrated into a rock outcropping. Evenings, if the temperature is right, they sit around the gas-fueled fire pit at valley's edge, chatting and taking in the star-studded sky.
Dennis explains that the three-bedroom, three-bath guest house functions something like a hotel. "We have a lot of company. If it's just another couple, they stay with us in the main house. But if it's families or two couples, we put them in the guest house. Families can make their own breakfast, run in and out to the pool, be as messy as they want. It works very well. And when they leave, a housekeeping service comes and puts it all back in shape. If the family were here in the main house, Jeanette would want to clean it all herself." Each of the four families also vacations here at other times of the year, so the guest house gets used on a regular basis, from a weekend to a week at a time.
The company of family and friends and the hospitable climate apparently suit Dennis and Jeanette well — in December, they celebrate 48 years of married life. "I call her my trophy wife," Dennis smiles.
Home Highlights
HOMEOWNERS: Dennis and Jeanette Frandsen
COMPLETED: Spring 2002 after two years of preparation and construction
CONSTRUCTION: Stucco with tile roof
PROPERTY: Two-bedroom home with three-bedroom guest house overlooking the 16th fairway of Big Horn Golf Club's Mountain Course, designed by Arthur Hills
LIVING SPACE: 14,300 square feet ("Yet it feels like a home, not a colossal mansion")
FAVORITE ROOM: The media great room if they're entertaining a number of guests, the smaller sitting room with fireplace when it's just the two of them
AT-HOME PASTIMES: Hosting overnight guests, casual get-togethers with friends, hiking, playing golf
HOUSEBUILDING TIP: "Get the architect and designer working together right up front"