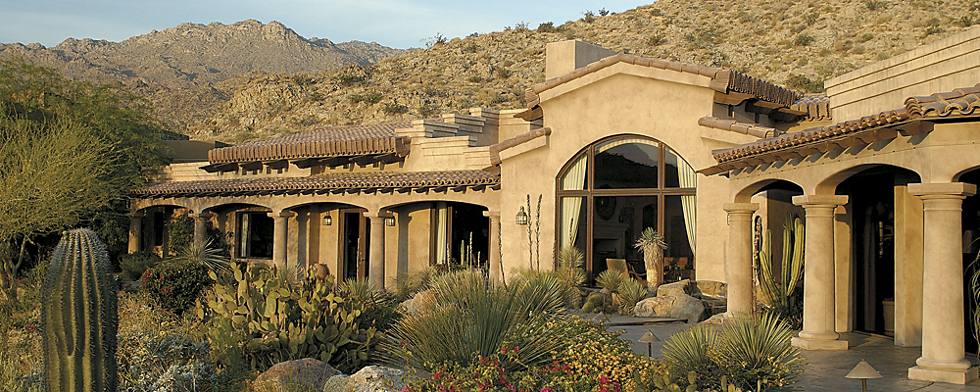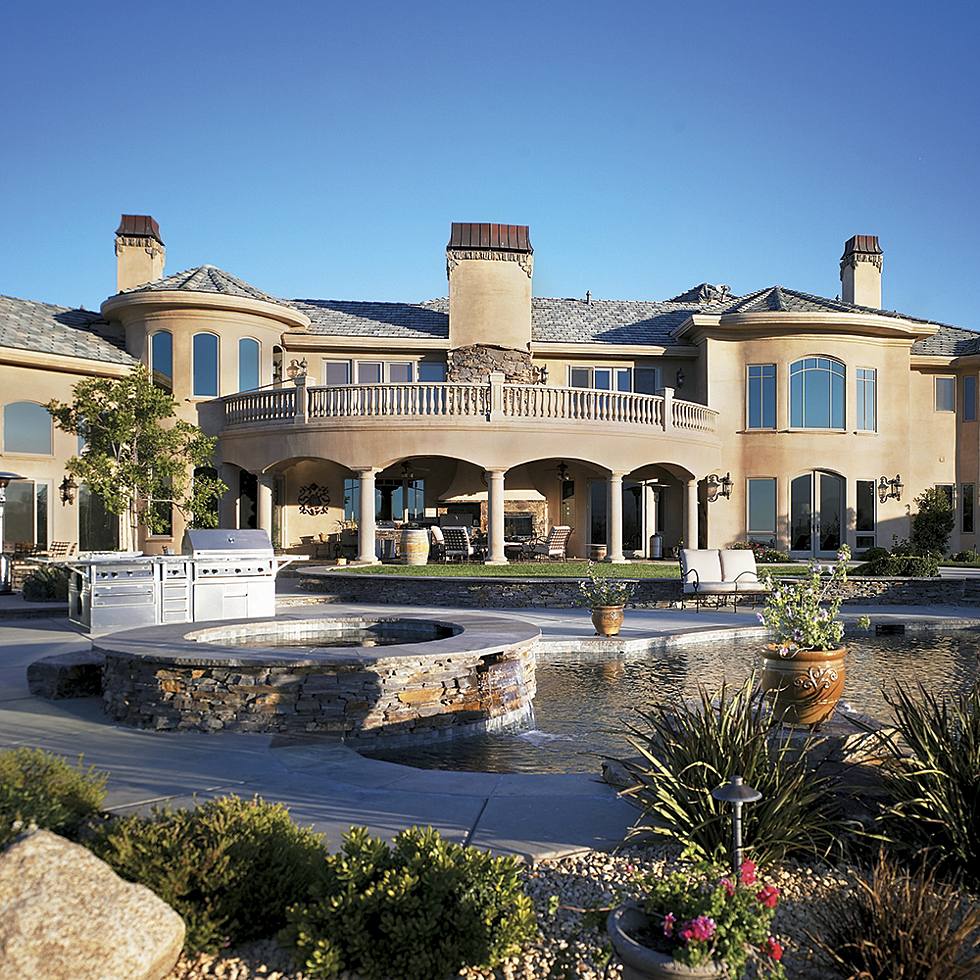 Temecula, California
"When we first got married, we were big dreamers," say Dayne and Desirée Wagoner. "We always felt we'd build a house some day." Whenever the newlyweds looked at magazines and saw something they liked, they'd clip it out and place it in a file labeled Future Home. "We'd show people," says Desirée, "and they'd just laugh."
The couple would sift through their pictures from time to time, weeding out ideas that had lost their appeal and keeping those that hadn't. "We knew we wanted a country Italian home," says Desirée. "Big, but not cold and untouchable. We wanted it to be comfortable and homey, a place where people felt welcome — especially the kids and their friends."
As the years passed and they grew more serious about building, Dayne and Desirée made a point of going through model homes and looking at more magazines. They transferred their favorite clippings to a binder, organizing them room by room. And Desirée put in a lot of time and a lot of miles driving around "getting ideas of where we wanted to live. My husband wanted property, yet we wanted to keep the kids in the same school district."
They narrowed their choices to two. One eventually proved to be too far into wine country "the other wine country," as Dayne and Desirée call it, too far from the children's activities and friends and schools. And so, in 2001, they bought five acres here in the rolling hills of Temecula, just north of San Diego. "We're in a real neighborhood," says Desirée, "not out in the middle of nowhere. It's the best of both worlds: there's a rural, country feel, complete with three-rail fencing, yet we're just five minutes from the grocery store."Right from the start, their planning paid off in spades. "When we finally went looking for an architect, the binder made it easy for him. He knew what we wanted, the sizes of all the rooms. He pretty much got it on the first try, except we flip-flopped some rooms for better views."
BREAKING GROUND
On the heels of their tenth anniversary, Dayne and Desirée staged a groundbreaking ceremony complete with hard hats, champagne (sparkling cider for the kids), and ceremonial shovels borrowed from their general contracting company. "We build public works: schools, parks, fire stations, things like that," explains Desirée. "This was only the second time we were general contractors for a house — the first was when our partner built his house."
Grading got underway in September 2002; three months later, framing began on the house itself. The home's numerous curves proved challenging.
"My husband did not want a boxy looking house," says Desirée. "There are a lot of curves and a lot of turns — balconies, the porte cochère, the wine cellar, the circular staircase…" And each and every doorway is enclosed by an arch rather than 90° angles. "All the curves made it difficult to frame the house. It didn't make it easy for stoneworkers, either. It didn't make it easy for a lot of people. But the curves give the house a lot of character."
"We knew we wanted a country Italian home."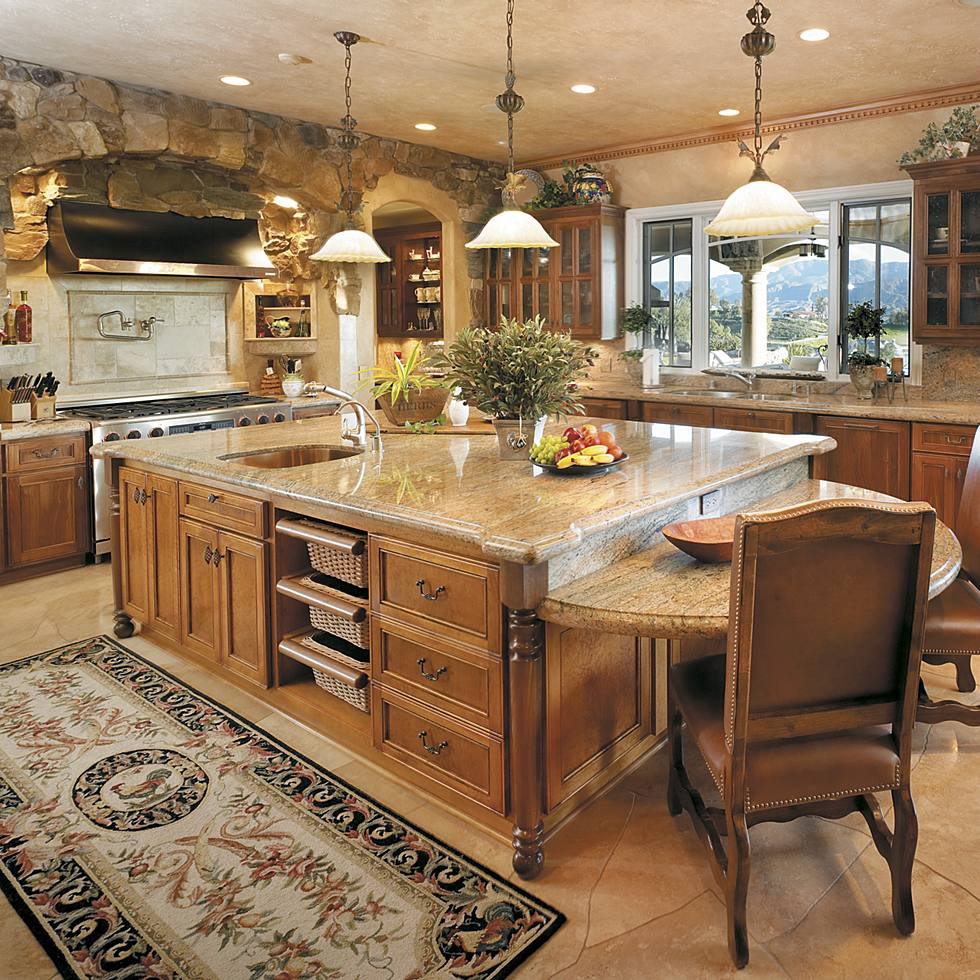 Desirée served as unofficial on-site superintendent. "After dropping the boys at school, I was there from nine to three every day, and Dayne dropped by whenever he could get away. It made everything go so much smoother than if someone were second guessing what we may have wanted. We didn't have to wait until the next day to give answers to their questions. We were there, for example, to tell the electrician where to put the outlets — I had it all planned out. Otherwise he might just have put them wherever he wanted them."
Desirée got along well with the sub-contractors. "I'd say, 'This is how I want this room to look,' and then say, 'You're the expert — you make it happen.'"
Her favorite building story? "I'd envisioned flagstone flooring in the kitchen but couldn't figure out how to make the transition from travertine. So I thought about breaking up some travertine to give it the look of flagstone but was advised that it would cost too much."
Soon after, the owner of a stone company who knew about Desirée's flooring dilemma contacted her with news of a train wreck that had damaged a recent shipment of travertine. "We'll give you a great deal on it," he said. Desirée didn't think twice about her response. "Making the fragments fit was like watching a puzzle being put together," she says. In the end, she got exactly what she wanted: the continuity of travertine with the random look of flagstone.
Incredibly, the house was built, furnished, and landscaped in less than a year. Though the mild southern California climate admittedly allowed for construction to continue uninterrupted throughout the winter, Dayne and Desirée nonetheless attribute much of the rapid progress to thorough planning.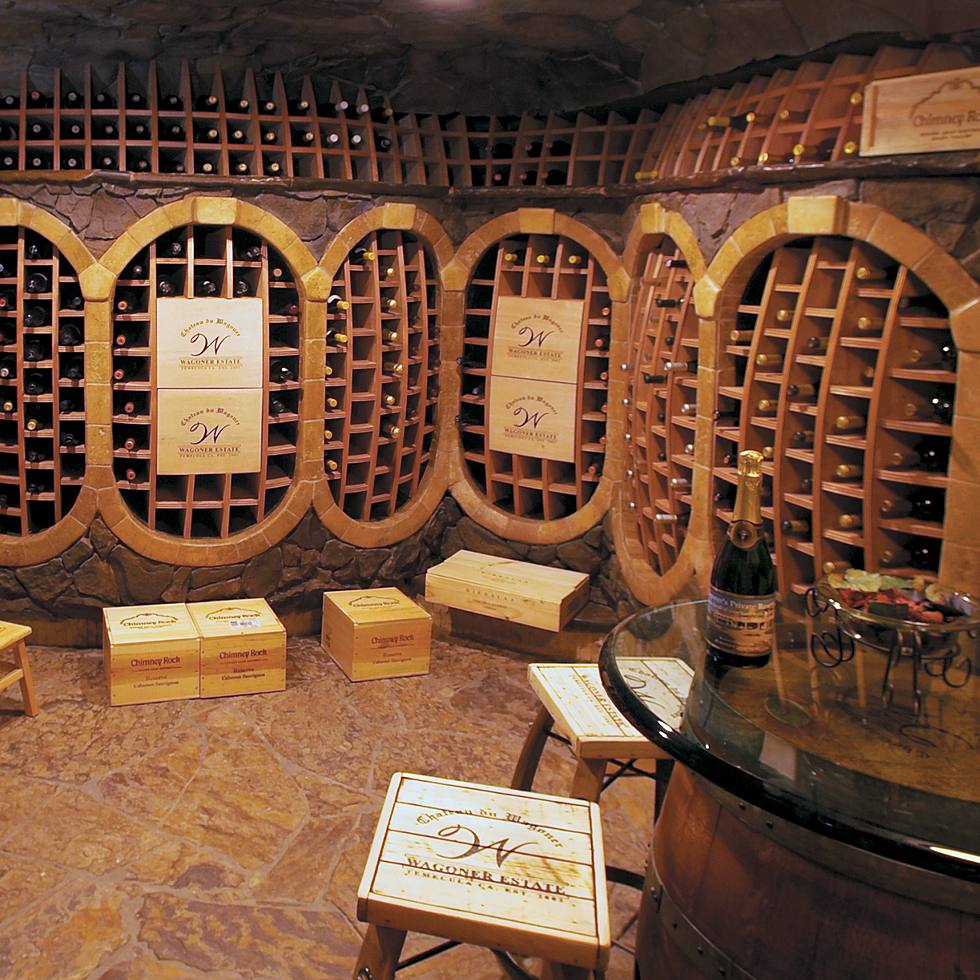 BUILDING A HOME — AND A RELATIONSHIP
Every bit as remarkable as the home's quick completion was the positive effect the building experience had on their marriage. "Our relationship actually grew stronger as we went through the process together," says Desirée.
"Because we'd lived with this house in our heads and on paper for so long and had established a shared vision, we agreed on most everything. If my husband couldn't make a selection date — let's say we'd made arrangements to pick out stone — we'd go independently and end up selecting the same thing."
Most of the time, Desirée would have scouted the possibilities in advance and narrowed the number of selections. "Then I'd bring in Dayne and ask, 'Which one do you like?' The subs would laugh because spouses never agree on the same thing. I'd say, "Mark my words!'
"And sure enough, my husband and I were almost always on the same track! We both had the same goal: making our home welcoming and comfortable. It was so much fun working together!
"We wanted our boys to feel a part of the process, too — the house took so much of our time that we didn't want them to feel left out. They each helped define their own room, deciding things like where they wanted their built-in desks and bookshelves and which stone they wanted in the bath."
So involved had Desirée become with the project that, as the house neared completion, she found herself wondering, "Omigosh, what am I going to do with myself now?"
She'd spent nearly every waking moment of the past two years designing the house, meeting with all the subs, making selections, shopping for furniture, and overseeing construction — in effect, putting the rest of her life on hold.
"But it never felt like work," she says, "even though it was my job. I enjoyed it from the moment I started until the moment I stopped — though it's never done," she hastens to add. "It's always an ongoing project!"
When it came to decorating, the couple's research and planning once again provided the certainty they needed to move forward quickly and confidently. "I could go through our binder room by room and see all the furnishings and colors we were looking for," says Desirée.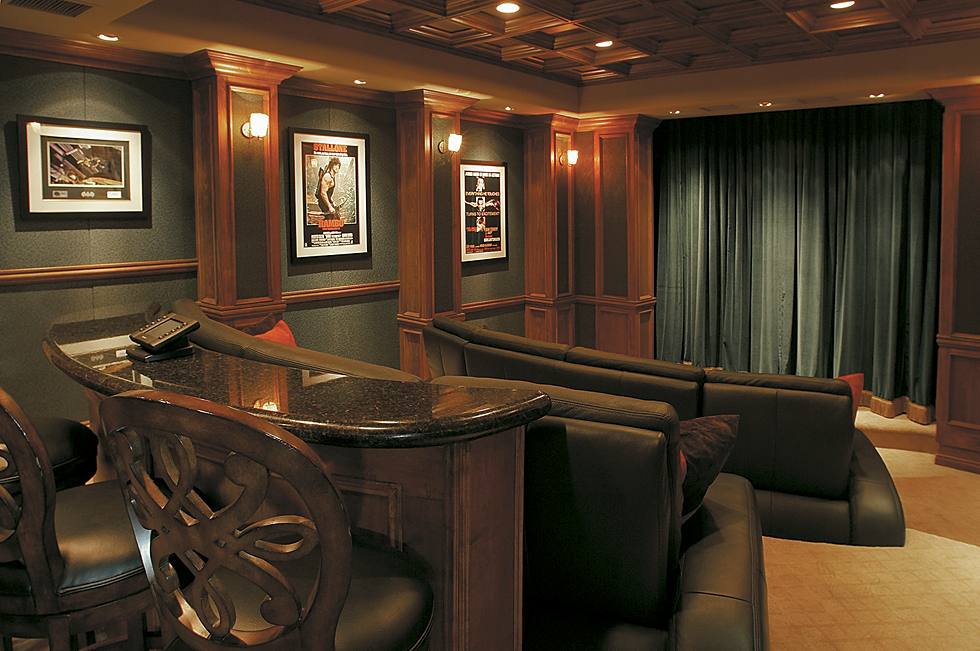 THE INSIDE JOB
The accent was on furniture that was as comfortable as it was beautiful, colors that were warm, easy-care travertine and hand-distressed walnut floors that were virtually kid- and dog-proof, and materials that emphasized texture and warmth over "sheen and shiny brass and marble."
Desirée is reassured she achieved her objectives every time someone walks into the house and tells her how comfortable and warm it feels here.
Intending all along to purchase brand-new furniture for their brand-new house, Desirée zeroed in on a store in San Diego whose name kept popping up in all her magazines. "They had everything I was looking for," she says. "It made decorating a lot easier."
A designer from the store was particularly helpful with space planning: the home's grander scale, Desirée soon realized, called for decorating on a grander scale as well. "The designer would say, 'Wow! This room is big! It needs more!' She was wonderful to work with."
Bringing the theater to life took Desirée in an entirely new direction. "It's completely different from everything else in house," she says.
While other rooms are characterized by their openness and intentional rusticity, the theater's rich, dark mahogany pillars and box-coffered ceiling, offset by reclining deep-green leather sofas and heavy velvet curtain, create the formal yet intimate atmosphere of an old-time movie house.
Though she'd adorned the walls with framed posters of their favorite films (including "Pretty Woman," the first movie Dayne and Desirée saw together), she felt that "the room still needed something." The solution: chenille throws and leather-and-suede pillows that pick up the reds in the posters.
"We just love being in the theater. It's a really cool room. We spend as much time there as we can — especially when it rains. We haven't gone out to a movie since we moved in! We just enjoy being in our home in our jammies watching movies together."
"We just love being in the theater. It's a really cool room. We spend as much time there as we can — especially when it rains. We haven't gone out to a movie since we moved in! "
NO PLACE LIKE HOME
Love of home is a recurring motif in the Wagoners' lives. Truth to tell, the two of them began settling in long before they ever took occupancy. During construction, they'd sit on the second-story balcony just outside their bedroom and start the day together with coffee and breakfast. "It's exactly what I envisioned us doing when the house was finished," says Desirée.
These days, those quiet, day-starting moments on the balcony are usually reserved for weekends when there's time enough to sip a soothing cup of coffee and leisurely watch the hot-air balloons go by.
The covered terrace just below is an even more popular gathering spot. "We often sit outside by the fireplace and watch TV. It's so nice and cozy!"
Friends and family are frequent visitors at the Wagoner home. "We've had so many parties! With five acres, there's plenty of room for everyone."
There are plenty of recreational opportunities, too: a ground-level trampoline, horseshoe pit, and tennis court with basketball hoops — not to mention the spa and beach-entry pool that spills into deeper water. (Just 18″ deep, the beach-entry pool, confides Desirée, is the perfect place to stretch out on a chaise longue.)
"We have the kids' baseball team over after almost all the tournaments," says Desirée. "Twelve kids plus siblings plus parents. We just hang out and have a good time. Everything is kid-proof — there's nothing anyone can really hurt. The floors are travertine stone, so there's no worry about muddy feet on carpet. Our two Labs are constantly getting in the pool then coming in the house. I just wipe up after them — it's only water. At the other house, I used to freak out when they came in with dirt or water because it would stain the carpet, but here, oh well! I don't have to worry about wet bathing suits and eight wet paws."
Dayne and Desirée are decidedly happy with the home they created together. "The changes we would make are so minor they're funny to think about," says Desirée. "We lived with this house in our heads and on paper for so long that we knew just what we were getting into. I'd lie awake at night envisioning it," she continues, "and this is what I'd see. Everything turned out just as I imagined it would."
Home Highlights
COMPLETED: July 2003
STYLE: A country Italian house, big but comfortable and homey"
PROPERTY: Five acres of rolling countryside with views of Palomar Mountain
AT-HOME PASTIMES: "Entertaining, playing in the pool with the kids, and watching movies"
EXTERIOR: Smooth hand-troweled stucco, concrete-tile roof with the look of slate
LIVING SPACE: 10,000 square feet
FAVORITE ROOMS: "Family room, kitchen, and theater — the rooms we live in — and the wine cellar, a room we love"
HOUSEBUILDING TIP: "Plan. The preplanning we did helped a lot. Be at the building site every day. And let it be fun!"