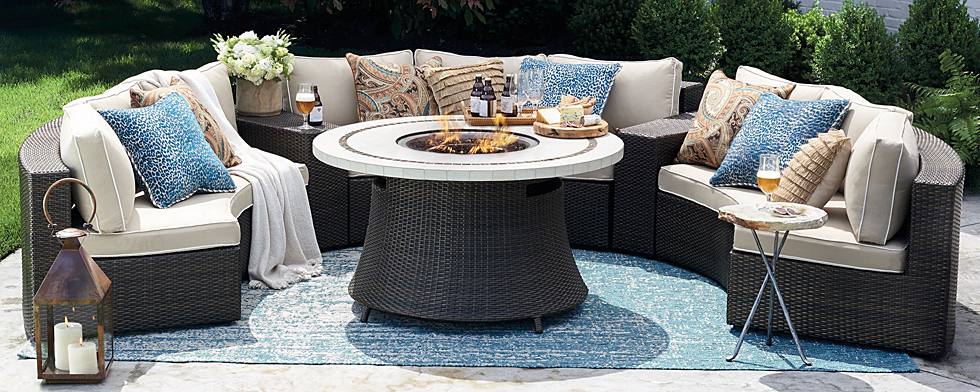 Roasting marshmallows in the summer time, sipping cider cuddled beneath a soft blanket in the fall – no matter the season or the activity, fire pits are often the centerpiece of outdoor living.
Both fun and functional, fire pits and fire tables aren't just for warmth – they can also add an extra element of design to your backyard space. We've rounded up some of our favorite decorating ideas that keep fireside style front and center.
CUSTOM FIRE TABLES
Create a look that's uniquely your own with a customizable gas fire table. Surround your space with dazzling meteor lights to create an inspired atmosphere.
COPPER FIRE PIT
If your style leans more rustic, a wood-burning copper fire pit is right up your alley. Surround it with a few comfy accent chairs and settle in. S'mores anyone?
ELLINGTON FIRE TABLE
Asymmetrical design is a great way to make a space feel more modern. Not only that, but this fire table also does double duty as a surface to rest drinks and appetizers on, making it an ideal blend of function and form.
LINDEN ROUND FIRE TABLE
Curved lines can make a space feel calm and inviting. Pair a circular fire table with a curved sectional for a tranquil design.
MEDALLION COPPER FIRE PIT
Up for any weather no matter the time of year, a heat-tested fire pit constructed from the finest materials will provide endless hours of enjoyment while blending in seamlessly with classic decor.
CALDWELL FIRE TABLE
Mixed materials like gray faux teak, Envirostone™ and concrete come together to create a fire table that is ahead of the design curve. Pair with a modern outdoor sofa and accent chairs to create the ultimate outdoor living room.
How do you decorate your outdoor space to showcase your fire pit or fire table? Show us by following @frontgate on Instagram and using #Frontgate.