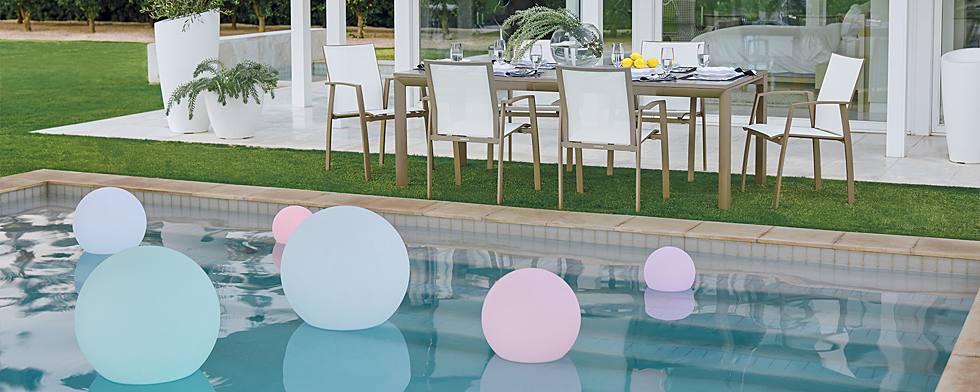 As a pool owner, you have an unspoken duty to host a few pool parties over the summer. Your friends and family love nothing more than an invitation to cool off – and some will even angle for an invite. (When you show them such a good time, it's hard to blame them!) There's nothing like a hot summer day spent by the pool with a refreshing beverage. And a little preparation now can have you pool-party ready all summer long – for both planned and impromptu gatherings. Once you have the basics covered (Plenty of beach towels, sunscreen and refreshments), these five go-tos guarantee a good time in or around the pool.
---
1.
A PLACE FOR DRINKS
Our mobile teak bar cart with built-in beverage tub lets you create a destination for water and other beverages. Simply move it to an out-of-the-way spot and set up your assortment. Your drinks will avoid splashes – and your guests will stay refreshed.
2.
A SPOT FOR SUN RELIEF
A veteran pool party host knows that even the sun-averse enjoy sitting by the pool (and even the most dedicated sunseekers like a break every now and then). Create a comfortable spot to get out of the sun and into the shade with the Baleares Daybed. If you don't have the room for a daybed, position patio umbrellas near seating areas so guests have the option to cool off in the shade.
3.
LOTS & LOTS OF FLOATS
Make sure you're stocked up on pool floats in a variety of styles. Some guests may like to comfortably float without getting wet, while others might enjoy something more immersive, like our World's Finest Pool Noodle or Deluxe Pool Chair. And no pool party would be complete without a little fun – like the Modular Watermelon Day Bed Float. The six pieces can float on their own or be connected for a group to float together.
4.
PLENTY OF SNACKS
Whether sitting out in the sun or splashing in the pool, guests will work up an appetite. Serve in style and help your appetizers stay cool with our collection of restaurant-quality serveware. Perfect for outdoor entertaining, the Optima Chill Cell Beverage Dispenser lets you serve lemonade or cocktails without the worry they'll get watered down. And just like the Hot/Cold Serving Collection, it will get plenty of use year-round at your other gatherings.
5.
NIGHTTIME AMBIENCE
Keep the pool party going well into the evening with our collection of long lasting LED pool accessories. Our color-changing floating glow balls aren't just fun for a pool party either – we love the ambience they bring to more refined outdoor cocktail parties.
Show us how you throw a pool party by following us on Instagram @frontgate and using #frontgate to share your photos.