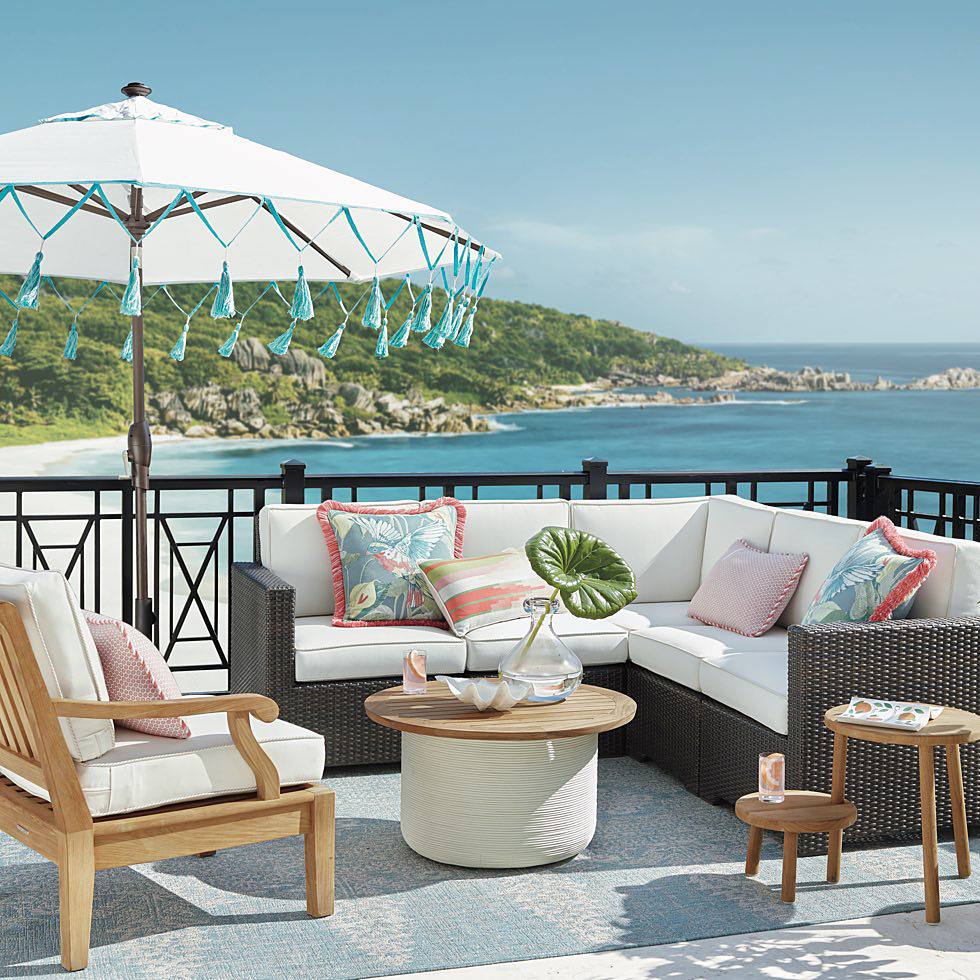 While selecting new outdoor furniture, your initial thoughts may be about frame materials and the overall size of each piece. However, much of the comfort, beauty and longevity of an outdoor seating collection is determined by the cushions — so it's definitely worth giving them some serious thought. And did you know that you can also bring new life to your existing outdoor furniture with Frontgate cushions? There's lots to consider, but don't worry! We've collected everything you need to choose the cushions that are perfect for your look and lifestyle.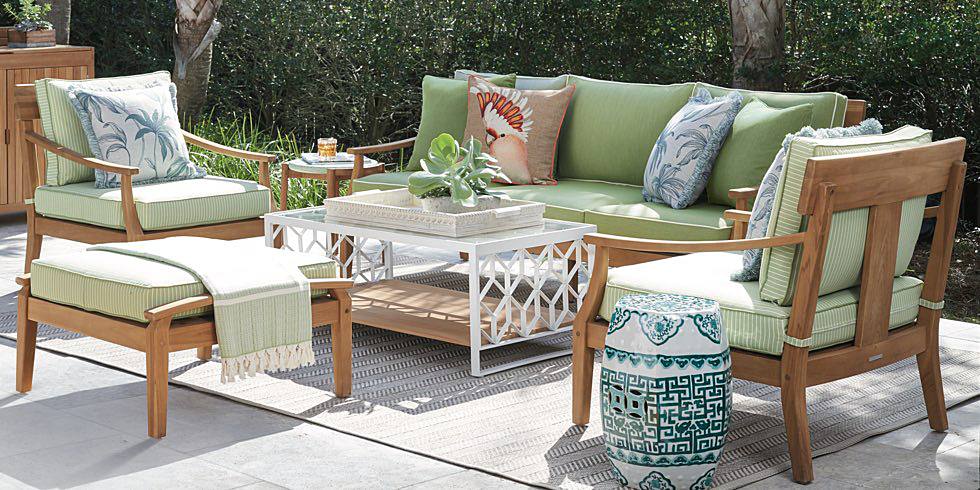 DESIGNED TO IMPRESS. BUILT TO LAST.
With Frontgate's extensive collection of outdoor fabrics, you never have to compromise performance or style. Through partnerships with America's finest textile mills, all of our outdoor cushions are made with Sunbrella® or Outdura® fabrics. Engineered to last up to 10 times longer than conventional fabrics, these materials are made from 100% solution-dyed acrylic fibers in a range of textures such as smooth flat-weaves, tweed-like sailcloth and a soft, subtle heather. Because the coloring pigment and UV stabilizers are infused throughout the fiber, these ultra-durable fabrics resist fading, stains, mold and mildew. So no matter which cushion fabric you choose, you can rest assured that you'll love the way it performs for seasons to come.
Most of our patterned outdoor fabrics and some of our stripes are woven jacquard. Because the designs are woven into the fabric, rather than screen-printed, they retain their color and definition better over time.
An optional upgrade for cushions in select outdoor seating collections, Sunbrella Rain is a revolutionary 100% waterproof fabric. By incorporating threads that actually expand when wet, the fabric locks out moisture. That means the rain rolls right off, and your cushions stay dry.

While other outdoor cushions are filled with blown polyester that flattens and shifts, our Deluxe cushions are crafted with three layers of comfort: a foam inner core sandwiched between two layers of resilient polyester that provide exceptional comfort without sagging.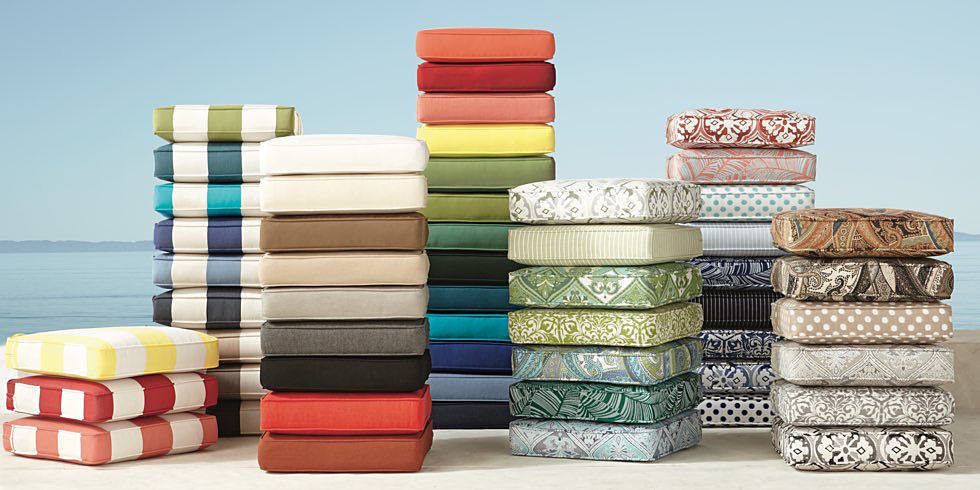 UNIVERSAL REPLACEMENT CUSHIONS
No matter where you bought your furniture, you can reimagine your outdoor space with cushions featuring gorgeous Sunbrella® fabrics and unrivaled Frontgate quality. Our Universal Replacement Cushions are made to fit most furniture pieces and are the easiest way to make your seating feel brand new.
A clean edge and layers of premium polyester fill give our Knife-edge Cushions exceptional comfort and a polished look. Our Single-piped Cushions are finished with a coordinating welt made from the same fabric that covers the cushion. Classic stitch tufting lends a touch of distinction to our Tufted Cushions. Deluxe Double-piped Cushions have a tailored feel from the double piping on the boxed edges. Featuring two rows of decorative cording, our Deluxe Double-corded Cushions add sophistication to any outdoor collection.
For the most generously sized outdoor furniture, you'll want to choose our Deep Seating Cushion Sets, which include one seat and one back cushion. Use one set for a lounge chair, two for a loveseat, and three for a sofa.
Our Deep Seating Cushions and both Deluxe Cushions share the same premium, three-layer construction as our collection-specific cushions.
CLEANING AND CARE
Frontgate outdoor cushions are crafted to provide years of comfort and performance in a variety of climates and conditions. However, after extended or heavy rain, some water may penetrate your cushions' foam core. If this occurs, stand them on end with the open zipper or seam side down to help drain the water and speed the drying process. Be sure the cushion's core has completely dried before using.
To clean spills or stains on our solution-dyed fabrics, simply use a rag or brush to spot clean with mild natural soap and warm water, then rinse well with water and allow to air dry.
Still have questions about caring for the other parts of your outdoor furniture? Get them answered in our How to Clean and Care for Your Outdoor Furniture blog.