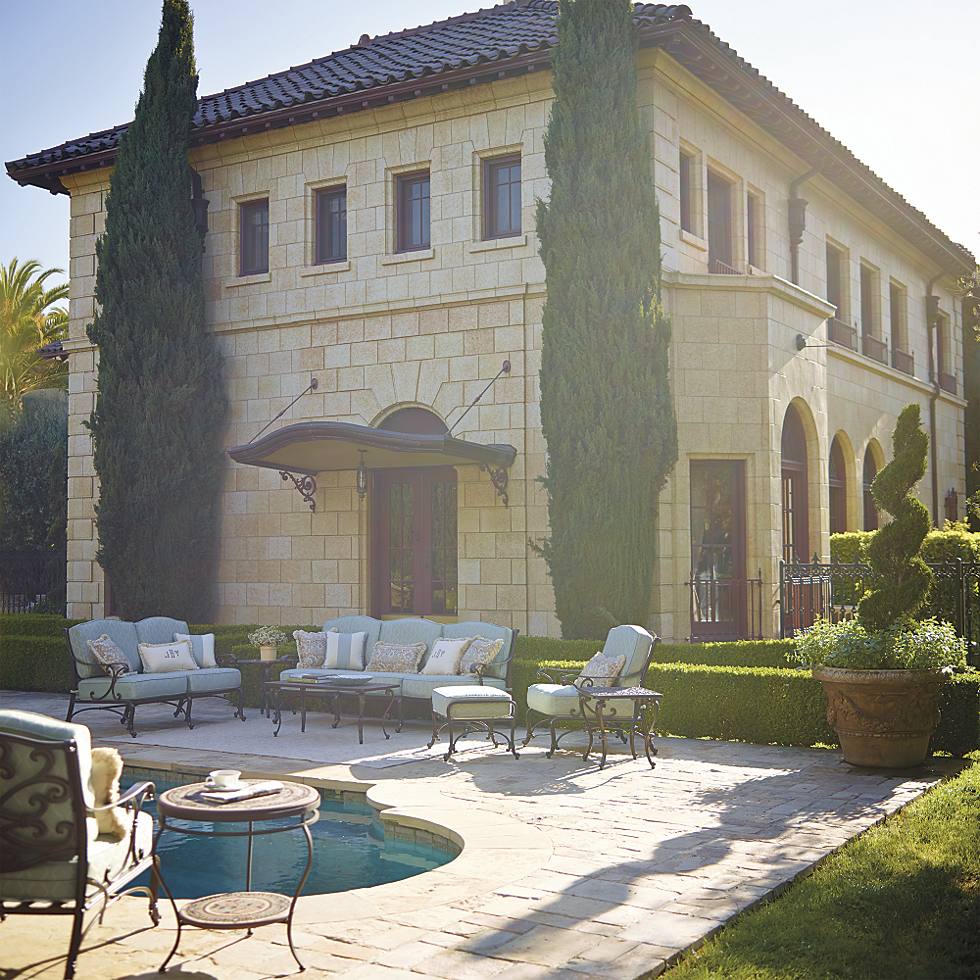 Petitfils-Boos HousE: Los Angeles, CALIFORNIA
"People use the expression 'dream home' all the time," says television personality Dayna Devon, who, with husband Dr. Brent Moelleken, owns the Petitfils-Boos House in Los Angeles' fabled Hancock Park. "But this house," she continues, "is beyond anything I could ever have imagined. I had never dreamed this big in my whole life."
An Italianate Renaissance Revival home with sweeping lines and soaring spaces, the Petitfils-Boos house was designed and built in 1921 by architect Charles Plummer for entrepreneur, Walter Petitfils. Situated in storied Windsor Square, the home may be the only single-family residence in the world clad in famous Gladding McBean architectural terra cotta tiles.
Dayna remembers being overwhelmed by the house's interior the first time she and Brent viewed it. "Because it was tied up in a complex court case, we didn't think it was something we could ever actually own. We were just so pleased to see and experience a home of this caliber. I remember putting my back up against the wall so I could just absorb everything about it. It took my breath away."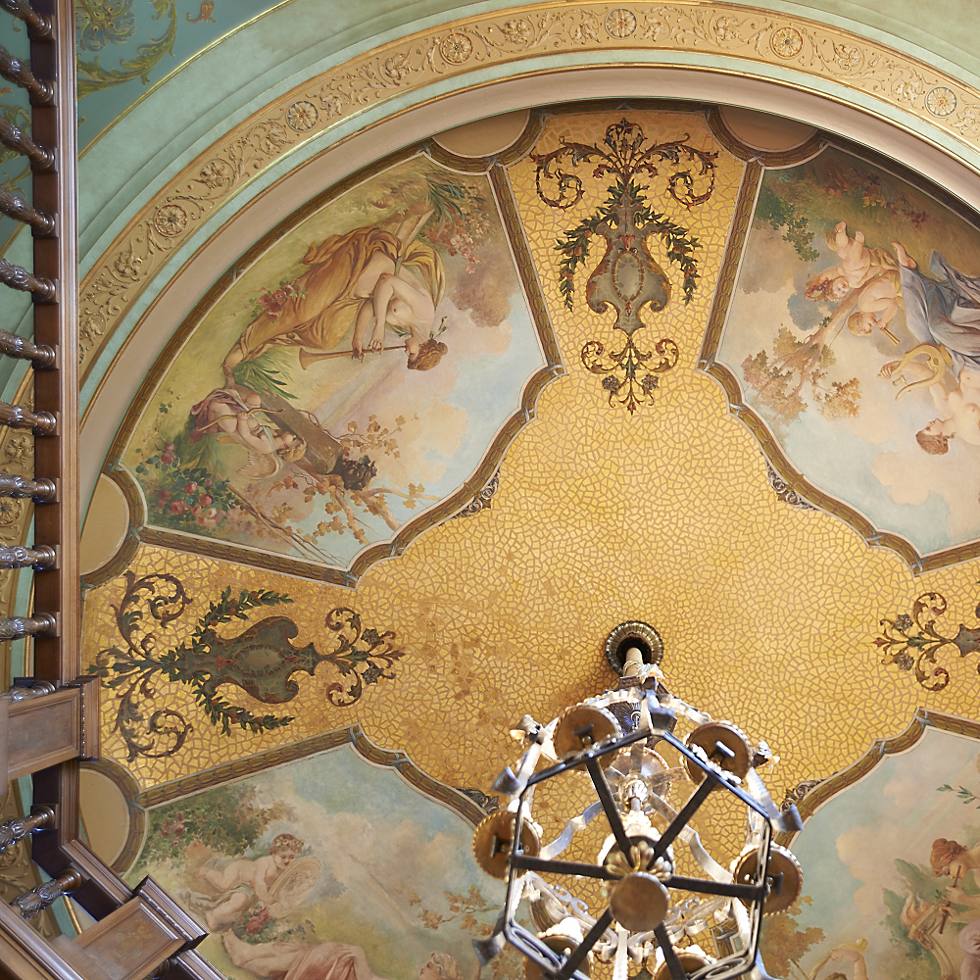 A Look Inside: Eloquence and Symmetry
Cross the threshold, and you immediately understand her reaction. Exuding museum-like detail, archway after archway opens onto rooms detailed with rich walnut panels, hand-stenciled beams and intricate stained glass. Most remarkable are the exquisite murals by renowned Dutch artist Anthony Heinsbergen.
"The house was partly a product of its time," explains Brent Moelleken. "It was built before the stock market crash, when money was just growing on trees. And it reflects the sense of proportion they had at that time."
A perfect "L" shape when viewed from above, the house's symmetry is one of the characteristics that make it so historic. And it's one of the things that appeals most to Dr. Moelleken, a plastic surgeon. "Brent really loves the symmetry our home," Dayna says. "He instinctively looks for that in his work as well as in his surroundings. It's part of his aesthetic."
"Not a day goes by that I don't see both the house's beauty and its functionality. I think that kind of design is almost a lost art now."
A House to Live In
The Moellekens greatly credit their designer, Norm Wogan, for helping them create a home that retains its historic authenticity and is still suited for modern-day living. "You know, it's amazingly livable, this house," Brent says. There are no hallways on the entire first floor. It just flows from one room to the next. We use every single room. Not a day goes by that I don't see both the house's beauty and its functionality. I think that kind of design is almost a lost art now."
"Even though it is a formal house, we wanted it to be really livable. We let the kids ride big wheels through the house!" Dayna laughs. "We wanted to hear the pitter-patter of footsteps. Even though it's historic, we always wanted the house to be filled with life and energy."
"Even though it's a formal house, we wanted it to be really livable."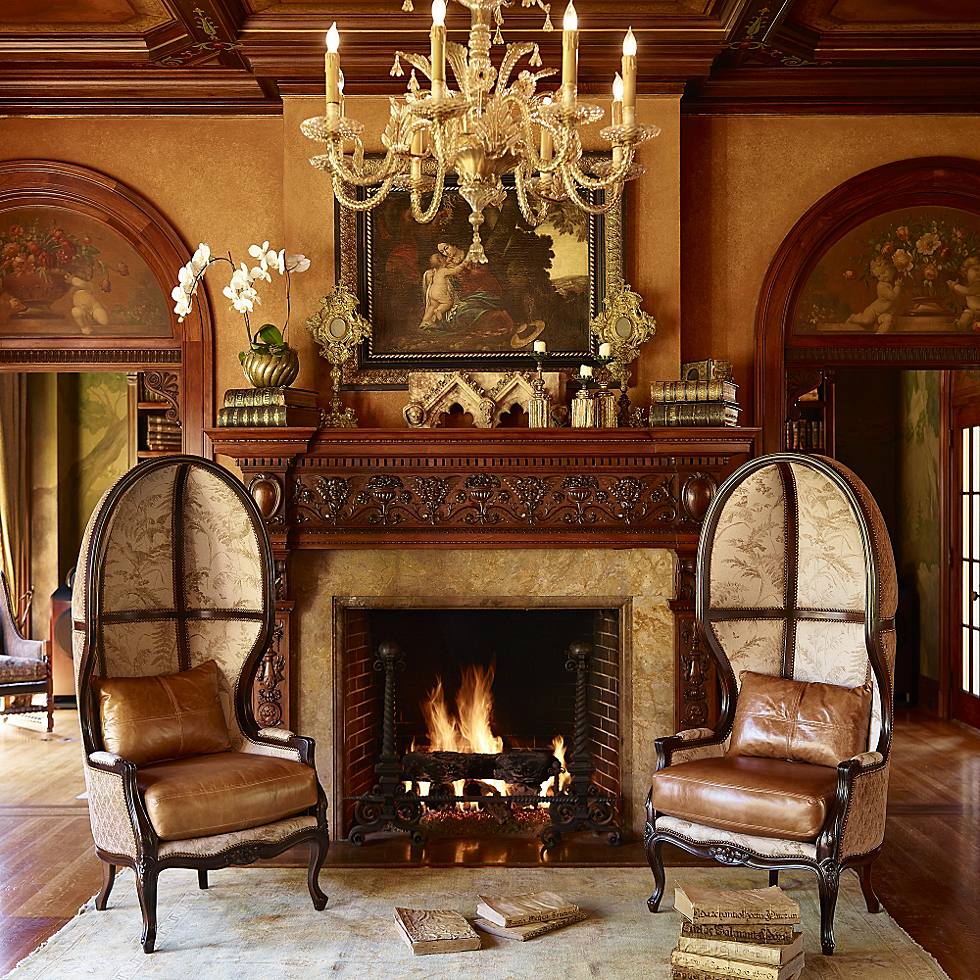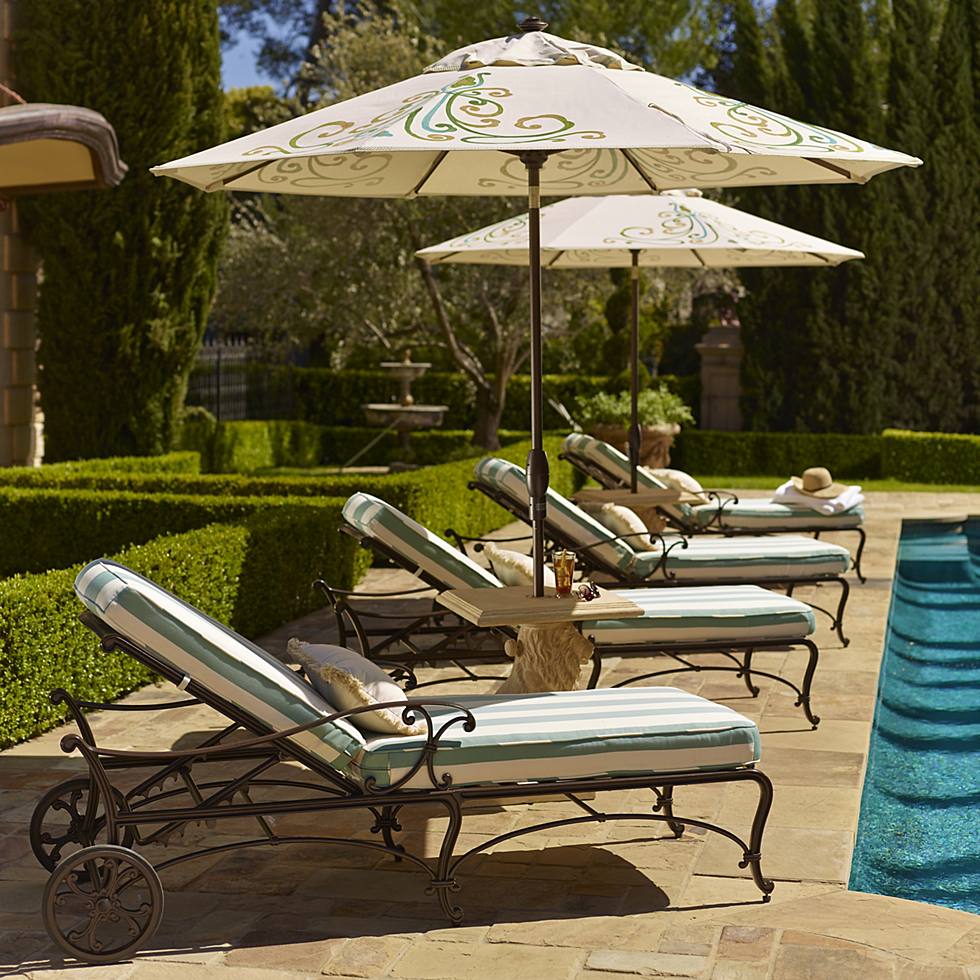 Palazzo Life: A Series of Outdoor Vignettes
While the original design of the gardens had been lost when the Moellekens took possession of the property, recreating an outdoor space true to the house's sensibilities became a labor of love. "Fortunately, both Brent and Norm [Norm Wogan Design] have spent a great deal of time in Italy and France," Dayna says. "In the end, we incorporated a lot of hedge and very specific trees to create the kind of elegant simplicity you might see in the gardens of a fine European home."
"When we were designing the gardens, we created little vignettes," adds Brent. "Depending on the weather, the mood, how many people there are…each vignette has its own purpose. Each space calls out how it wants to be used. It's very European to do it that way."
"I love Frontgate's selection of outdoor furnishings! One of my tricks: I use different throw cushions in different outdoor vignettes. It gives the impression of a completely different space... even if the sofas are identical. I change them up every couple of years and it freshens everything."
Born This Way: A House for Entertaining
"It's when you begin to entertain in a house like this that you think: they really knew what they were doing back then," Brent continues, "Sometimes if it's sunny and warm we'll go out and eat beneath the loggia, which we actually built from historic elements. If it's a little cooler, we'll sit around the pool. Or sometimes we'll go to the courtyard behind the house where there's an Italian fountain, and we'll set up tables and have dinner for 50."
"We've had an opera singer come and sing by the piano in the ballroom," Dayna adds. "The singer's voice reverberated through the house like it was amplified. I don't know if it was deliberate in the design, but the acoustics are just amazing. Not only do I have the kids' birthday parties here every year, but our 10-year anniversary is coming up and we are thinking of having a Great Gatsby party.
"We have entertained in virtually every square foot of this home. And when we don't entertain for a while, we almost feel guilty… as though we were doing the house a disservice. Because entertaining is what this house was meant for."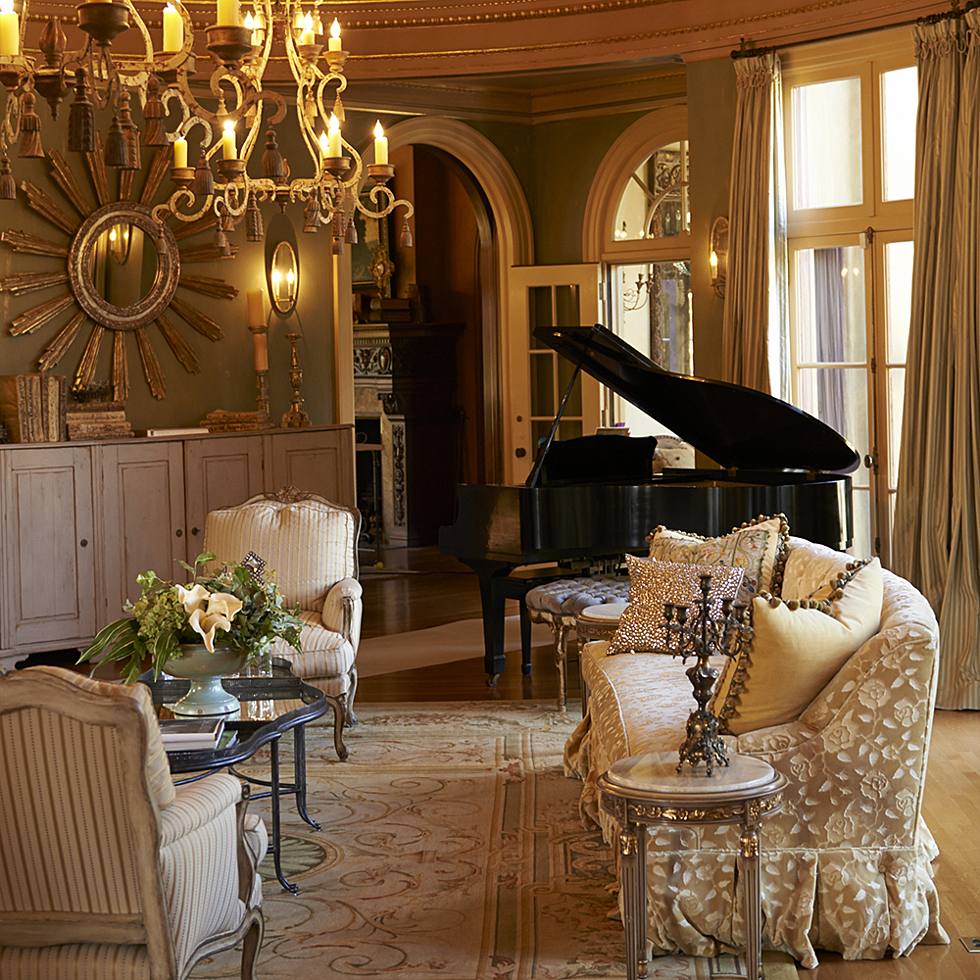 Chain of Dreams
Over the years, the Petitfils-Boos house has had many owners. Most of them took exquisite care of the property, including the woman who poured her entire fortune into the house's renovation and the doctor who spent a million dollars restoring the famous murals alone. The Moellekens have made their own significant restorations to the home, but believe they are merely the latest owners of this historic treasure.
"I think we both have decided we are caretakers for this place," Dayna says. "We love this house so much, but it's not really ours." Brent laughs, adding "I hope future generations will say, you know, those Moellekens… they took pretty good care of this place."
The Petitfils-Boos House is on the National Register of Historic Places.