A fan quietly hums overhead. You can imagine sipping a refreshing iced tea or a crisp Sancerre. We're on the wraparound porch at the 12th annual Designer Showhouse in Bridgehampton, where Frontgate furnished three outdoor living spaces.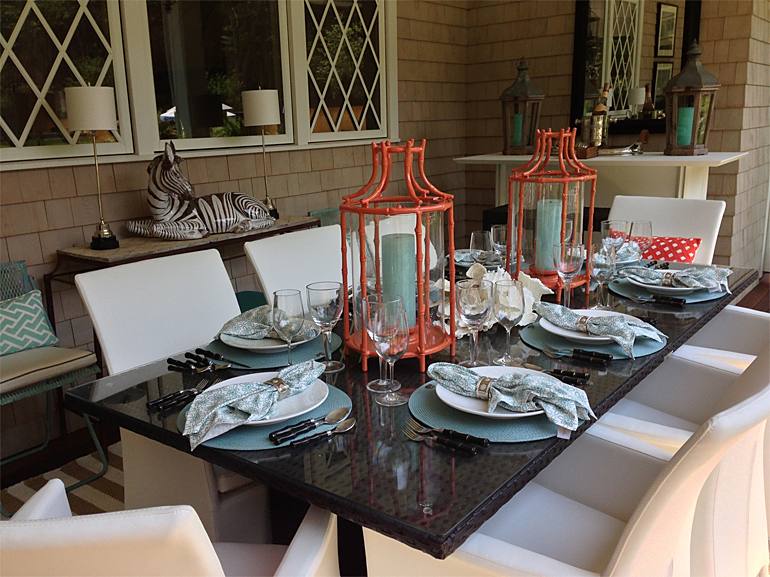 Ken Gemes of New York-based Ken Gemes Interiors designed the ample wraparound porch with both relaxing and entertaining in mind. Gemes knows that it's imperative to have comfortable furniture that will withstand the elements and use. He confidently mixed-and-matched our outdoor furniture collections to create a distinctive, lived-in look. "With Frontgate, there's a breadth of assortment that lets a designer have fun and use many parts of a collection to put something together for a client,' he said.
Gemes used Frontgate's cool, contemporary Metropolitan collection. Then, he offset the dark panther finish of Metropolitan dining table with our white Riviera chairs. Bright coral Tropical Bamboo Lanterns and other accent pieces punctuate the scene. The result is both sophisticated and inviting.
The Designer Showhouse is an annual event in the Hamptons, with proceeds benefiting Southampton Hospital. The event at this year's house runs through Sept. 2, 2012. Tomorrow, we'll see how Kim Hendrickson-Radovich brings indoor ambiance to the great outdoors.