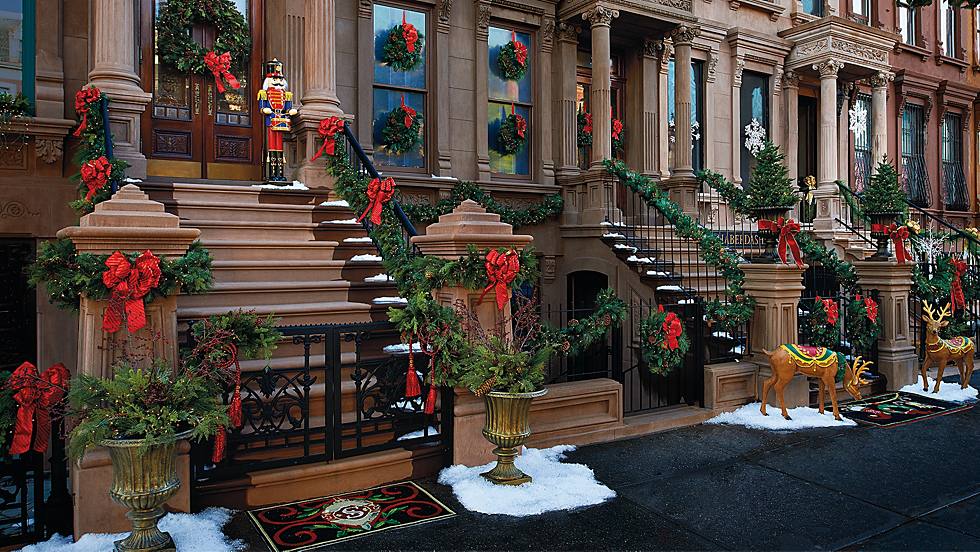 The front door is the focal point of a home's exterior, so you'll want it to look the best it can, especially during the holidays when neighbors, friends, and even the delivery driver, come knocking.
Draping Your Doorway: The Basics
No other outdoor décor welcomes the season as universally as garlands and wreaths. These items are easy to hang and create instant holiday cheer. Choices range from fresh greenery to elaborately embellished and prelit faux varieties. Better-quality artificial Christmas greenery is strikingly realistic, easy to maintain, and lasts for seasons. If you like the sparkle of lights, the convenience of pre-lit greenery cannot be overstated. Some of these collections are even battery-operated, so that you don't have to hassle with cords. Regardless of style, most of garlands are six feet long. Be sure to measure your door; you'll need at least three six-foot garlands to decorate one door. Check cord lengths and power requirements before you buy to be sure that you have all the necessities on hand.
Setting a Memorable Scene
Garlands and wreaths placed around or on a door are pretty straightforward. For greater impact, place coordinating pieces around your home's exterior. Line your driveway or walkways with urns that brim with matching swags. Hang smaller wreaths in windows or on lampposts, or drape garland along the backyard deck railing. These easy additions are festive extensions of your holiday greeting.
Moreover, think of your outdoor décor as setting the tone for what to expect indoors. Draping the same or a similar garland you used outside around interior windows or along a balustrade creates the transition between interior and exterior. Continuing the color palette or a particular theme also ties it all together.
Animating the Magic
Life-size holiday accents let your personal style shine through. Pre-lit and animated Christmas decorations add playfulness and whimsy to your entry. Oversized stationary items, such as ornaments and gift boxes, create dramatic visual impact, even in the daytime. Beautifully embellished traditional forms such as deer and nutcrackers command attention flanking your door. Look for figures that are appropriate for outdoor use and that will withstand your region's weather.
Harmonizing with Your Home's Design
Holiday décor should complement, not compete, with the architecture of your home. Whether your home evokes warm country or cool city style, keep in mind the overall aesthetic as well as the color of your door, stone, brick, and siding. Play with the colors to achieve the right look: an understated neutral or sparking metallic against a brightly colored door, or vivid colors set on a wood tone. Consider how they look day and night, and whether or not lights or ribbons would add a festive, finishing touch.
Decorating your entrance extends glad tidings to all who stand at the threshold. Whether you prefer simple or sensational, creating a warm welcome is easier than ever to do and makes guests feel right at home.