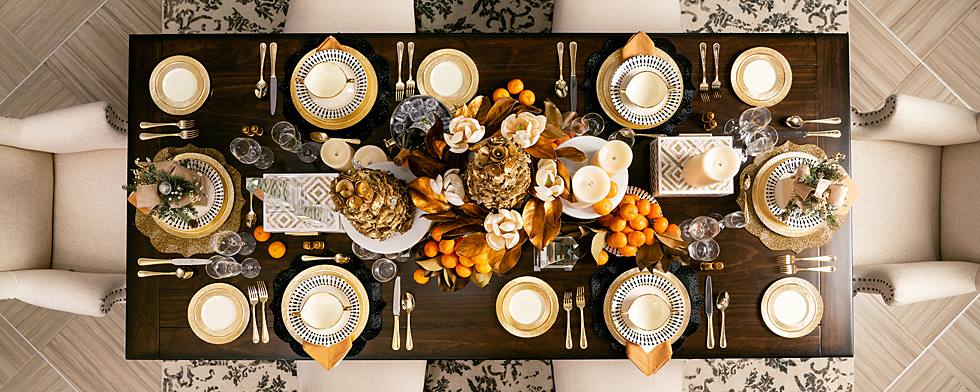 So, you've invited friends and family over to enjoy a meal at your place. You have the menu planned and the ingredients ready, but you're not sure what to do about the table – the place settings, the centerpiece – and where to start?
A few weeks ago, we invited Dallas, Texas-based design maven Denise McGaha of Denise McGaha Interiors to answer all our burning tabletop setting and decorating questions at a workshop inside our Plano flagship store. Not only did she create four incredible and distinct tablescapes for any type of gathering, but she also left us with tons of tips for hosting like a pro.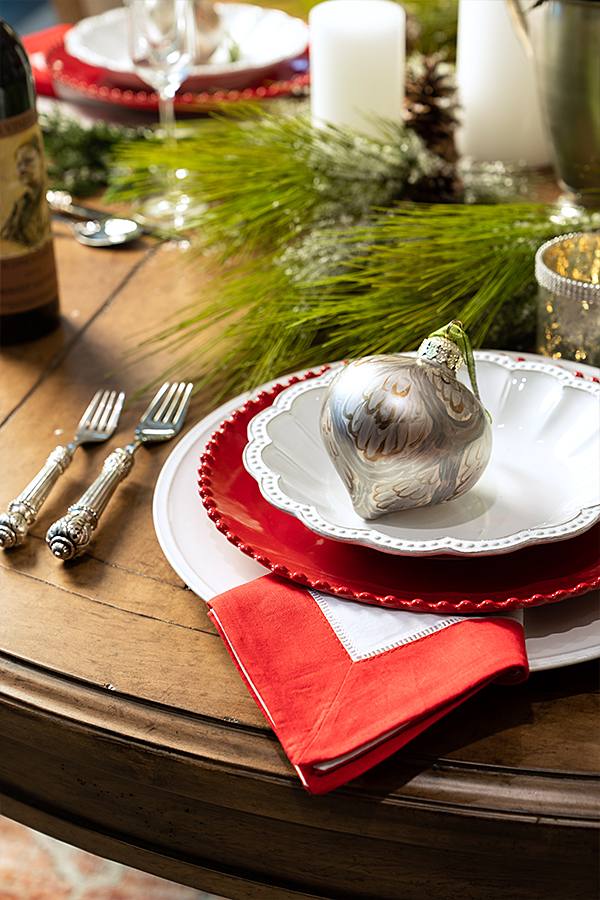 "The first step is to finalize the style or theme of your meal and build out the table design from there. Start with dinnerware, flatware and glassware for your foundation, and then move on to styling the centerpiece and accessories in coordinating colors," Denise says. "And don't forget to add that last personalized touch – place cards!"
Denise recommends adding a unique place card to your table setting because it's a small touch that guests love and appreciate. "Have a local calligrapher write out the names for you, and then incorporate a holder based on the theme of your event," Denise says. She loves the idea of including an unexpected element on top of the place setting that can act as a keepsake for your guests, like an ornament for a classic holiday party. "Guests will love the surprise!"
One thing no tablescape is complete without? A centerpiece. "Whether it is seasonally based, a floral arrangement, or candlesticks at varying heights, a centerpiece completes the entire look and theme of the table," Denise says.
No matter what kind of event you have in mind, Denise has a tablescape that's sure to wow. Check out her designs below and find out how she put together each look.
Citrus Season
"When creating this glamorous table, I envisioned a festive holiday dinner party. In order to keep the table from feeling too fussy, I added fresh oranges to provide texture and color. I included the crystal obelisks and mother-of-pearl boxes to provide varying height, which also brought sparkle to the table, especially when reflected in the candlelight."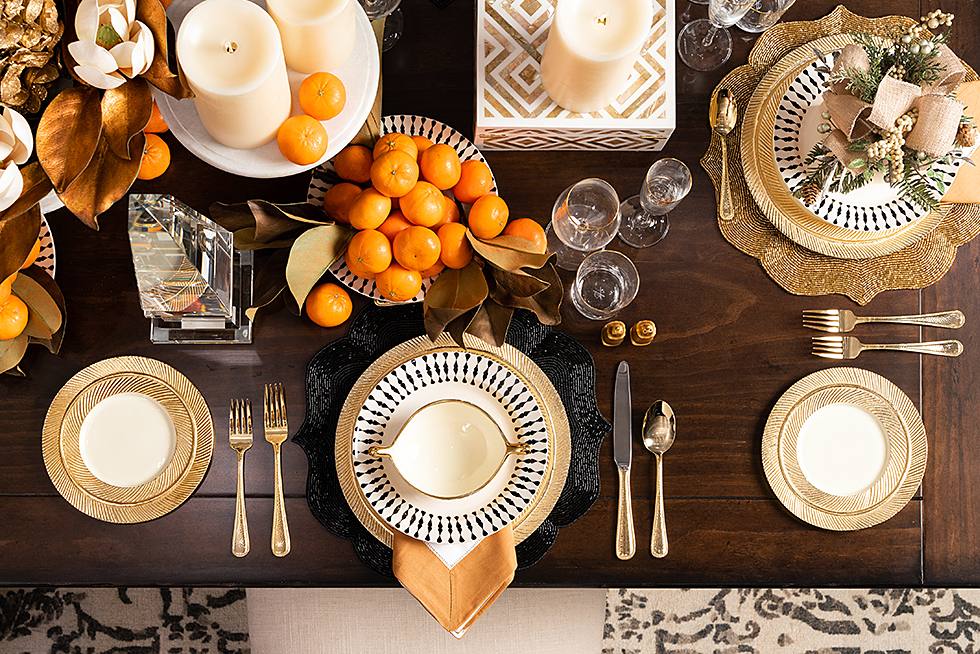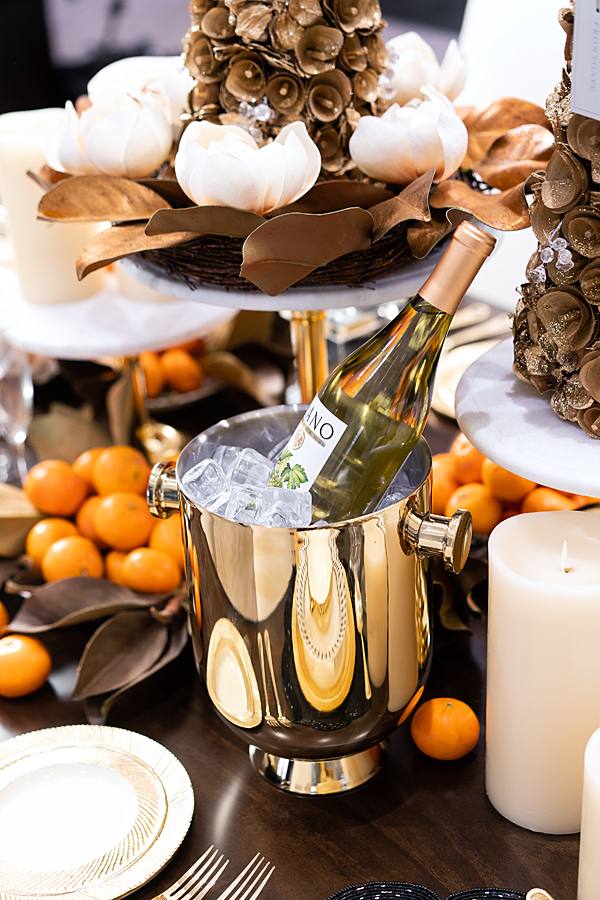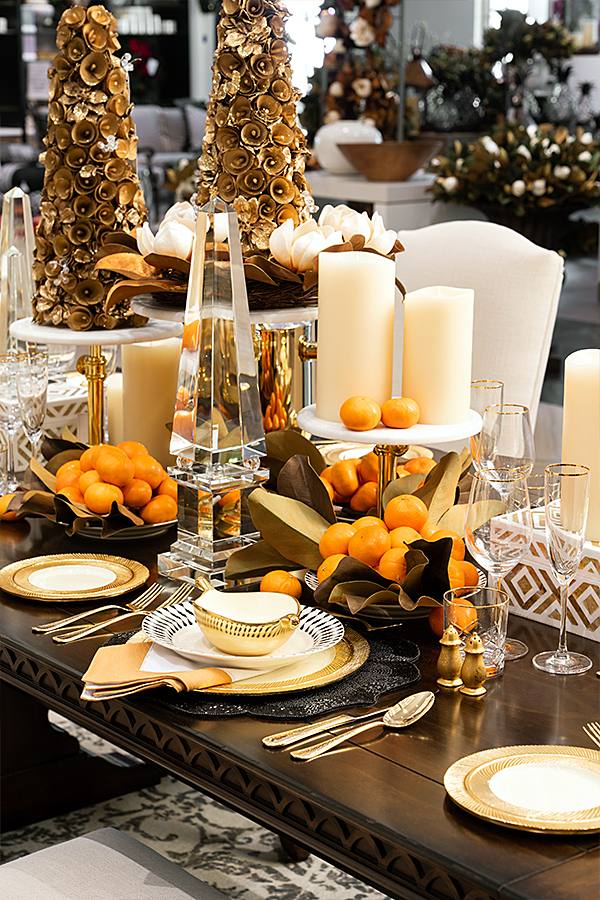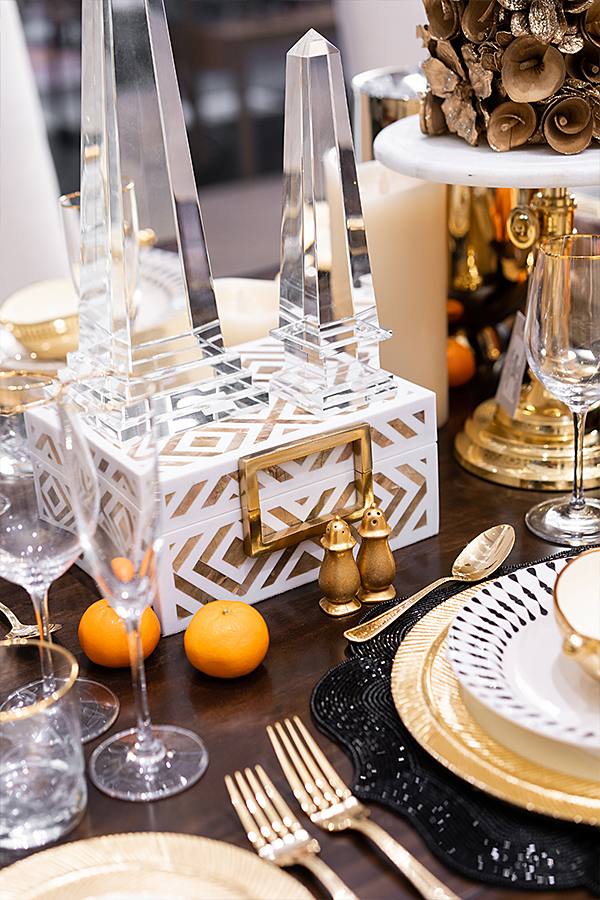 Autumn Brunch
"I envisioned a casual breakfast setting using classic white dishes for this table. To dress it up, I added garden hydrangeas and used lanterns and candles to bring warmth to the table. This cozy setup is sure to have guests lingering long after breakfast is served."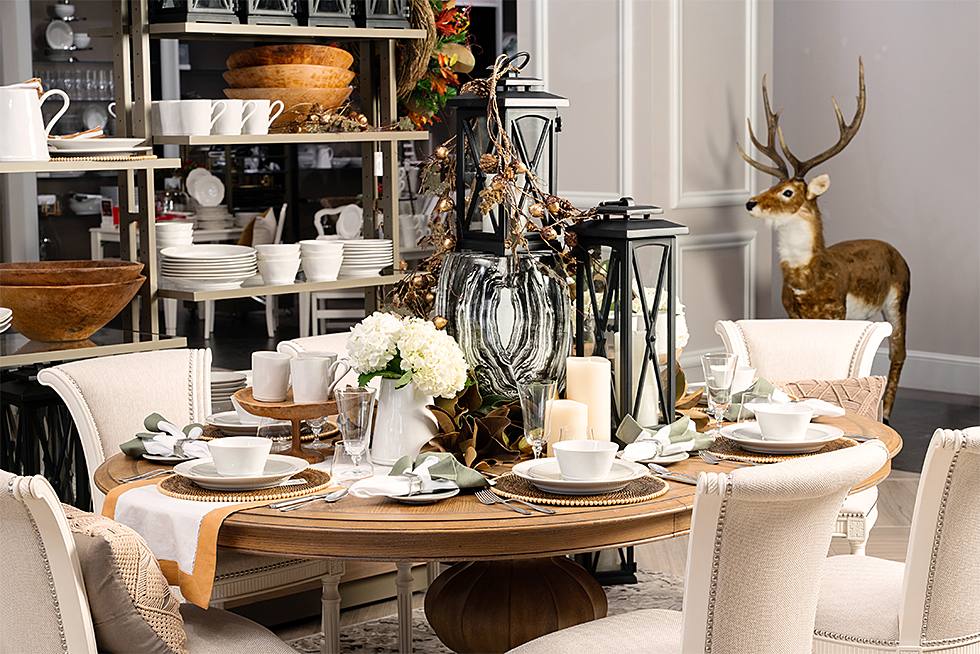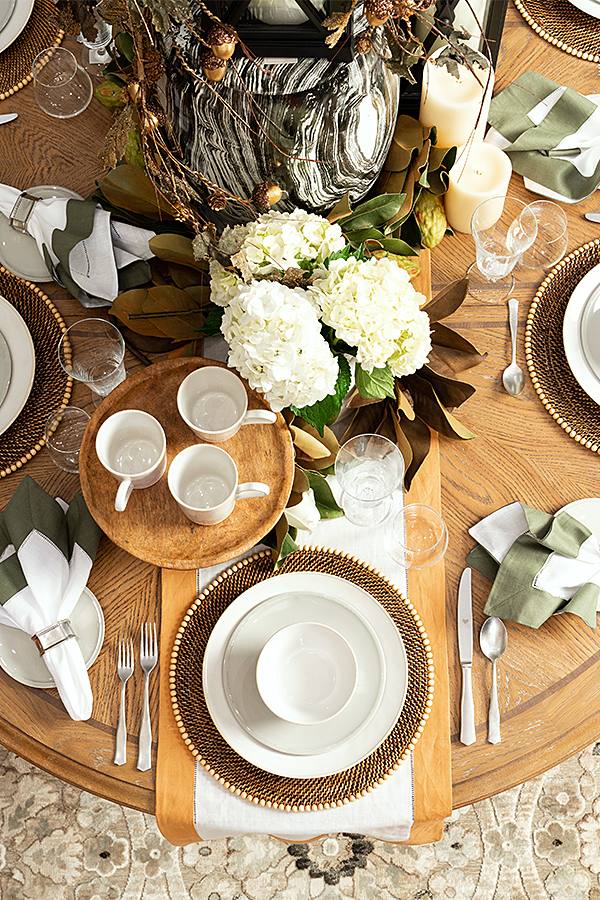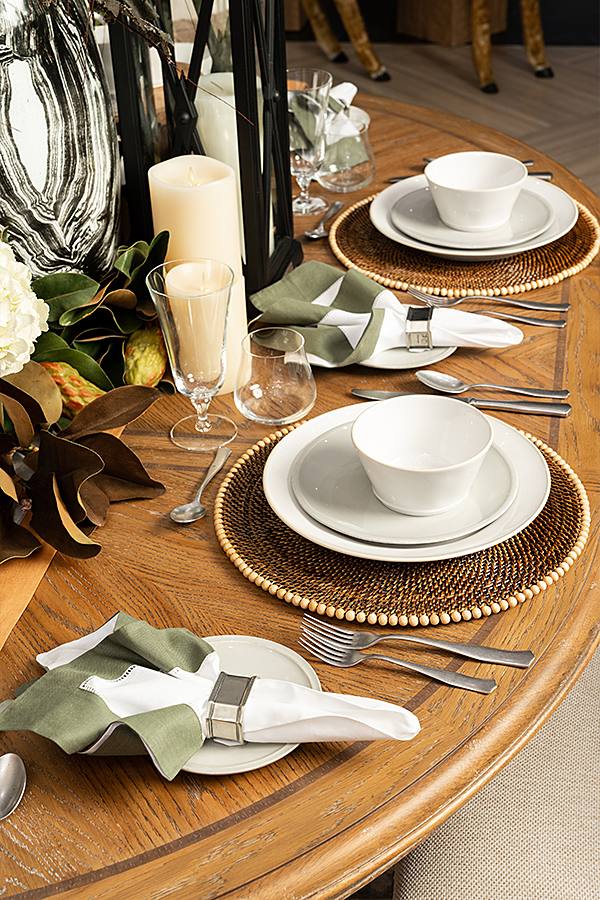 Seaside Soiree
"For this outdoor table I wanted to create a casual feel with coastal influences. The Mooreland Heights Candle Holder Centerpiece is crafted from lifelike botanicals and foliage. I replaced the candle in the center with a vase of fresh eucalyptus to enhance the scent at the table. The look is completed with classic blue and white home decor accessories that can help create continuity throughout the space."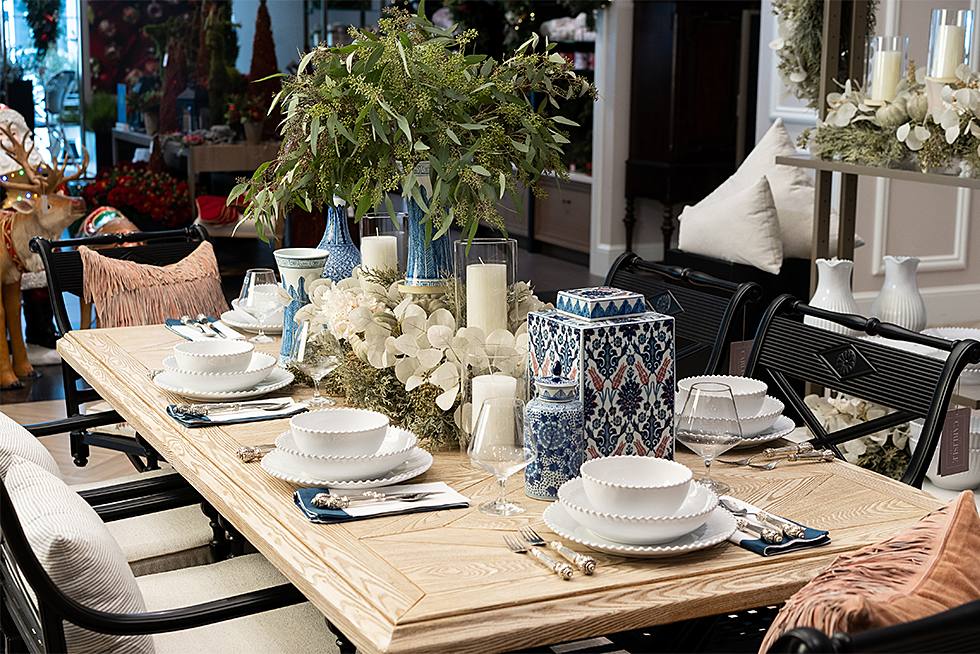 Holiday Home
"Styling a dinner table setting using the classic holiday color palette of red and green is always en vogue. I started by layering pine garland with varying sizes of realistic evergreen trees, while moss reindeer provided differentiation in height. I tied everything together with fresh roses in trophy cup vessels and mirrored the look with red and white dinnerware accented with silver flatware and crystal glasses to complete the festive yet classic look."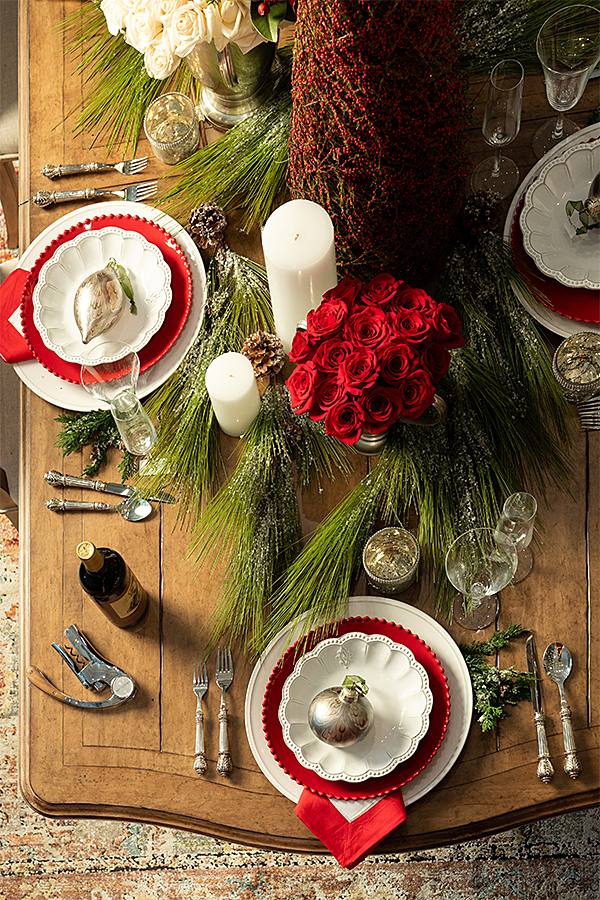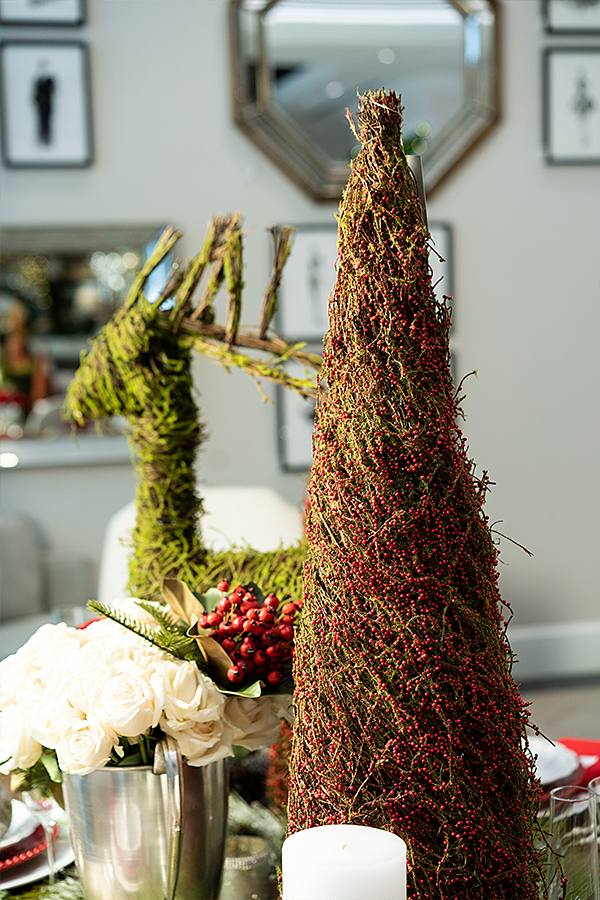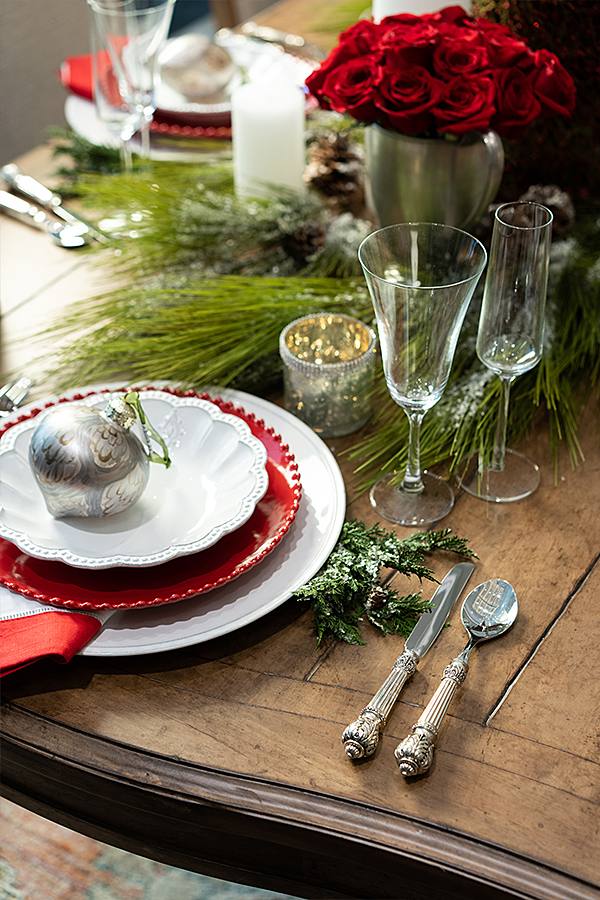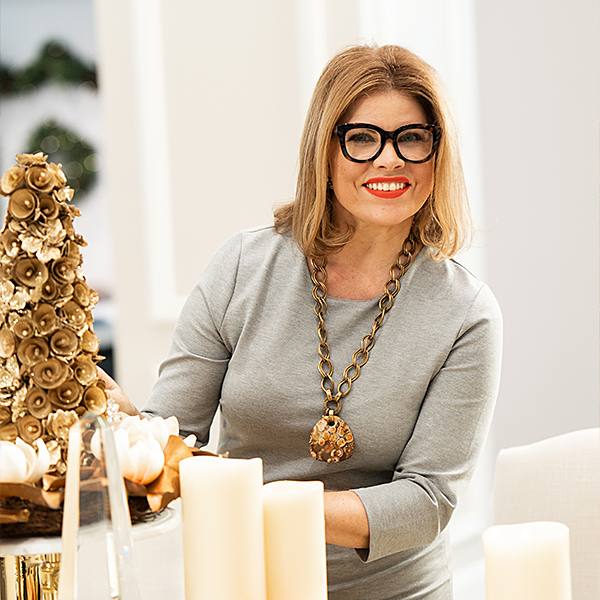 Denise McGaha is a Dallas-based interior designer who prides herself on "Designing with a Deadline." She delivers fashion-forward, adventurous and luxe designs for clients on the go.
---
Which of Denise's looks will inspire your next get-together? Show us how you tablescape by following us on Instagram and using #frontgate to share your photos.