Image Gallery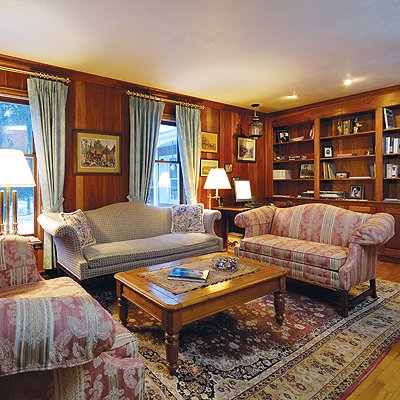 Home Highlights
Owners: Frank Reilly and Heather Davis-Reilly
Home Site: Rancho Alegre Lodge, Jackson Hole, Wy.
Setting: The 7-acre guest lodge estate, with unobstructed mountain views, sits on a bluff in the center of 50 undeveloped acres
Living Space: 10,000 luxurious square feet with 5 guest suites, a grand room, library, kitchen, living room, dining room and spa
His Favorite Room: "The grand room with its huge walk-in fireplace, pool table, and endless views."
Her Favorite Room: "The library is a formal sitting room you pass through to get to the kitchen and the front door. It's filled with family pictures, and has such a cozy fireplace."
Nestled on a 50-acre hilltop meadow in the heart of Jackson Hole, Wy., just south of Grand Teton and Yellowstone National Parks, Rancho Alegre Lodge became home for Frank Reilly and Heather Davis-Reilly in 1995.
Since then, the Reilly family has developed the 10,000-square-foot lodge into a five-suite guest retreat, especially suited to family vacations, reunions, and beautiful weddings. The historic lodge is spectacular in its own right, but the surrounding natural beauty is what draws guests in and keeps many coming back year after year.
For centuries, Native Americans regarded Jackson Hole as a perfect place to spend the summer, with good reason. The weather is beautiful and the wildlife abundant. Not much has changed over the centuries, and Rancho Alegre's property remains pristine—summer and winter. The lodge is positioned on seven acres, which is surrounded by 43 acres of undeveloped land recently donated to The Jackson Hole Land Trust for the conservation of wildlife and Wyoming's open spaces. Nothing stands in the way of awe-inspiring, unobstructed 360-degree views. To the north, the majestic Grand Tetons rise. Other views take in the Snake River Mountain Range and the Hoback Range. Elk and moose herds travel through Rancho Alegre to Harrison Ford's nearby ranch every fall and winter. Birds of prey such as osprey, bald eagles, hawks, and owls are present year round, and migratory ducks and geese fill the autumn skies. From the luxurious comfort of Rancho Alegre Lodge, guests from around the world can experience the beauty of this northwestern Wyoming ecosystem.
History and Heritage
It was the powdery, snow-filled ski mountains that first led Frank Reilly to Jackson Hole. Since his teen years skiing in Tahoe, Cali., Frank hoped to someday own a place near a ski mountain. He was introduced to Jackson Hole by a friend in the 1980s and began acquiring property in the area. A decade later, Frank "became obsessed with the idea of owning Rancho Alegre," laughs Heather, "but the 50-acre price was too steep." Before Frank and Heather's July 1995 wedding, Frank had negotiated with the owners, Wouter von Eldik and Wilhelmina Puryn, to purchase the lodge and seven acres; the closing was just a few days before the wedding. Frank had previously booked the entire property for the wedding, and now that it belonged to the Reillys, the weeklong festivities were even more celebratory. "Wouter and Wilhelmina knew we loved the lodge and intended to live on site and take good care of everything. I guess they wanted us to own it," says Heather. Frank and Heather purchased a number of existing antique furniture pieces, chandeliers, and accessories in the sprawling guest home. "We poured our hearts and souls into decorating the rooms to make them luxurious, interesting, and to carry out a theme in each of the bedroom suites," says Heather.
She fondly remembers an Oriental rug shop in San Francisco where they discovered a hidden loft piled with rugs. They bought 25 of them in one afternoon. "Some were huge, 20' x 30', but even that many rugs didn't fill the whole house. We cleaned them ourselves, dried them in the sun, rolled them, and hauled them to Wyoming in our truck."
Frank's and Heather's modeling careers required frequent visits to Europe. "During off hours, we'd shop and buy pieces we fell in love with," says Heather. The home had a long and colorful history in the Jackson Hole area, and the Reillys dedicated themselves to contributing their own personal touches to the grand home.
Originally built in 1951 for a prominent Wyoming family, Rancho Alegre began as a 1,800 square-foot home, dubbed the Shootin' Iron Ranch. The home was designed by William Thompson of Princeton, NJ, in a New England saltbox style. Three decades later, the ranch property reached the hands of a Dutchman, Wouter von Eldik and his New Englander wife, Wilhelmina Puryn. After extensive remodeling and additions, the twosome opened the expanded 10,000 square-foot home to the public in 1988 as a bed & breakfast, and renamed the home Rancho Alegre after a Southern California ranch von Eldik and Puryn had previously owned. To them, the name evoked happiness and comfort, Heather says. The home was renovated further in 1992, and by the time Frank and Heather purchased Rancho Alegre, the guest ranch had become a Jackson Hole tradition. The Reilly's marketing efforts continued to increase Rancho Alegre's reputation as an upscale venue in the midst of a magnificent mountain setting, ideal for retreats, weddings, and family reunions.
The spaciousness of the room, plus an antique 6-burner gas range/oven, makes it easy for groups to use the kitchen at their leisure, or for the on-staff chef to cater meals. Shop Kitchen & Entertaining for cookware and serving accessories to create your own home-cooked meals.
Inside Rancho Alegre Lodge
"In a region filled with casual mountain log homes, Rancho Alegre is unique with its Navajo Red wood siding, and cedar shake roof," Heather says. "The New England architecture is very different, and the beautiful antiques inside are always pleasant surprise for our guests." An avid collector and interior decorator, von Eldik had filled rooms with exquisite paintings and furniture. Many remain. In the master Teton Suite, an elaborate headboard built during the Italian Renaissance graces the queen-size bed, which is topped with a goose down comforter. All seven fireplaces throughout the home were renovated with beautiful blue Delft tiles from Holland.
Heather and Frank made sure to incorporate at least a little Western ambiance amid the home's decor. They purchased accessories and artwork from local artisans and friends. For example, the elk-horn chandelier that illuminates the kitchen was created by a Jackson Hole artist. An antique leather bellows rests by another fireplace. "A talented friend of ours made a huge cowboy collage out of thousands of tiny bits of paper and now it proudly hangs on a wall in the Cowboy Suite," says Heather. In the same suite, an antique Native American headdress that Frank discovered is mounted on a wall.
From room to cozy room, Rancho Alegre envelops guests in serenity as pure as its mountain surroundings. Guests enjoy private suites, each with its own personality and breathtaking view. The 1,700-square foot Teton Suite sleeps five comfortably in two grand rooms with a sitting area, two private bathrooms (one with a Jacuzzi tub), and a private deck looking out to the spectacular Teton Mountains. Three suites with bedroom and sitting areas on the ground floor display art and accessories that enhance each room's personality, and every suite offers access to a lower deck through French doors. The two-queen bed Cowboy Suite offers views to the West. Southern and Western views brighten the Sun Suite. Beautiful water-themed oil paintings distinguish the charming, South-facing Garden Room that opens to an outdoor pond. Upstairs, the Cougar Suite works beautifully as a children's paradise with angled rooflines and alcoves. Here, the Sleigh Room and Sunflower Room, each with two double beds, share a bathroom and a private deck.
The heart of the home is the kitchen, where baked Italian omelets and freshly made Belgian waffles are prepared beneath the grand vaulted ceiling. (All eggs are harvested at Rancho Alegre from a flock of free-range chickens.) Victorian tables and a large center island offer seating for up to 14, and the spaciousness of the room, the Sub-Zero refrigerator, and an antique 6-burner gas range/oven make it easy for groups to use the kitchen at their leisure, or for the on-staff chef to cater meals.