Image Gallery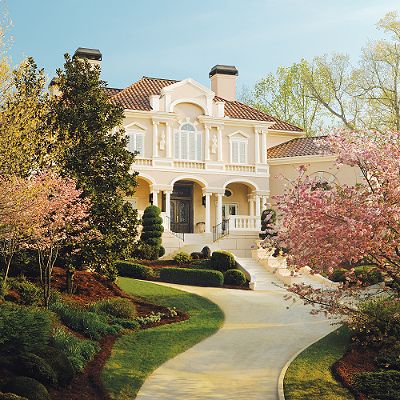 Home Highlights
Owners:Matthew Scarborough and Debbi Kreisler Scarborough
Interior Living Space:11,000-square-foot, six-bedroom, 10-bath home with a Great Room, kitchen, bar, sports room, exercise room, and kids' playroom
Outdoor Living Space:Lushly landscaped groudns with a 5-foot-deep pool, a cascading waterfall spa, a play area for the boys, and two porticos
Built:January 1995 through April 1996
Homesite:One-and-a-half acres of rolling hills in Atlanta's Buckhead Community
Style:Italian Mediterranean
Interior Highlight:The antique mahogany and stained glass front door from Chicago's Cotton Exchange
Outdoor Highlight:An intimate balcony with a commanding view of the countryside and Atlanta
Resources
Construction:Turner Builders, Alpharetta, Georgia
Landscape Artists:Hutchinson Horticulture, Woodstock, Georgia
Home Designer:Rodney Mims-Cook Polites, Cook & Associates, Atlanta, Georgia
Artist:Scott Bethay, Atlanta, Georgia
Long before they ever set foot in their new home in the prestigious Buckhead community in the outskirts of Atlanta, Matthew and Debbi Scarborough began decorating, inside and out.
Antiques Aficionados
Collaborating with landscape artists from Hutchinson Horticulture, they asked for "color all season long," says Debbi. Masses of spring azaleas and summer gardenias provide just that. To complement the Italian villa feel at the front of the home, Leeland cypress bushes line the bold stairway, flanked by two magnificent spiral cypress trees. In front of the wings stand two lovely Japanese maples.
It took 16 months to construct the 11,000-square-foot Italian Mediterranean-style home, but Matthew and Debbi started gathering and storing furnishings several years before their April 1996 move-in. Since both had previously dabbled in antiques as a hobby, they began to get serious, haunting Atlanta auction houses and purposefully selecting extraordinary yet serviceable pieces that were destined to become showpieces in their yet-to-be built home. "We didn't look for period pieces just antiques we loved that worked well together." Debbi explains, "In many cases, it wasn't until after we'd lived in the home first that we began looking for furnishings, so we could feel things out before we purchased what we felt was perfect for a certain space." Matthew adds, "There were thousands of design and decorating decisions to make. Fortunately, our tastes are compatible and that made everything easier."
The Great Room
An exquisite, 1895 Paris-made, gold-leaf inlaid wood Gaveau piano in the home's entry or "great room," along with a massive round French baroque inlaid wood table that is the room's centerpiece, are prime examples of how the couple decorated a room around a few well-chosen antiques.
Matthew and Debbi decorated their main rooms around a few well-chosen antiques, including an exquisite, 1895 Paris-made, gold-leaf inlaid wood Gaveau piano and a massive round French baroque inlaid wood table. Embellish your estate with our Indoor Accents.
Under a soaring vault ceiling punctuated by a magnificent crystal chandelier (one of several in the home), the second-floor mezzanine surrounds the grand, light-filled space.
The grand room with its Louis XIV-style furnishings and complementary Oriental rugs can be awe-inspiring but this is anything but a stuffy museum-like room. Certainly, it greets guests with some pomp and circumstance, but it's open and comfortable, made for sitting, mixing, and mingling.
As a member of the Atlanta March of Dimes Board of Directors, Debbi has opened her home for numerous fundraisers. Every holiday season, a neighborhood Christmas party is centered in the great room, with throngs of parents and children taking part. Debbi loves to decorate to the hilt for the holidays, with yards and yards of garland festooning the mezzanine railings, the hand-carved fireplace mantle, and the wrought-iron, curving staircase. Despite its grand furnishings, the great room's most distinguishing feature, she insists, is its cheerfulness. "Even with delicate pieces around, the great room is livable. We keep the Gaveau piano tuned and the boys play it for fun. Everything is open and airy, just the way we planned it to be," says Debbi.