Image Gallery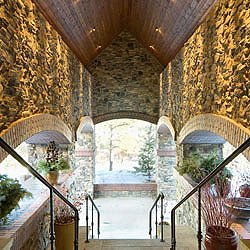 Home Highlights
Owners: Sam and Kathy Guadagnoli
Home Site: Colorado Springs, Colorado
Built:15-month construction completed in July 2006
Setting: 2.5 acres on a hillside overlooking Colorado Springs, adjacent to the Stratton Forest Preserve with the Rocky Mountains looming in the distance
Living Space: 8,000 sq. ft. Tuscan-style home with massive 2,000 sq. ft. wrap-around outdoor living space
His Favorite Room: "The truth? The six-car garage where I keep my motorcycle collection. And I really enjoy the backyard area with the outdoor bar and pool. It's so enjoyable there in the summertime."
Her Favorite Room: "The Great Room is so comfortable that some guests have been known to take their shoes off and settle in. It has real warmth to it."
Resources
Interiors: Joni Bader Interiors, Colorado Springs
Builder: Nichols & Comito LLC, Colorado Springs
Landscaper: Fredell Enterprises Inc., Colorado Springs
Location, location, location - For years as she drove to work, Kathy Guadagnoli would admire the undeveloped land near the Stratton Forest Preserve—in particular, one incredible hillside lot with both Rocky Mountain vistas and cityscape views. "I never knew who owned the land, and never looked into it," says Kathy.
Serendipitously, that information fell into Kathy's lap during a 2005 business transaction. At the closing she and Sam were attending, they discovered that the owner of the Stratton Forest property Kathy secretly longed for was there and willing to sell. The rest is history. The vistas from Sam and Kathy's home hold glimpses of every top attraction in the Pikes Peak region. While hosting guests inside, shop our Kitchen and Entertaining collection filled with kitchen furniture and barware & serving accessories.
The spectacular views from nearly every window and backyard space at Guadagnoli's home are a photographer's dream. From the Great Room at night, the city lights of bustling Colorado Springs twinkle to the south and east. From the backyard infinity pool that cascades over a rocky ledge, the same cityscape dazzles. On the other side of the home, horseback and hiking trails wind through the Stratton Forest Preserve's stately aspens and evergreens and lure the family outside. The vistas from Sam and Kathy's home hold glimpses of every top attraction in the Pikes Peak region: the stunning Broadmoor Resort, the natural beauty of the Garden of the Gods rock formations, and the majestic Rocky Mountains.
Remarkably, although every square foot of home was custom built, every inch of construction, decorating, and exterior landscaping was completed in record time. The entire brick, stucco, and stone estate was completed within 15 months, from tile roof to the copper downspouts. Every tree, flower, rock, cliffside, and stream that forms the incredible outdoor landscaping was put in place with speed and precision. Kathy undertook the marathon interior-exterior decorating project with a zest for detail and a practiced eye. Actually, it was for a worthy cause that the fast-moving timetable was set by the builders, Nichols & Comito of Colorado Springs, with Kathy and Sam's blessing. The Guadagnoli's generously agreed that their brand new home would be the site of the July 2006 Nichols & Comito Celebration Home showcase event fundraiser to benefit Pikes Peak United Way. On three July weekends before Sam and Kathy moved into their new place, more than 5,400 people toured the home and marveled at its gorgeous Old World décor and spectacular setting. Quite a memorable housewarming party!
For her Colorado Springs home, Kathy ordered nearly all new furnishings, piece by piece, with an eye out for fine European style. To find your own style, shop Indoor Furnishings to discover plush area rugs, durable bar stools, and chic office furnishings.

Inside and outdoors, Kathy's décor seems to have been chosen effortlessly, but it took a concentrated effort. Working with the staff of Joni Bader Interiors, Kathy pored over magazines and catalogs for hours. Because their former home had a Southwestern motif, she ordered nearly all new furnishings, piece by piece, this time with an eye out for fine European style. "I bought it all sight-unseen. I never sat on any sofa or chair. And you know what? There's not one piece I don't like," she says. She wasn't a novice at design by any stretch. Kathy and Sam have spent decades in the night club business, and the couple has developed some of the area's premier night spots for which Kathy was the sole decorator. "As I was decorating our home, I was also designing our newest club. It was hard to keep two completely different decorating thought processes going, but it was fun," recalls Kathy.
Truly a Frontgate Home
One of Kathy's favorite resources for decorating her home was Frontgate. "I love Frontgate," she says. "I love everything we've ever ordered from Frontgate. Actually, they furnished just about our entire outdoor living space." The litany of Frontgate acquisitions is about as endless as the infinity pool: all the pool equipment, all the outdoor furniture, pool loungers, outdoor rugs, market umbrellas, furniture covers, pool towels, towel holders, wrought iron hose holders… and that's just outside. For the interior, she purchased bath towels by the dozens and a sofa for the downstairs. The Guadagnoli's Christmas holidays were brighter because of Frontgate. "Our tree, a gorgeous copper- and chocolate-color ornament trim kit, even the family's monogrammed Christmas stockings are from Frontgate," Kathy says. When it came time to pack away all the holiday décor, "Frontgate storage items took care of the job easily," she adds.