Image Gallery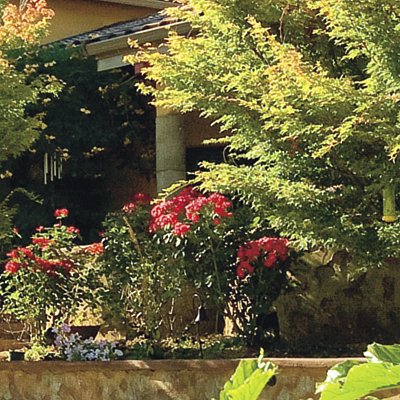 Home Highlights
Owners: Robin and Danuta Pfeiffer
Home Site: Junction City, Oregon
Built: Moved in on Christmas Eve 1999, after 4 years of design research and 20 months of construction
Setting: A green Mediterranean-style villa set on 240 acres (150 acres in sustainable forest, 80 acres of vineyard) in Oregon wine country
Living Space: A 3,200 sq. ft., 3-bedroom, 3-bath, 2-office home with expansive Great Room and outdoor terraces
His Favorite Room: "I really enjoy mornings in Danuta's tower office, talking, reading the paper and enjoying a cup of coffee."
Her Favorite Room: "In winter, I love the covered patio because the fireplace there warms the outdoors so it's just as toasty as inside the house."
Resources
Contractor: Koala Construction—Eugene, Oregon
Architects: Alec Dakers, Rainbow Valley Architects—Eugene, Oregon
Interior Design: Century Designs—Eugene, Oregon
Junction City, Oregon - At first glance, the estate home set within the Pfeiffer family vineyard resembles the architectural style of a typical Italian villa. Signs of Tuscan beauty are everywhere: 200-pound double entry front doors crafted from Honduran mahogany. A concrete spiral staircase leading up the central tower supported by stony pillars and columns.
But beyond the surface, it's evident that there's nothing typical about this home. It's a green home built of Rastra ® concrete blocks, uses passive solar energy, a heated-water sub-floor warming system, and a Finnish-made Tulikivi fireplace that provides the Great Room with warmth and a breathtaking focal point. It's clear that this is a home built with passion and an ambitious amount of organized research.
Sensible Luxury
The Pfeiffer's four-year home design odyssey began by seeking out green alternatives to typical luxury building. "We wanted to make every space in our home livable, and to use space well," Danuta says. "We eliminated extra rooms that use heat but are seldom lived in, rooms like a bedroom library or a sitting room. Each room had to be comfortable and environmentally appropriate. The home we created isn't ostentatious. We think it's a beautiful, beautiful home."
For Danuta and Robin, it was imperative to design just as much home as they required, and no more. The home's first floor includes a 28' by 40' Great Room that encompasses living room, dining room, and kitchen; a master suite; Robin's office; a guest room with bath; and laundry room. The two-story central tower creates a foyer on the main floor, and houses Danuta's office complete with balcony on the second floor. This room with its heavenly view of vineyards and ponds is where Danuta says she "schemes and dreams." Every single room was planned for comfortable family living, with private space needed to run their vineyard business.
The home's entertaining areas are wide open and welcoming for both public and private events. Pfeiffer Vineyards opens the home for elegant Villa Evenings starring Danuta's gourmet five-course dinners, Robin's wine pairings, and often dancing afterward. Corporate client events, private dinners, and weddings take place year-round. With equal elegance and ease, the same Great Room ensures that impromptu get-togethers with the two Pfeiffer sons, two grandchildren, and extended Pfeiffer family members will be comfortable and warm. Though the interior living space is moderately sized at 3,200 square feet, the feeling is spacious thanks to large windows with views unobstructed by window treatments, a glowing color scheme of sunset hues, and two circular patios that add alfresco space for dancing and entertaining.
The home's entertaining areas are wide open and welcoming for both public and private events, including wine tastings, gourmet five-course dinners, corporate events, and weddings. Use our Kitchen Appliances & Cookware to host your own five-star event.
Concrete: A Versatile Choice
"We designed our home with four themes in mind: it had to be environmentally sane, technologically advanced, energy efficient, and people-friendly, " says Danuta. Ironically, in searching for the latest in energy efficiency, Danuta says she and Robin went back to the future. "We asked ourselves, What did people do before oil? and went searching for 21st-century answers," she says. In gathering heating and cooling concepts from as long ago as the Roman Empire, they filled a binder with information gleaned from home shows, online research, and magazine clippings. Guided by architect Alec Dakers of Rainbow Valley Design and Construction in Eugene, Ore., their extraordinary green home design took shape. "We knew just the type of 'green' house we wanted," Danuta says.
The Junction City home is a study in advanced energy-efficient techniques, inside and out. Robin and Danuta affectionately categorize their home style as Concrete Mediterranean. All walls are formed of Rastra ®, a unique concrete form system made of lightweight 4' x 6' framework blocks. Rastra is exactly the "environmentally sane" type of technology the couple demanded of their home — the blocks are 85% recycled polystyrene pumped with cement to create a solid, lightweight, green solution. The fortress-like 13"-thick walls stand guard against high electric bills while also offering high-thermal insulation, soundproofing, fire protection, and flexibility in design. The Pfeiffer's concrete home stands as a sensible alternative in the rainy Pacific Northwest, where wood frame houses are the norm.
In the Pfeiffer's home, concrete goes well beyond walls. All the ground-level floors are acid-stained concrete, too. But what happens below the floors is the real story — one that harkens back to Roman house-warming concepts. "We learned that 2,500 years ago Romans warmed their homes using indoor canals of heated water," says Danuta. The Pfieffers modernized the ancient process. "An 18'-deep closed loop of water and glycol circulates from a nearby pond to a ground-source heat pump, and then back to the pond. The mixture enters the heat pump year-round at 55°F and returns to the pond at about 52°F. The accumulated heat then re-circulates through high-tech water coils embedded in the concrete flooring. "In winter, the radiant floor heat creeps up the walls and ultimately warms the ambient air. The house itself becomes the heater," says Danuta. Robin adds, "Guests in the wintertime always comment how they feel completely enveloped by warmth in the house. There just aren't any cold spots. We've noticed that women especially love how warm their feet and ankles are! As absurd as it sounds, people often stroke our walls in amazement at how touchable and warm they are."