Image Gallery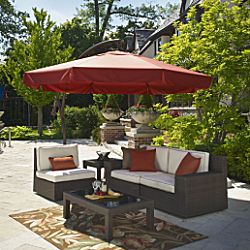 Home Highlights
Home Site: In the village of Highland Park, Illinois near the Lake Michigan shoreline.
Living Space: 17,000 square feet, featuring 8 bedrooms and 12 bathrooms.
Style: Classic
Resources
Architecture: FWC Architects, Inc.
Highwood, IL
847-579-5200
Builder: Jacobs Homes, Inc.
Deerfield, IL
847-945-6500
Interior/Exterior Design: Doug Nickless, Inc.
Chicago, IL
312-755-1855
Landscape Design: Douglas Hoerr Landscape Architecture
Evanston, IL
847-733-0140
In the idyllic village of Highland Park, Illinois, an extraordinary family estate rests near the breezy Lake Michigan shoreline.
To gaze at the sprawling home, one would assume it had been standing majestic for a century or more. For example, the chipped slate roof seems to tell a tale of enduring lake-effect weather. Along with the rainwater, the home's copper downspouts carry what looks to be a well-earned patina. The dramatic seven-gables architecture surrounded by towering trees hints at a Gatsby-era heyday.
Whatever tale the home tells, it carries no hint of coming to be in modern-day 2005. The team of industry veterans tasked with crafting the masterwork made certain of that. Every detail of the 17,000-sq-ft., 23-room estate was conceived with one word in mind: timelessness. The home's 2,000 sq.-ft. Iron Chef-designed kitchen is perfect for cooking or entertaining. Prepare for your next soiree with our Serving Platters & Serving Accessories.

The homeowners have junk mail to thank for their more-than-a-dream home. In 2003, the couple, who had been discussing building a home but had not yet agreed on an architectural direction, received a glossy postcard promoting an exclusive Wisconsin country club. The artwork on the postcard made a life-changing impression: the breathtaking mansion depicted as the clubhouse embodied precisely what they had been looking for in a home.
Research revealed the site to be the Riverbend Mansion, a 19th-century estate once home to Wisconsin governor Walter J. Kohler and a mansion listed as one of the 100 greatest in America. The couple immediately planned a trip to Wisconsin-not to join the country club, but to be inspired first-hand by the home in the postcard.
Once there, the couple knew for certain they had found their muse. Measurements were taken, and photographs, too. Their objective was to bring to the North Shore the Old World allure of homes built some 80 years ago. They were inspired by the mansion's classic seven gable architecture; the high-pitched slate roofs; the combination of a brick, limestone, and malt-white stucco exterior. They were confident they could achieve a look that was distinguished, yet cohesive with surrounding architecture in the neighborhood.
They brought their notes, along with that postcard, back to Illinois and enlisted FWC Architects and Chicago-based designer Doug Nickless to replicate every detail of the Wisconsin wonder—from the English manor exterior with balconies and high-pitched rooflines, to hidden rooms, and even space for a spectacular period phone booth. The popular poolside space is enhanced with Frontgate's durable and elegant Balencia Sun Chaises.
Real-life needs required consideration, too. The couple wanted ample accommodations for out-of-town friends and family, room for their three growing children, and spaces for entertaining inside and out. And though they were looking to build the home of their dreams, they wanted to maintain an approachable, livable, comfortable atmosphere; a home that was large but not intimidating, a home with attention to proportion.
The architecture took thousands of hours of drawing and redrawing, but after 18 months of designing, the couple was ready to transform that acre of near-shore wooded property into a luxurious 8-bedroom, 12-bath, family estate. They enlisted Jacobs Homes, Inc., to make their dream a reality. The builders painstakingly imbued the home with English classicism and French romanticism that looked as if it had stood for years.
In fact, the couple knew imperfection was the key to ultimate perfection. They had gleaming copper downspouts splashed with acid to achieve a patina in two weeks what otherwise would have taken years. And the 300,000 lbs. of slate they had flown in from a Vermont quarry? They paid extra for roofers to break and chip every piece by hand before laying in place. The men protested with proclamations of, "I just can't do this!" but later acquiesced: the slate looks entirely authentic, as if it has been in place for a century.
The four-floor home is as spectacular indoors. Years of research and planning made it possible to incorporate unusual materials not typically found in the average home. Reclaimed stone from Italy, antique retrofitted doors, embossed-leather flooring, antique lighting and furniture and authentic plaster walls all add to the home's Old World appeal. Designers Doug Nickless spent countless hours integrating the home's myriad of spectacular effects into one completely breathtaking vision.