Image Gallery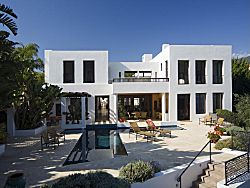 Home Highlights
Home Site: Beachfront Montecito in Santa Barbara, California
Living Space: 8,402 sq. ft. including 5 bedrooms, 6 full baths, and 2 half baths.
Santa Barbara
California, United States
High above the Santa Ynez Mountain range that backs the property, a trio of red-tailed hawks are riding the updrafts with real intent, drawing arcing lines over a cirrus-speckled, ice-blue canvas. Meanwhile, at its beachfront side, a pod of seven dolphins is frolicking so close to the crescent shoreline that it appears entirely feasible that one of them could, in yet another leap through the air, end up in the house's swimming pool.
Balencia Sun Chaises create a space for tranquil poolside relaxation, while Trident Lanterns make the outdoors come alive in the evening
Here at Fernald Point, a private-access-only enclave of Montecito, nature tends to seize one's attention like this with a regularity that never fails to enchant the soul. It's a magical place-one that calls for architecture with a profound sense of place. Which explains this contemporary Mediterranean-style house that Christopher Gelber designed for 1801 Fernald, the best site on the point.
Young architects and designers are known to dream of realizing a perfect house for their parents - a house where all the details are of the highest quality and where they come together seamlessly. Here, in 1995, on the heels of dozens of research journeys throughout the Mediterranean region, Gelber did just that.
Every aspect of the 8,402-square-foot, five-bedroom, eight-bath house's design seems acutely aware of the site. Light. Airflow. Views. These concerns appear to have governed the designer's every move.
The entrance procession is a 90-foot-long, 10-foot-high and eight-foot-wide gallery that reaches through the house uninterrupted to provide dramatic views of the horizon. Like the great early-20th-century monuments of Mediterranean-style residential architecture, 1801 Fernald's generous winged floor plan is smartly organized around a main-floor outdoor room - a flower- and palm-tree-filled cantera-stone courtyard with a beautifully handcrafted ceramic-tiled fountain as its centerpiece.