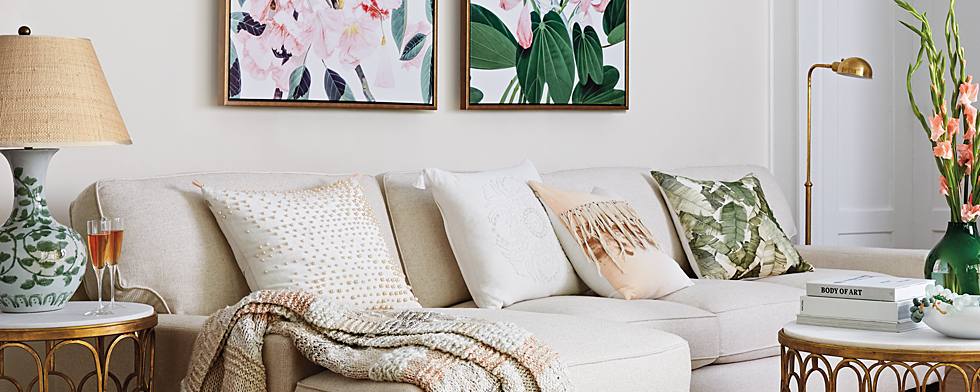 This time of year, many places across the United States are still experiencing shorter days, bare tree branches and frosty grounds. If that gray description sounds all too familiar, fear not. We're here to help you brush off those post-holiday blues and welcome an early spring inside your home while it's still too cold outside for crocuses and daffodils.
The best part about bringing in bright botanicals is that you don't need a green thumb to do it. While nothing breathes life into a space quite like fresh-cut flowers or a potted orchid, there are plenty of other ways to flood your home in florals that don't require any maintenance.
For example, swap out tired throw pillows for ones with bold flower or palm leaf prints to reinvigorate a living room or bedroom space. Switch out your comforter or throw blanket with a multicolor print for extra impact.
The addition of botanical art prints like the ones featured in our partnership with the New York Botanical Garden liven up the space above the mantle or behind the couch. Hang them anywhere from the hallway to the guest bath for an added pop of color.
Whether incorporated into one space or all through the house, there are endless possibilities to incorporating florals into your pre-spring home. And they're sure to give your mood a boost, because what's more joyful than flowers? So, gear up that flower power and get through the remainder of winter in bright botanical style.
How will you incorporate florals into your home decor this spring? Show us by following us on Instagram @frontgate and tagging your photos #frontgate.
---
GET THE LOOK
---