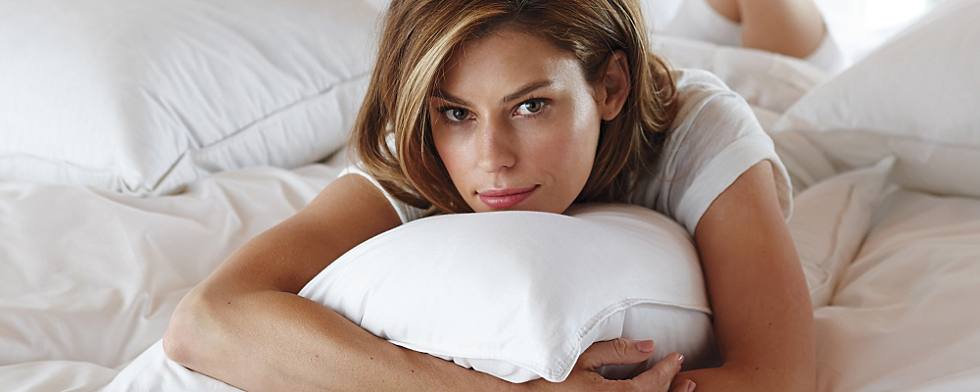 Premium pillows come in countless pedigrees. There are the firm, supportive types, the supple sort and, of course, the sumptuous softies. But what are the characteristics of your dream pillow? To find the construction that will carry you through many nights of sound slumber, consider your personal sleep style:
For … Side Sleepers
Density and fill material are the prime factors that determine how a pillow performs. And for the half of us who sleep on our sides, a firm pillow provides the extra support needed for the head, neck and shoulders – allowing them to stay in a neutral position. Larger pillows generally allow the filling to shift more – providing less-concentrated areas of support. So for the firmest sleeping surface, a standard size pillow is the best choice.
For … Back Sleepers
If you sleep on your back, a medium pillow gently supports the neck and cradles your head. The thickness of the pillow shouldn't push the head forward, or allow the neck to overextend.
For … Stomach Sleepers
The perfect pillow for dozing on your stomach is quite the opposite of that for side sleeping, in terms of density. A soft, thin pillow keeps your spine and neck in easy alignment and allows for unobstructed breathing.
For … Combination Sleepers
If you change positions throughout the night, a pillow made with slow-rise memory foam will readily shift with you. Suprelle™ memory pillows  – made from a dense blend of spun-memory fiber that feels like down – continually adjust to the movements of your head and neck, supporting the cervical spine and keeping those muscles relaxed.
For … Hypoallergenic Comfort
Down pillows are often considered the pinnacle of comfort, offering unparalleled softness. Pillows bearing the RestAssured™ commitment also deliver hypoallergenic peace of mind. Using the finest European goose down, the rigorous process cleans and dries down at twice the purification required by U.S. hypoallergenic standards. The down is then independently tested to ensure all allergen-inducing impurities have been removed. If you are highly sensitive to down, Primaloft®, a luxury down alternative pillow, features microfibers that mimic down's lightweight compressibility and loft. An advanced treatment also provides permanent antimicrobial protection, no matter how many times the pillow is washed.
For … Long-Lasting Support
"Fill-power" is a measurement of the cubic inches that one ounce of down will occupy at its maximum loft. This is an important number to note, as pillows with higher fill power will better retain their loft and desired firmness – meaning more years of use. The construction of a pillow's shell is also important for long-term comfort. Look for pillows that come with removable, washable covers with a thread count of at least 300. These covers provide a barrier against dust and natural skin oils, which can damage the fill material.
Regardless of the fill, it's important to replace a pillow once it no longer offers the support you need. Many experts recommend replacing a pillow every two years. You also can try this test from The Better Sleep Council: Fold the pillow in half or thirds, then squeeze the air out. If it doesn't spring back to its original shape and fullness, it's time to purchase a new pillow.